Make DIY essential oil baby wipes to avoid harsh chemicals and artificial fragrances on your baby's soft and sensitive skin!
Commerical baby wipes are super handy and convenient for cleaning baby bottoms. Some people even wipe their baby's faces with baby wipes. But do you know how many chemicals are in those wipes?! Most of them contain alcohol that is very drying and can cause rashes and irritation on sensitive baby's skin.
If you're worried about using store-bought baby wipes, then learn how to make your own right at home. It's incredibly easy to make your baby wipes which work well and smell fantastic too – without the toxic artificial fragrances.
Before we get onto the recipe, remember essential oils should be used with caution on babies. Also, not all essential oils are safe for babies. Do not use essential oils for babies under 3 months. Read more: What Essential Oils are Safe for Babies? Top 10 Essential Oils for Babies
Now onto the recipe:
DIY Essential Oil Baby Wipes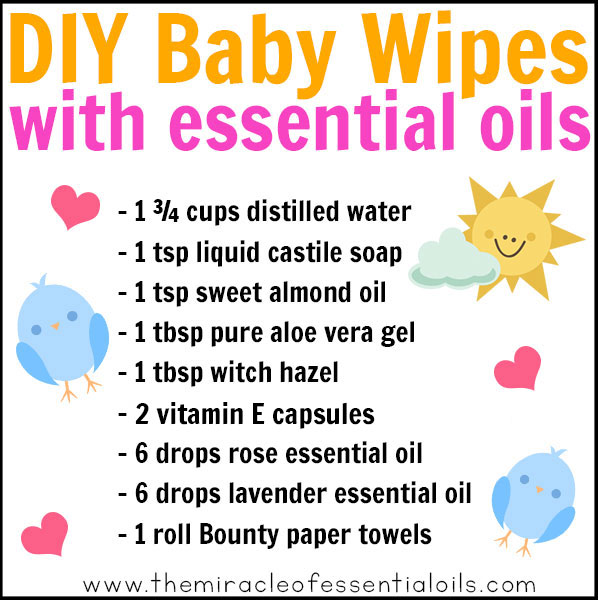 What you need
Directions
In the Pyrex measuring cup, pour in 1 ¾ cup distilled water, 1 tsp liquid castile soap, 1 tbsp aloe vera gel, 1 tbsp witch hazel, 1 tsp sweet almond oil, 10 and 6 drops each of rose essential oil and lavender essential oil. Next, prick 2 vitamin E capsules with a sharp pin and squeeze out the oil into the cup. Mix all ingredients well to form a solution.
Get one roll of heavy duty paper towels – Bounty is the best. Cut the roll into half using a sharp knife like a fish fillet knife.
Place one half of the paper towel into your storage container. You can use a plastic round container. If using a plastic shoe box or old baby wipes container, then place the roll horizontally.
Pour your solution in the Pyrex cup over the roll.
Let it soak up for 2 minutes then gently peel off the cardboard roll. This should also pull up the first innermost wipe and start them for you.
Close the lid and store in a cool dry place.
Use as needed! Enjoy using this chemical-free DIY essential oil baby wipes!