Need to treat those pesky pimples naturally? Use this DIY Essential Oil Blend for Acne!
What is Acne?
Acne is no new term in today's world. It's the commonest skin condition. Everyone from teenagers to adults suffer from acne whether it's hormonal acne, cystic acne or a few pimples every now and then. In fact an estimated 80% of all people in the world between ages 11-30 have an acne breakout at some point. Read: 15 Essential Oils for Acne + How to Use Each
Many people think when you've got acne, you have to stay away from moisturizing your face. They just wash their faces with a harsh acne cleanser then don't put any moisturizer so that their acne can dry up.
But this is so wrong. By washing your face with a cleanser that strips all the natural oils from your face then on top of that, not putting any moisturizer, you're making your skin deprived of its natural oils that it needs.
You know what this means – your skin will turn dehydrated in its deep inner layers while producing lots of oils on the outer layers or surface. This makes you look greasy yet deep inside your skin is actually very dehydrated.
In a nutshell, moisturizing acne prone skin is vital. You just have to choose the right carrier oils to use.
In the DIY Essential Oil Blend for Acne below, we're going to be using argan oil and black seed oil. These two oils are good for acne prone skin. Argan oil is non-comedogenic, meaning it will not clog up your pores. Black seed oil is high in linoleic acid, which most acne sufferers lack. Linoleic acid regulates sebum consistency and reduces excess sebum production.
Without further ado, let's check out how to make an effective DIY Essential Oil Blend for Acne:
DIY Essential Oil Blend for Acne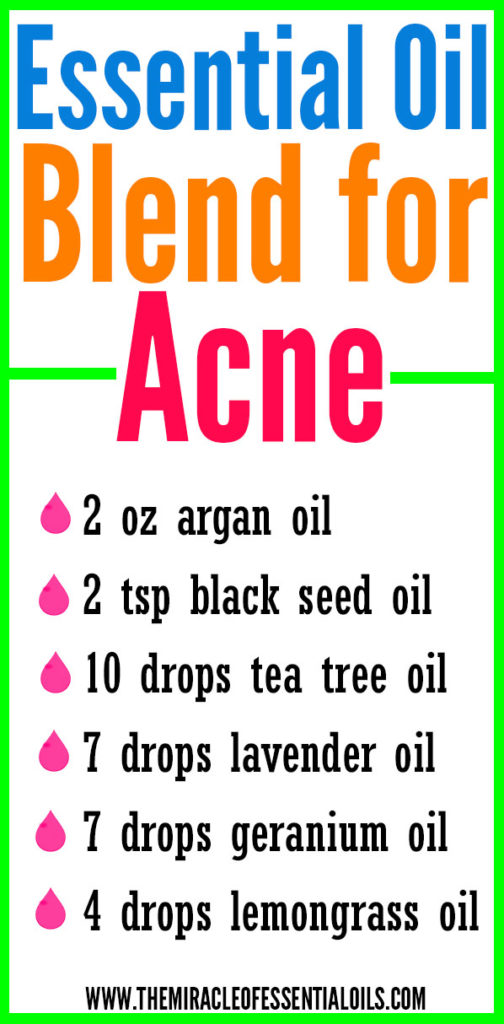 What you need:
Directions:
With the help of a funnel, transfer 2 oz argan oil into a amber dropper bottle.
Now carefully add 10 drops tea tree oil, 7 drops lavender oil, 7 drops geranium oil and 4 drops lemongrass oil.
Screw the cap back on tightly and tip the bottle back and forth to mix all oils together.
Your DIY Essential Oil Blend for Acne ready!
Use 2-3 drops as a moisturizer all over your face twice a day after cleansing it.
Caution
Are you ready to replace your usual moisturizer with this DIY Essential Oil Blend for Acne?