In this article, find out the safety information and basic rules and guidelines for using essential oils safely and correctly for you and your family's well-being.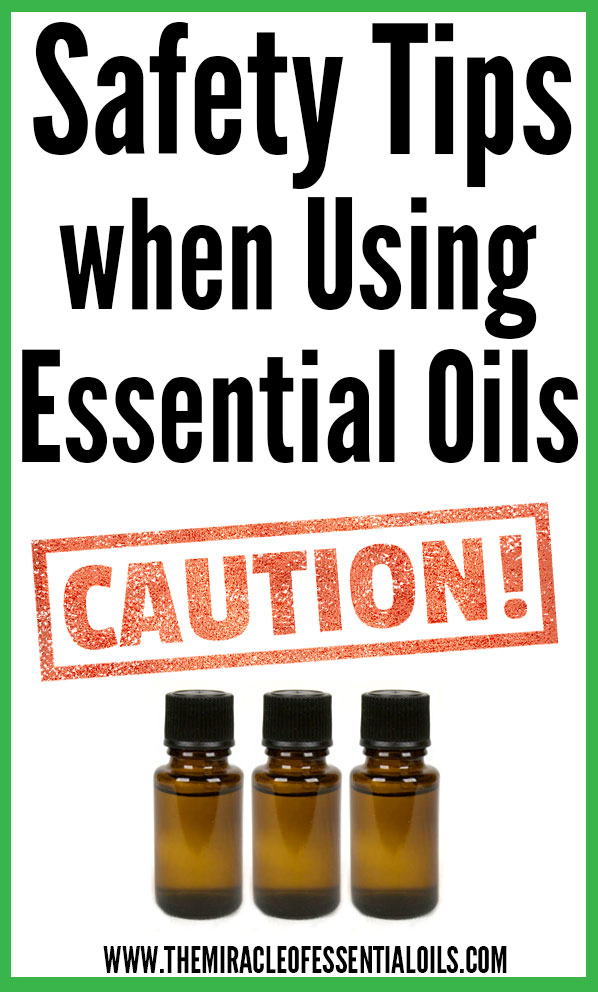 Safety When Using Essential Oils – Why Should You be Careful with Essential Oils?
The major reason why people are stuck between using essential oils and not using essential oils is because of the safety factor. Why should you so cautious with essential oils? Because:
►Essential Oils are Very Concentrated Substances
To give you an idea of how concentrated essential oils are, hear this – to get just one pound of rose essential oil, 5,000 pounds of fresh undamaged rose petals are needed! And one drop of peppermint oil is equal to approximately 28 cups of peppermint tea! That's how potent essential oils are – they are literally squeezed from plant material so one single drop is very valuable and holds great medicinal value.
Use essential oils sparingly and follow proper dilutions when using them. If they are applied undiluted, you will end up with mild to severe chemical burns. Remember, when it comes to essential oils, less is more. It's just like prescription drugs, popping four or five pills instead of one isn't going to give you a quicker and more powerful healing effect, instead it'll worsen your health and lead to serious health complications!
►Essential Oils Can be Toxic when Ingested
You can't just leave essential oils lying around your house. They can easily break and be opened by anyone especially children who put anything in their mouths – especially if it smells good and citrusy like lemon oil! Ingesting essential oils is no small thing. They are very concentrated with potent chemical constituents that the liver needs a lot of hard work to process. For pets, the liver can't even process these chemicals, which can lead to instant death. Children's livers are still developing which makes them unable to process complex compounds in essential oils, leading to serious complications like organ damage and failure. Please keep essential oils away from children and pets. In case essential oils are ingested in large amounts, immediately seek medical help.
List of Safety Precautions when Dealing with Essential Oils
Here's a list of safety precautions you should take before using essential oils:
1. Purchase Only Pure Oils
Always purchase 100% pure unadulterated high quality, and if possible organic, essential oils from a reputed seller. Purchase essential oils that come in colored glass bottles (preferably amber) and ones that have droppers fitted inside that allow the essential oils to come out one drop at a time.
2. Storage of Essential Oils
Always keep essential oils in a cool dry and dark place because they degrade when exposed to light and heat. Purchase essential oils that come in amber or cobalt colored bottles and keep them away from direct sunlight. If making any essential oil blends at home, invest in amber or cobalt blue colored containers such as dropper bottle and glass jars to prevent light degradation.
Essential oils eat up plastic so do not store them in plastic containers. You may store essential oil blends (that are diluted with carrier oils or other ingredients) in plastic containers. But for the pure undiluted oils, keep them in glass and amber/cobalt blue containers.
3. Allergic Reactions
Before using any essential oils, first perform a patch test to check whether you might be allergic to the essential oil. To do a patch test, mix 1 drop of essential oil in 1 tsp of carrier oil such as olive oil and rub it on your inner elbow. Wait for 30 – 60 minutes. By this time, the allergic reaction, if any, usually shows up. If any skin irritation is noticed, immediately wash the area with warm water and a mild soap and do not use the essential oil on your body.
For more information, please refer to Can You Be Allergic to Essential Oils?
4. Dilution
Before use, essential oils must be properly diluted in a base ingredient such as a carrier oil (like olive, coconut, grapeseed, jojoba, apricot kernel, sunflower and other oils), whole milk, bath salts, honey, aloe vera gel, plant butters such as shea butter or cocoa butter, etc. Here's a good dilution ratio to follow:
Newborn babies of 0 – 3 months: Do not use essential oils at all.
Infants 3 months to 2 years: 0.25% dilution which is 1 drop in 4 tsp of carrier oil applied topically.
Toddlers 2 to 6 years: 0.5% dilution which is 1 drop in 2 tsp of carrier oil.
Children from 6 to 15 years: 1% dilution which is 1 drop in 1 tsp of carrier oil.
Adults: 2% dilution which is 2 drops in 1 tsp of carrier oil.
Read more: How to Dilute Essential Oils
5. People with Health Problems
Heart patients, people with epilepsy, asthma patients, those with hypertension and any individual with a severe and chronic health condition must consult their doctor before using essential oils.
6. Ingestion
The British aroma therapy school of thought prohibits ingestion of essential oils and only recommends essential oils for aroma therapy, massage and topical application. However, the French school of thought allows ingestion of essential oils on the condition that they are 100% pure and must be diluted and taken in very small quantities.
Here at The Miracle of Essential Oils.com, ingestion of essential oils should only be performed after consultation with a naturopathic doctor and under supervised care. Even still, the quality of your oil matters a lot. Before thinking of ingesting an essential oil(s), please confirm that your oil meets these four criteria:
It is 100% pure without any sort of additives and synthetic chemicals
It is USDA certified organic and GMO – free
It is heavy – metal free
It is GRAS (Generally Recognized as Safe) to ingest because not all essential oils are edible
If your oil meets the above conditions, then you can safely ingest it in a fatty medium such as carrier oil, whole milk, yogurt, honey or in capsule form but do not take it in water. Please Read: Can You Drink Essential Oils in Water? Also, do not take more than two drops of essential oils in a day because it takes a lot of effort and hard work for the liver to process the complex molecules of essential oils.  Do not take it on an empty stomach because the oil can burn the stomach walls.
For more details, read Can I Ingest Essential Oils?
7. Pregnancy & Nursing
It's best to refrain from using essential oils during pregnancy and nursing because their molecules travel deep into the body, enter the blood stream and cross to the placenta as well. Essential oil molecules can also be present in breast milk.
Note that essential oils can be used during pregnancy and nursing but you must use them under the supervision of a qualified health care professional. During the first trimester, avoid essential oils completely because many essential oils are emmenagogues which means they promote uterine contractions which leads to abortion and premature births.
For more details on essential oils for pregnancy, refer to these articles on the website:
For essential oils for nursing related issues, check out these articles:
8. Pets
Pets are playful and can place essential oil bottles in their mouths which is very dangerous for them. Pets' livers cannot process the complex essential oils molecules and compounds, which leads to organ failure and even death. When using essential oils for pets, never apply them internally. You can use them especially for pest control, which they work wonders for.
Read more:
9. Children
Be careful when you have essential oils in a home where children are present. Keep essential oils away from their reach. When applying essential oils for children, use this dilution ratio:
Newborn babies of 0 – 3 months: Do not use essential oils at all.
Infants 4 – 12 months: 0.25% dilution which is 1 drop in 4 tsp of carrier oil applied topically.
Toddlers 12 – 36 months : 0.5% dilution which is 1 drop in 2 tsp of carrier oil. Do not ingest.
Children from 3 – 13 years: 1% dilution 1 drop in 1 tsp.
You can use essential oils for children in their baths, as a lotion, foot blend, massage oil or in the diffuser.
Read more: Essential Oils for Children | What is Safe and What is Not
10. Sun Exposure After Using Essential Oils
Some essential oils are photo toxic. This means they react to sun exposure. These essential oils are mainly citrus oils such as bergamot, sweet orange, wild orange, grapefruit, mandarin orange, lime and other citrus oils. If using citrus oils, avoid sun exposure, use it in the night time or use it in essential oil products that won't stay on your skin like hand washes, body washes, shampoo, bath recipes, etc.
11. Contact with Mucous Membranes such as the Eyes and Nose

Avoid getting essential oils in your mucous membranes such as the nose, mouth, eyes and genitals. This can cause severe burning sensation or chemical burns that are very unpleasant to deal with. In case essential oils enter your mucous membranes, flush them out with a fatty liquid such as carrier oils or whole milk. This is because essential oils are attracted to fat molecules and repelled by water so if you use water, the essential oils will cling more to the mucous membrane and not flush out.
12. Essential Oils are Flammable

All essential oils are flammable to varying degrees so they should be kept away from direct contact with open flames including those from candles, gas cooker stove tops, matches and open fires.
Read more: Are Essential Oils Flammable?
13. Do Not Put Essential Oils in Your Eyes, Nose or Ears
It is very risky to put essential oils in your eyes, nose and ears as it can lead to chemical burns and internal damages of these organs and the body. Never drop any essential oils into your eyes, nose or ears.
14. Do Patch Tests Before Applying Essential Oils

If it's your first time using an essential oils, first do a patch test before you apply it on your body. Read more: How to Perform a Patch Test with Essential Oils
References
► Essential Oil Safety by Robert Tisserand and Rodney Young