Well-meaning pet parents are eager to treat their pets with natural remedies. But it is very important to be educated on essential oils NOT safe for pets. Education is key. Knowing the oils to avoid can save your pet's life!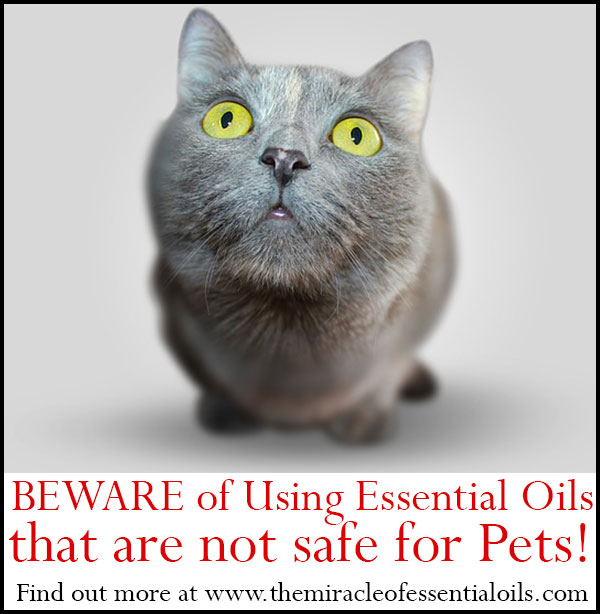 Essential Oils vs Pets
What's the big deal with using essential oils with pets? These wonderful plant oils come with healing properties that can cure many ailments without having to resort to drugs.
But essential oils are highly concentrated and potent, and herein lies their danger. Even when applied diluted, certain essential oils may still be dangerous to pets.
Using unsafe essential oils for pets, or using improperly diluted essential oils on your pets, can create the following problems:
Skin irritation
Irritation of the eyes, nose and mucosal membranes
Nervousness and restlessness
Change in behavior and disposition
Allergies
Organ failure
Coma
Death
Why Some Essential Oils are Not Safe for Pets
Have you got a cat, dog, hamster, parrot, rabbit or even a horse? Some essential oils are just not safe for most pets.
Here are the reasons why many essential oils are unsafe:
» Pets are much smaller and lighter in weight that us – Just like babies and children, pets are much smaller than us and their small size makes it much easier for essential oils to circulate throughout the entire body, which can be very fateful.
» Pets cannot process essential oils in the same way as us – Many pets do not have the same detoxification processes as we do. For examples, cats' livers cannot deal with essential oils as human livers do, and faced with the difficulty in elimination of essential oil particles, toxicity may occur.
» Pets lick their skin – Many pets lick their skin, or paws and this greatly increases the chances of essential oils being ingested by the pet. Once the oil is ingested, it may be difficult for your pet to digest or process it and it therefore ends up poisoning or harming your pet.
Which Pets are At Special Risk?
Pets are like babies. They cannot understand the nature of essential oils and they won't stop licking their fur or paws just because you have applied essential oils on them. It's up to us to take care of pets and understand their needs and feelings so that we can take the best care of them.
Cats and ferrets are especially sensitive to many essential oils because they are constantly grooming or licking their fur.
Dogs also lick their paws sometimes and applying essential oils on dog paws should be done with caution.
Rabbits are also sensitive creatures, which is why they are popularly used for animal testing in cosmetics companies.
With all pets, make sure you avoid using essential oils near their eyes, nose and mouth.
Top 10 Essential Oils Not Safe for Pets
1. Anise
2. Bitter Almond
3. Clove
4. Garlic
5. Hyssop
6. Juniper
7. Penny royal
8. Mugwort
9. Tea tree
10. Yarrow
For the full list of essential oils not safe for pets, please read: Never Use These Essential Oils for Pets
Do you use essential oils with your pets? Are their any essential oils not safe for pets that you think we should know about? Please let us know in the comments below!