Find the answer to the frequently asked question, 'Are Essential Oils Flammable?' in this article.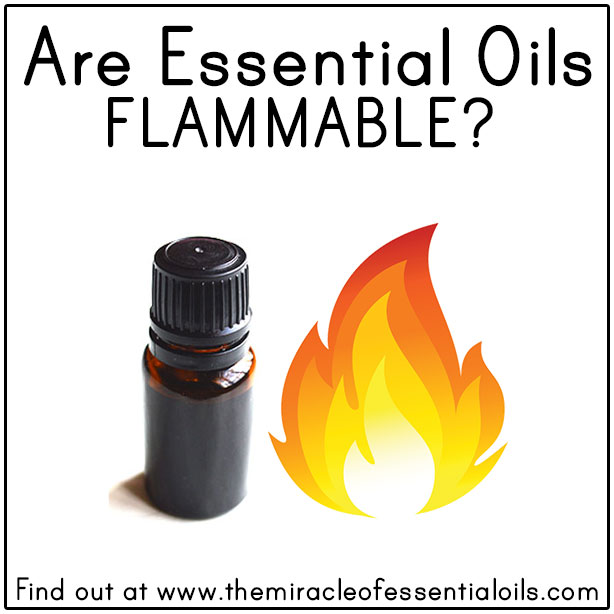 Essential Oils are Volatile
Volatile substances are unstable and highly flammable. A substance is flammable when it has a flash point of not more than 60.5 degrees Celsius. A flash point refers to the lowest temperature at which vapors of a volatile material will ignite when there is an ignition source present such as an open fire.
Are Essential Oils Flammable?
Yes, all essential oils are flammable to varying degrees and the flash point of each essential oil is different. Essential oils such as tea tree, lavender and citrus oils such as lemon, orange, lime and others have a flash point of about 50 – 60 degrees Celsius so they are classified under Class 3 Flammable Liquids.
Are Diffused Essential Oils Flammable?
Imagine you've setup a romantic candle-lit dinner for you and your partner and want to diffuse aphrodisiac oils for love in the air – is this dangerous? Will the vaporized oils create a fire and ruin the dinner let alone make you run for your lives?
According to Robert Tisserand, an essential oils safety authority who has researched the essential oils safety topic for over 10 years, no – vaporized essential oils in the air is not a fire risk. He says that if this was the case, a lot of houses would have burned at this point.
This is an extract of him answering the question, "Are vaporized essential oils a fire hazard?"
'Where there have been problems is with burner/vaporizers that use a naked flame candle – these have been known to "spontaneously" catch fire, and they are a fire hazard. When a naked flame comes into direct contact with concentrated essential oils and a very hot burner, sometimes with oily residues, this can be a risk. Much better to use ones that operate without a naked flame. As for a spark from electrical equipment, this has never been known to ignite essential oil, and I can't imagine a scenario where it would be a problem.'
Therefore, essential oils diffused at a candle-lit dinner will not cause a fire because you're only using about 3 – 6 drops and not liters of oil.
How to Avoid Essential Oil Fires 
Do not use essential oils very near an open fire such as adding drops of essential oil to a pot of water over a gas cooker stove top. The vapors of the essential oil may ignite a fire.
Avoid using essential oil burners that use a naked flame candle to burn the essential oils to perfume a room. Heat even destroys essential oils and causes the chemical composition of the oils to change. Instead, invest in a non-plastic cold air diffuser which works by dispersing the essential oil scent particles into the air with the use of water, instead of heat.
Do not store essential oils in your kitchen near the gas stove.
Avoid cooking with essential oils. Refrain from cooking with essential oils or adding them to food. Essential oils are a powerful enough remedy which can be used without ingestion. You don't need to ingest essential oils to get a more potent healing effect: when essential oils are applied topically or inhaled, they travel deep into the blood and enter the blood stream! Read more: Can I Ingest Essential Oils?
Do not take essential oils to dry saunas.
If you are new to essential oils, please read: Caution & Safety Information when Using Essential Oils