Pets are our cuddly, friendly house mates, who can come with a whole host of nasty smells. By using essential oils for pet odor, you can completely do away with synthetic pet products that are laced with harsh ingredients that cause a lot of damage in the long term.
Fighting Pet Odor
Got a dog, cat, hamsters or rabbits? Chances are you've struggled with that lingering pet stink that comes from their fur, urine, fecal matter or litter box.
Pets are sensitive so you might be looking for a natural odor fighting remedy rather than using conventional products that are filled with harsh chemicals, synthetic fragrances and other nasty ingredients.
One of the best natural remedies for getting rid of all types of odor that come with our furry friends is by using essential oils!
How Do Essential Oils Help Fight Odor?
Essential oils are potent plant concentrates that are extracted by compressing or distilling a large amount of plant matter. They can be extracted from the leaves, flowers, stem and roots of a plant. Essential oils are rich in volatile oil compounds that have strong aromatic scents. These scents are all-natural and safer compared to synthetic perfume-based pet products.
You can make several homemade DIY products using essential oils to help fight pet odor in your house. But before we look at some stink-busting essential oils and recipes, it is pertinent that we discuss safety when using essential oils for pets.
Safety When Using Essential Oils With Pets
Pets are more sensitive to essential oils compared to us because they are smaller, have lower body weights and have shorter life spans. Their livers are also unable to process toxins as efficiently as our livers, so they are more likely to get hurt from essential oil exposure.
Here are some guidelines to follow when using essential oils with pets:
» Do not allow your pets to ingest essential oils. There are no exceptions for this. Even if it is well-diluted, please do not feed your pets essential oils; it may do more damage than good.
» Do not use essential oils undiluted. Pets' skin is sensitive and essential oils such as tea tree and lavender that can be used undiluted on our skin should not be used like that on pets' skin.
» Do not diffuse essential oils for too long in closed spaces. Pets can be irritated by strong scents yet they may not be able to express that to you. Only diffuse a few drops at a time and only diffuse in a wide room with proper ventilation. Use a high quality essential oil diffuser like this one.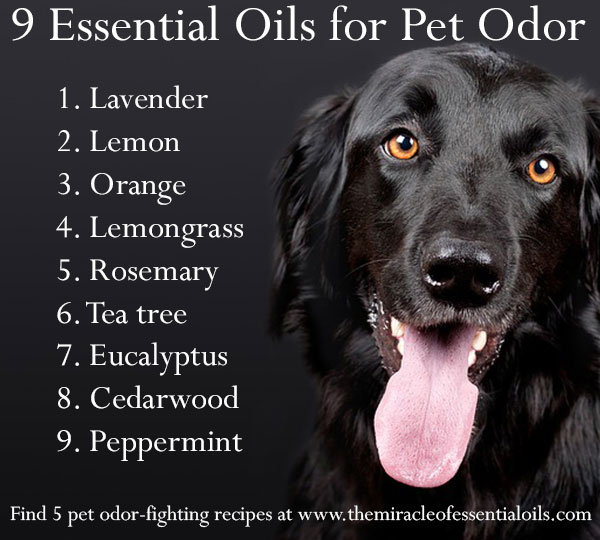 Top 9 Essential Oils for Pet Odor
How to Use Essential Oils for Pet Odor
1. DIY Carpet Powder for Pet Urine
Is your dog fond of peeing on the carpet? (They usually are). Not to worry – this anti-bacterial, disinfecting carpet powder with a lovely floral and refreshing aroma will dispel all evidence of unsightly stenches!
What you need:
Method:
In a cheese shaker jar (8 oz or more), pour in 1 cup of baking soda and add in the essential oils
Screw on the lid and shake to get all the oils mixed in with the soda.
Allow the powder to rest for 20 minutes so that the oils can get absorbed into the baking soda crystals.
Now dust this carpet powder all over the areas of the carpet where there are urine stains.
Allow the powder to absorb the odors for at least 20 minutes.
Vacuum as usual.
2. Non-Toxic Room Spray
What you need:
Method:
Measure out and carefully pour all the above ingredients into your spray bottle.
Close the lid and shake gently to mix all the ingredients.
Now spray 4 – 5 times around the room you want to freshen up.
Be careful not to spray near your eyes or your pets' eyes.
3. Bad Odor Absorbent
You can make this easy bad odor absorbent jars that you can keep in strategic corners of the room. They will suck out bad odor from the air and dispel aromatic essential oils into the atmosphere.
What you need:
Method:
In a measuring cup, pour the baking soda and drop in the essential oils.
Stir them all in using the back of a spatula.
Now transfer this essential oil-infused baking soda into your small glass jars, dividing them equally.
Cut out your cheese cloth to make covers for the jars so that nothing drops into them.
Use strings to wrap around the cheesecloth and secure them to the mouth of the jar.
Now your odor absorbers are ready! Place them in strategic corners of the room to absorb malodors through the day and night.
Tip: You can also place these in the bathroom to get rid of bathroom smells. Replace the baking soda and essential oils every 2 weeks.
4. Stink-Be-Gone Blend
Make a batch of this pet-safe essential oil blend that you can diffuse in your rooms.
What you need:
Method:
In an amber dropper bottle, measure out and pour the essential oils in.
Screw on the lid and shake the bottle to blend all the essential oils together.
You can diffuse 3 – 6 drops of this blend for not more than 1 hour every day.
5. Refreshing Bath Time
A bath is a great way to keep your pets smelling fresh.
What you need:
Method:
When giving your dog a bath, simply add some lavender essential oil to your dog shampoo or liquid castile soap to neutralize the odors that are lodged within the fur. Rinse and repeat as necessary.
This also works as a natural flea and tick repellent!
Also try this amazing DIY Essential Oil Dog Shampoo recipe on the blog!
Do you use essential oils for pet odor? Share with us your best pet odor busting recipes in the comments below!