It's time to ditch those conventional dog shampoos and make your own cheap, antibacterial and nice smelling DIY dog shampoo with essential oils!
Our furry friends love messing around and getting dirty very fast, which means they can come smelling funky. And before you pull out that expensive dog shampoo, I'm here to tell you that you can make your own cheap dog shampoo with essential oils!
You do not need to spend a lot of money and it's very effective too! This dog shampoo recipe will get your dog squeaky clean with silky fur. It also banishes pet odor and keeps away fleas and other micro-organisms.
Are Essential Oils Okay to Use on Dogs?
Essential oils are to be used with caution. Dogs are sensitive to essential oils because their livers are unable to process toxins as efficiently as ours. So do not use more essential oil drops thinking it will do them good. Too much essential oil exposure is bad for their livers! Read more: Never Use these Essential Oils for Pets
But using just a few drops is perfectly fine and safe so keeping that in mind, you can enjoy using Mother Nature's essential oils for your pets!
Essential Oils for Pet Odor
In the recipe below, I used a few drops of lavender oil. This oil is very gentle and soothing. It also has a soft floral scent that smells nice. Lavender oil is also antibacterial, antiseptic and anti-inflammatory. It wards off microbes and germs that can irritate and itch your dog's fur.
Instead of lavender oil, you can choose any other essential oils: Essential Oils for Pet Odor
Okay, onto the recipe!
DIY Essential Oil Dog Shampoo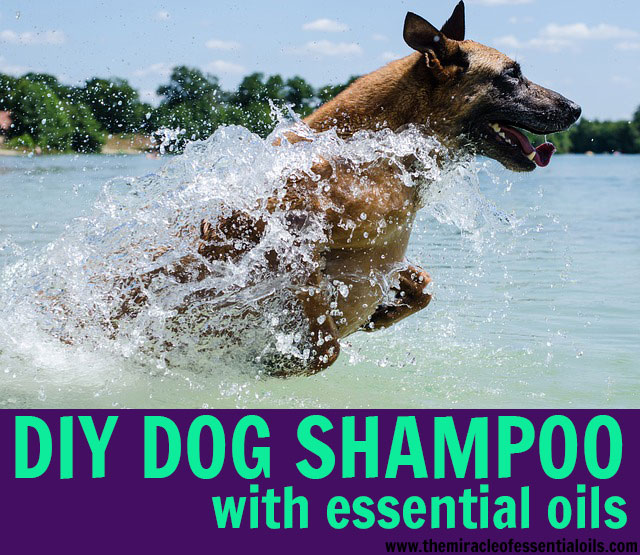 What you Need
Directions
Into your bottle – it could be a recycled bottle or a flip top bottle – pour the lavender hydrosol with the help of a funnel.
Next add the vegetable glycerin and lavender oil.
Lastly, slowly pour in the liquid castile soap.
Cap the bottle and shake gently to get all the ingredients combined.
Store in a cool dry place and make sure not to get any water into it.
To use, squeeze some onto your palms then lather up your dog. Rinse well then dry the fur and groom.
Use once a week when giving your dog a bath!
Hope you find this DIY essential oil dog shampoo useful!