Runny nose, itchy eyes, headache, sore throat? Looks like you've got a cold! Try this DIY Essential Oil Blend for Colds as a natural remedy!
What is a Cold?
A cold, also called a common cold, is a viral infectious disease of the upper respiratory tract. It mainly affects the nose, but the sinuses, throat and voice box might also be affected. A cold is the most frequent infectious disease in humans. The average human adult suffers from 2-4 colds a year while the average child may get 6-8 colds a year.
Colds usually occur during cold weather and winter. People usually recover within 7-10 days. But some symptoms last may last up to 3 weeks.
There are over 200 virus strains involved in the cause of the common cold. However, a strain known as rhinoviruses are the most common. They are spread through the air during close contact with infected people. They are also spread indirectly when a person touches an object used by the infected person and touches his/her mouth or nose.
Symptoms of a cold include:
Cough
Runny nose
Red, watery & itchy eyes
Nasal congestion
Sore throat
Muscle ache
Fatigue
Headache
Loss of appetite
And others
How Can Essential Oils Help Colds
Essential oils are Nature's most powerful plant extracts. They have amazing therapeutic properties that offer a lot of health benefits. Some essential oils have strong antiviral properties that fight against the common cold. Essential oils also unclog blocked sinuses and promote easy breathing by clearing the airways. Using essential oils lessens symptoms of the common cold, shortens its duration and supports a healthy respiratory system. Some of the best essential oils for colds include:
Oregano oil
Peppermint oil
Eucalyptus oil
Tea tree oil
Lemon oil
Lavender oil
Ginger oil
Black pepper oil
You can read more in this comprehensive article: Essential Oils for Colds and Congestion
DIY Essential Oil Blend for Colds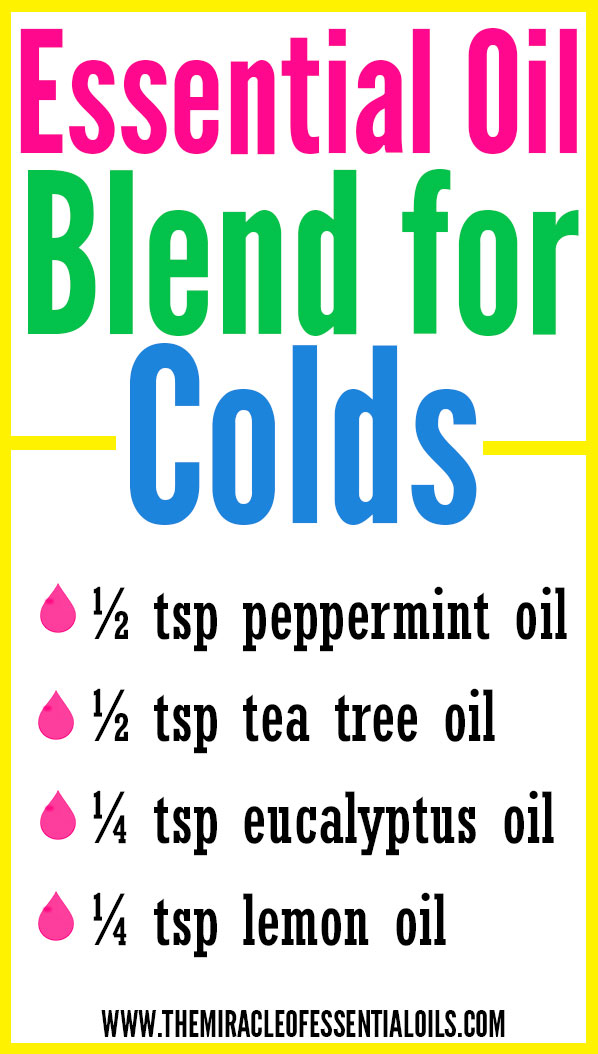 What you need:
½ tsp peppermint oil
½ tsp tea tree oil
¼ tsp eucalyptus oil 
¼ tsp lemon oil
Syringe
Small bowl
Empty 15 ml essential oil bottle
Directions:
Measure out ½ tsp peppermint oil, ½ tsp tea tree oil, ¼ tsp eucalyptus oil and ¼ tsp lemon oil in a small bowl.
Mix the essential oils using a toothpick.
Now get a syringe and transfer the potent blend into an empty essential oils bottle. You can also use a small amber dropper bottle.
Your DIY Essential Oil Blend for Colds is ready!
How to Use the Above Blend
1. Diffuse. Place 6 drops of the above blend in a high quality diffuser, with the required amount of water. Diffuse for not more than an hour. 
2. Steam inhalation. Pour 2 cups of boiling hot water in a bowl and place the bowl on a table. Sit on the table with your face above the steamy water. Now add 1-2 drops of the above blend. Get a towel and create a tent with it to enclose your head and the bowl so the steam reaches your face. You can keep your eyes open or closed. Stay in the tent for about 10 minutes. If it gets unbearable, you can come out for a second to get fresh air. Repeat 3 times a day.
3. Warm bath. Prepare a warm bath. Mix 10-15 drops of the above blend with 2 tbsp of coconut oil. Pour this into the bath and stir it with your hand. Soak for as long as you can.
4. Aromatherapy inhaler. Place 3-6 drops of the above blend in an aromatherapy inhaler. Inhale deeply as needed.
5. Chest rub. In 2 tsp of shea butter, mix 4 drops of the above blend and rub it on your chest, throat, back and soles of feet.
Caution
If you're new to essential oils, please read Caution & Safety when Using Essential Oils

Keep this DIY Essential Oil Blend for Colds handy so you can quickly whip it out when a cold's coming on!