Naturally soothe and heal your irritated skin using this DIY Essential Oil Blend for Hives!
What are Hives?
Hives are a kind of skin rash that causes raised, red, itchy bumps or welts on the skin. They come in abundance and can have a stinging sensation and burning pain. Hives typically last a short time from a couple of hours to a few days and do not leave any traces when they disappear. If notice hives on your face, lips or mouth, please seek medical attention.
The main causes of hives include allergic reaction to insect bites, medication or food. Other causes include psychological stress and cold temperatures. Risk factors include having asthma or hay fever.
Home remedies provide soothing relief to hives. They can relieve itching, soothe irritation, alleviate inflammation and help them go away faster. A great home remedy for hives is essential oils! How do essential oils help treat hives? Check out below:
How Can Essential Oils Help Hives?
Many essential oils have anti-allergenic, anti-inflammatory, anti-histamine, antibacterial, antioxidant and skin soothing properties. These therapeutic properties help heal hives! Some of the best essential oils for hives include:
Peppermint oil
Lavender oil
Tea tree oil
Chamomile oil
Helichrysum oil
Frankincense oil
DIY Essential Oil Blend for Hives
What you need:
5 drops lavender oil
5 drops tea tree oil
3 drops roman chamomile oil
3 drops frankincense
3 drops peppermint oil
3 drops helichrysum oil
3 tbsp sweet almond oil
Small funnel
2 oz amber glass dropper bottle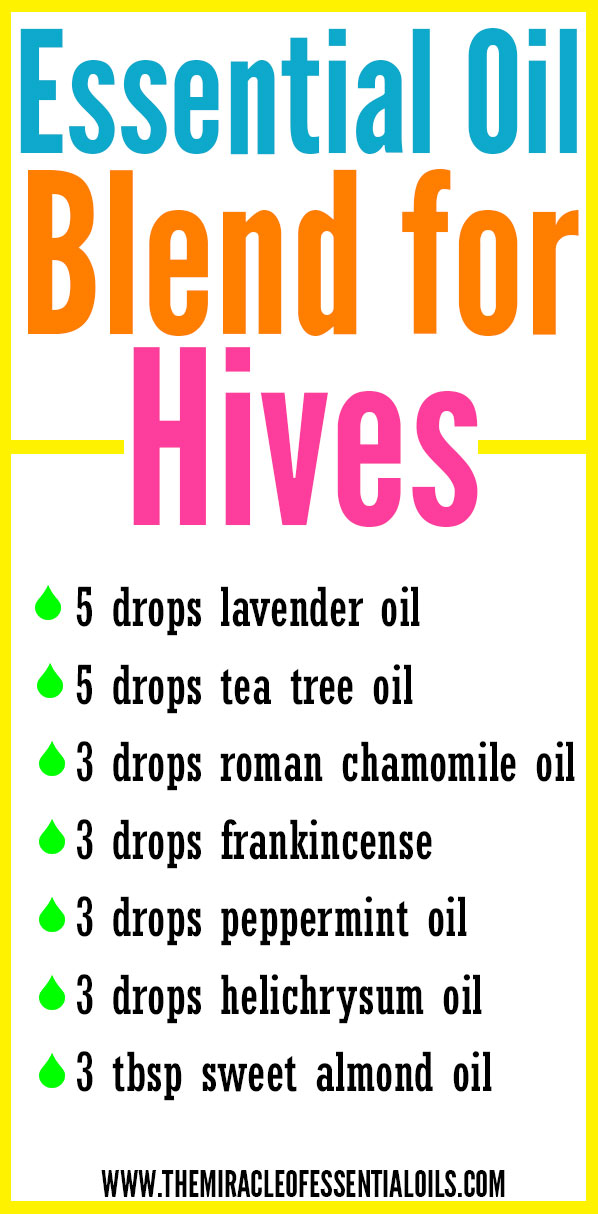 Directions:
Pour 3 tbsp of sweet almond oil into a small amber glass dropper bottle.
Now carefully add all the essential oils, drop by drop.
Screw on the cap tightly and shake the bottle gently to combine all ingredients.
Your DIY Essential Oil Blend for Hives is ready!
To use, gently apply a suitable amount on the affected area 3 times a day.
Caution
If you're new to essential oils, please read Caution & Safety when Using Essential Oils

Are you ready to try this DIY Essential Oil Blend for Hives?