Diligently use this DIY Essential Oil Blend for Hyperpigmentation to even out your skin!
What is Hyperpigmentation?
Hyperpigmentation is a skin condition characterized by patches of skin being darker than the rest. It is caused by an increased production of melanin in some areas of the skin. People with olive, brown or dark complexions such as South East Asians, Latinas, African Americans and Africans are more susceptible to hyperpigmentation than those with lighter/pale skin tones.
There are many types of hyperpigmentation and some of them include melasma and post inflammatory hyperpigmentation. Post inflammatory hyperpigmentation is brought about by acne scarring. It can appear in individuals of any skin color including those with pale skin tones.
How Can Essential Oils Help Hyperpigmentation?
Essential oils are great for healing many types of skin ailments, including hyperpigmentation. They have skin brightening and lightening properties that help even out skin tone and make skin glow with radiance. Essential oils also have strong anti-inflammatory properties which make them excellent at healing inflammation. This especially helps with post inflammatory hyperpigmentation.
DIY Essential Oil Blend for Hyperpigmentation
There are many effective remedies for hyperpigmentation including brown sugar scrubs, orange peel face masks and more. But in this recipe, I want to share with you a powerful serum. Here is the recipe: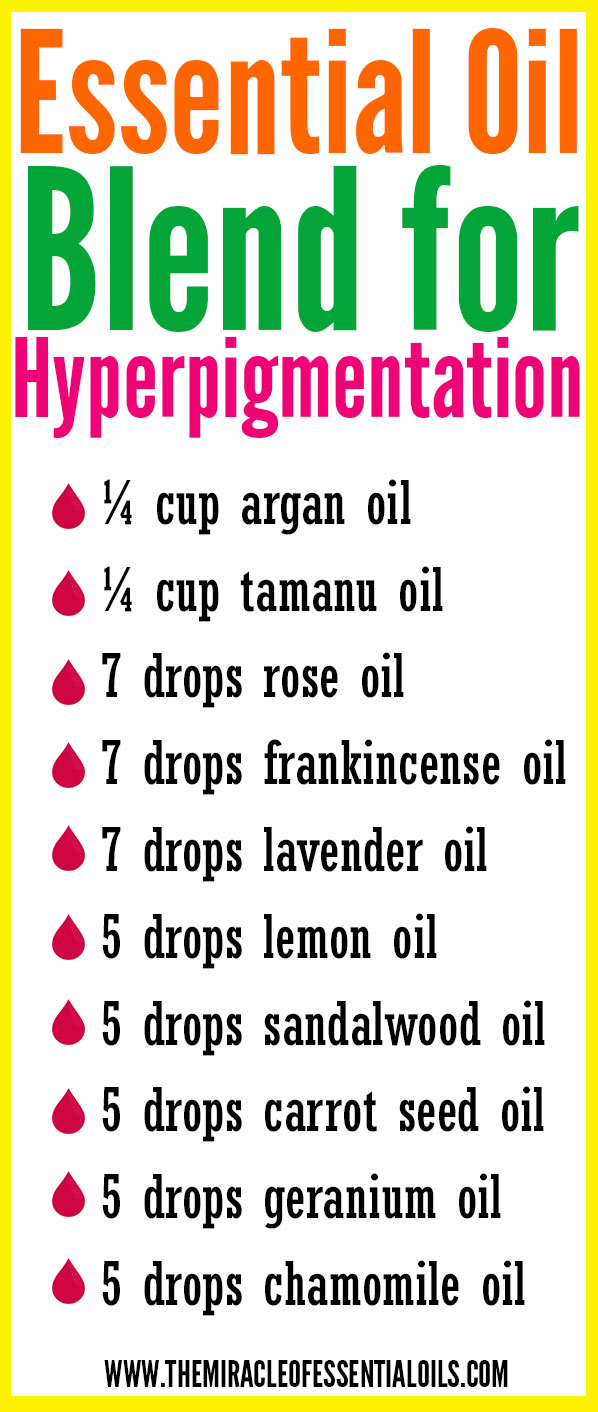 What you need:
¼ cup argan oil
¼ cup tamanu oil
7 drops rose oil
7 drops frankincense oil
7 drops lavender oil
5 drops lemon oil
5 drops sandalwood oil
5 drops carrot seed oil
5 drops geranium oil
5 drops chamomile oil
Small funnel
4 oz amber glass dropper bottle
Directions:
With the help of a funnel, pour ¼ cup of argan oil and ¼ cup of tamanu oil into a 4 oz amber glass dropper bottle.
Now carefully drip in all your essential oils, drop by drop.
Screw on the cap tightly and shake the bottle gently to combine all the ingredients.
Your DIY Essential Oil Blend for Hyperpigmentation is ready!
Apply 2-3 drops on your face after cleansing and toning it. If you don't apply toner, then apply this serum immediately after washing your face.

Caution:
If you're new to essential oils, please first read Caution & Safety when Using Essential Oils
Use the above blend only at night time since this blend contains lemon oil that is photo-reactive.
Please do a patch test on your inner elbow before using this serum.
Do you have any other effective remedies for hyperpigmentation?