You can make your own DIY essential oil body mist recipes with a variety of fragrant essential oils, distilled water and an emulsifier. Yes, about three ingredients is all you need to keep your body clean, fresh and smelling great!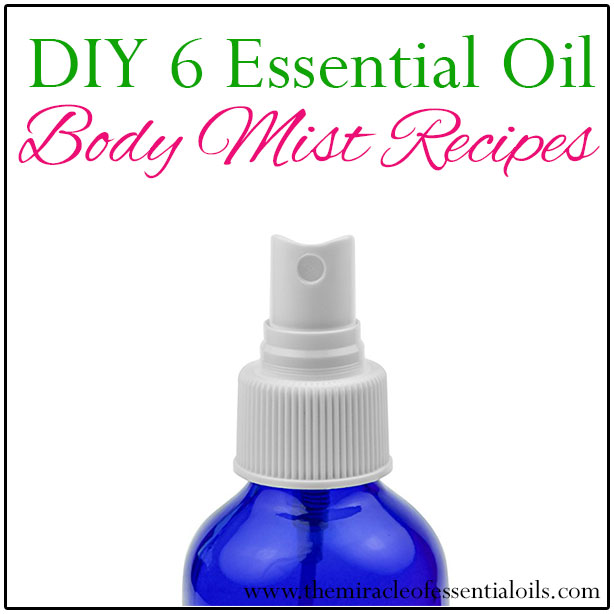 Body mists are water-based products that you spray all over your body for their cooling, cleansing and rejuvenating effects. Why would one use a body mist? Here are a few reasons:
Why Use a Body Mist
To cool down an overheated body
For a natural lingering scent on skin
Deodorizing properties
Uplifting dull moods
As an aphrodisiac
To smell great
Calm down the mind and body
Relaxing effect
Skin rejuvenation
Cleanse and refresh skin
And more!
Essential Oil Body Mist – Main Instructions
You're going to need water, preferably distilled so that your body mist lasts long. Then you'll need an emulsifier to combine the essential oils because your applying the body mist directly on your skin.
Emulsifiers include witch hazel, vegetable glycerin, aloe vera gel and raw honey. Pick any of your choice but my best is witch hazel.
Now combine the ingredients in a fine mist spray bottle, preferably one that's amber or cobalt blue glass, to prevent light degradation.
Okay, here are the instructions:
What you need
Method
Pour in witch hazel into the spray bottle.
Add the essential oils, drop by drop.
Swirl the bottle to combine the essential oils into the witch hazel.
Pour in the distilled water, cap the bottle and shake well.
To use, mist all over body after showering before toweling off.
Below, we are 6 essential oil body mist recipes to try out! Just pick your preferred recipe and get ready to start mixing.
6 DIY Essential Oil Body Mist Recipes
1. Cleansing
2. Refreshing
3. Floral
4. Calming
5. Delicious
6. Masculine
Caution
Please use a patch test for 30 – 60 minutes on your inner elbow before spraying all over your body. This way, you can check if you have any negative reactions to the body mist and prevent damaging your skin.
Keep away from mucous membranes such as eyes, ears, nose mouth and private areas.
Keep away from children.
For more safety precautions with essential oils, refer to this page: Caution and Safety Information When Using Essential Oils