Lose extra inches off your waist and clear cellulite using this DIY essential oil body wrap!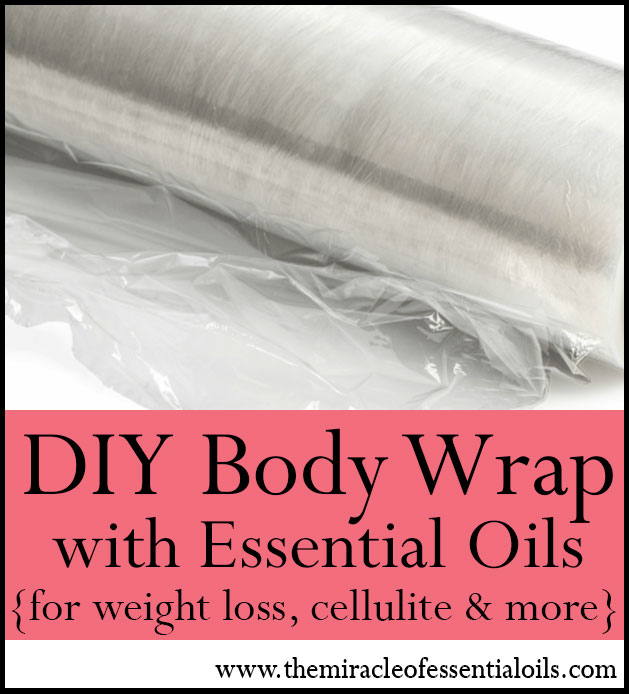 Body wraps are quickly becoming a trend today because they help you lose weight super fast – literally overnight, no kidding. And they really do work. Body wraps aren't just for slimming down though. Here are a few other reasons to use body wraps:
Why Use Body Wraps?
Help in detoxification of the body
Reduce fluid retention
Promote youthful skin
Soften rough skin
Nourish skin from deep within
Clear off cellulite
Deep cleanse skin
Tone, firm and tighten skin
Promote circulation in the body
Eliminate toxins and wastes from the body
Combat bloating
And more!
Do Essential Oil Body Wraps Work?
The question is, why wouldn't they work?! Essential oils are very pure, powerful and potent liquid substances extracted from aromatic plant material. They are an added boost to DIY body wrap recipes because of their various therapeutic effects and medicinal properties.
Some of their properties include diuretic, detoxifying, rejuvenating, cicatrisant and more that assist in body detoxification, proper flow of toxins and wastes to sites of elimination, promoting blood circulation, reducing fluid retention by promoting drainage of excess water and more.
Below are some of the most powerful detoxifying essential oils for body wraps:
Detoxifying Essential Oils for Body Wrap
Grapefruit
Juniper
Cypress
Lemon
Geranium
Lemongrass
Cilantro
Rosemary
Peppermint
How to Make a DIY Essential Oil Body Wrap
What you Need
1 cup bentonite clay
1 cup seaweed powder
½ cup Epsom salts
2 cups water, green tea or juniper hydrosol
10 – 15 drops essential oil
Stainless steel pot & wooden spoon
Plastic wrap
Cotton cloths
Wool blanket
Method
In a stainless-steel pot, warm the water until it is hot enough to dissolve the Epsom salts.
Once the salts have dissolved, slowly add the bentonite clay and seaweed powder. Stir well with a wooden spoon to form a thick lump-free mixture. It should be easily spreadable and enough to cover your entire body.
Now add your essential oil (s) of choice and stir again.
That's it! Your essential oil body wrap mixture is ready to be slathered all over your body!
How to Use this Essential Oil Body Wrap
Now since this body wrap contains essential oils, we need cotton cloths as well to cover the mixture before we wrap with the plastic wrap. This is because essential oils eat up plastic and create a toxic substance which is so not what we want.
Slather the mixture on your skin: starting with the arms, waist then thighs and legs. Leave out the chest area.
After you finish slathering on one area, wrap it reasonably tight with a cotton cloth strip.
Then wrap the plastic wrap on top of the cloth. This way, the essential oil won't come into contact with the plastic.
When your whole body is slathered up and wrapped, lie down on an easy to clean area or on a massage table and place a wool blanket over you.
Stay in this position for an hour.
When the time is up, you'll be sweating like crazy and will have lost weight! Take an alternative hot and cold shower to assist in more detoxification and fluid drainage.
That's it! You can measure yourself with a tape measure and see how many inches you trimmed off!
Repeat once every two weeks for beginners, then every week. You can also do it just the night before a main event.
Caution
Before using essential oils on your body, do a patch test to make sure you aren't allergic to any of the oils.
If you're new to essential oils, please first read: Caution & Safety Information when Using Essential Oils