Believe it or not, DIY deodorant was one of the first things I made when I got my hands on essential oils. Store-bought deodorant is not an easy thing to give up especially if you're addicted to wearing it more than 2 times a day. But the transition was smooth for me and the chemical-free, safe and effective DIY deodorant I made was just splendid. Suffice to say, I'm never going back to store-bought! Not when I can make a perfect 4 ingredient deodorant! Here's the recipe: DIY Essential Oil Deodorant with Baking Soda
Now if you're looking for a DIY essential oil deodorant roll-on, it's even easier to make! You only need 4 ingredients and a roll-on bottle. It's even handier than a cream deodorant because you can easily keep your roll-on bottle in your purse, pocket or wherever and just roll it on when needed – in the bathroom of course.
Ingredients Used in this DIY Deodorant Recipe
Here are the ingredients we're going to use for this DIY essential oil deodorant roll-on:
Witch Hazel – Witch hazel is an astringent and it's also antibacterial in nature. It helps kill off germs and keep your skin free from excess oils. Witch hazel is also cleansing.
Vegetable Glycerin – Glycerin is very moisturizing as it's a natural humectant. It'll keep your underarms moisturized and soft without making them irritated.
Himalayan Pink Salt – Salt is antibacterial and also absorbs sweat. It neutralizes bad body odor as well. Himalayan pink salt also contains any minerals that are good for your skin and help it detox. Some of the minerals in Himalayan pink salt include potassium, magnesium, sodium and more.
Lemon Essential Oil – Lemon essential oil is cleaning and antibacterial. Plus it has a clean, fresh and citrusy scent that's perfect for deodorant.
Peppermint Essential Oil – Fresh clean scent and cooling feel on skin.
Rosemary Essential Oil – Refreshing herbal scent. Antibacterial and anti-inflammatory properties.
Lemon, peppermint and rosemary together create a fresh scent for this DIY deodorant. But feel free to use other essential oils of your choice! Please Read: The Best Essential Oils for Deodorant
DIY Essential Oil Deodorant Roll-On Recipe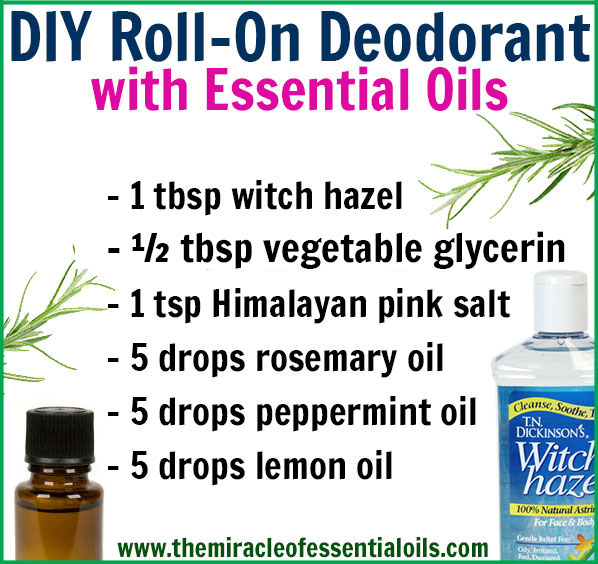 What you need
Directions
Remove the stainless-steel roller ball from the bottle and add the essential oils.
Add the Himalayan pink salt crystals and top with witch hazel and vegetable glycerine.
Push back the roller ball firmly onto the bottle and shake well.
Roll onto clean and dry underarms.