Do you live in a house whose surfaces catch dust really quickly? And you have to wipe them every single day? Then you NEED this DIY essential oil dusting spray!
What is a Dusting Spray?
Dusting spray is simply a solution used to clean dusty surfaces. It contains cleansing ingredients that easily remove dust, polish the surface and keeping it looking shiny.
If you add essential oils, it becomes an essential oil dusting spray and has lots of added benefits! For example, it makes your surfaces look squeaky clean and shinier, has powerful antimicrobial, antiseptic and antibacterial properties and leaves a beautiful scent lingering around!
Okay, let's get into the ingredients we shall be using for this DIY essential oil dusting spray!
DIY Essential Oil Dusting Spray Recipe
This essential oil dusting spray can be used every day. It may not work for all wooden surfaces, though. Get to know how your wood was sealed before using this spray on it. Here are the ingredients we shall be using: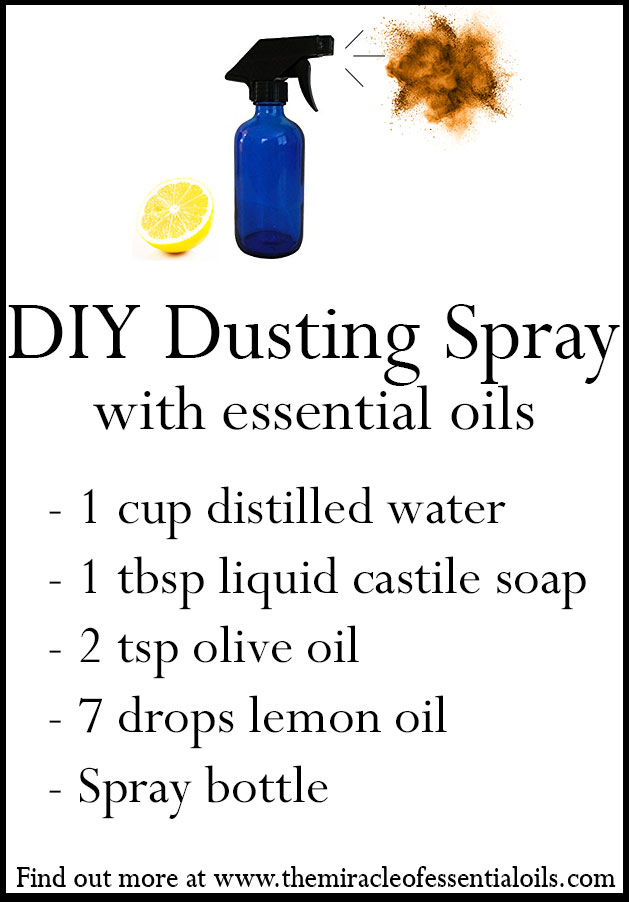 What you Need
Method
Into your spray bottle, add 2 tsp of olive oil followed by the essential oil.
Now swirl the bottle gently to combine the essential oils into the olive oil.
Pour in the distilled water then add 1 tbsp of liquid castile soap.
Shake very well to combine.
Store in a cool dry place.
To use, spray on the surface then wipe off with a soft microfiber cloth. Shake well before every use.
Ta-da! Squeaky clean and sparkly surfaces!
Other Essential Oils for Green Cleaning
Fancy using other essential oils or a combination of two or more? Here are the best green cleaning essential oils:
Caution