Are you ready to make your own totally easy DIY essential oil eye makeup remover? Read on!
Your eye makeup remover can consist of just water and soap or even a dime sized amount of coconut oil. But, to spice things up and make it more effective, you can add essential oils! Now why would anyone want to add essential oils to make a DIY eye makeup remover? Check out the reasons below:
Why Add Essential Oils to Eye Makeup Remover?
You can definitely make your own eye makeup remover without using essential oils. Especially because essential oils shouldn't come into contact with your eyes as they can cause burning sensations. However, here are some reasons to add essential oils to your eye makeup remover:
Antibacterial properties: Eye makeup is one of the leading causes of eye infections. Whether it's because of sharing eye makeup products with others or bacteria contaminating the eye makeup which then enters your eye. Thankfully, you can prevent this by adding essential oils with antibacterial properties. Some of these are tea tree essential oil, lavender essential oil and rosemary essential oil.
Cleansing action: Eye makeup is difficult to take off and essential oils can help take it off better. What's more is that some essential oils have a cleansing action that help cleanse skin and remove dirt, stale oils and makeup from pores. Lavender, tea tree and peppermint are the best choices for this.
Anti-aging effects: The skin under and around the eyes is very prone to crinkles and creases, a.k.a WRINKLES! Essential oils are known to be powerful anti-aging substances. They smooth wrinkles, tone skin, moisturize and tighten it up! And the best way to use anti-aging essential oils for the skin around your eyes is through DIY eye makeup remover. That's because you can't apply essential oils (diluted) on your eye lids. It'll seep into your eyes. You can only use it this way underneath your eyes. So for the skin around your eyes, eye makeup remover with essential oils is your best anti-aging bet. Use frankincense, geranium, lavender or sandalwood.
Promotes eyebrow and eyelash growth: Yup, that's right! If you want a creative way to help your eyebrows and eyelashes grow faster, just use essential oils in your eye makeup remover. By the way, commercial eye makeup removers may promote sparse and thin eyebrows or eyelashes, did you know?! That's because they contain many hidden chemicals that can be toxic even. Oils that promote eyebrow or eyelash growth include lavender, rosemary and cedarwood. Read more: Essential Oils for Eyebrow Growth
How to Make a DIY Essential Oil Eye Makeup Remover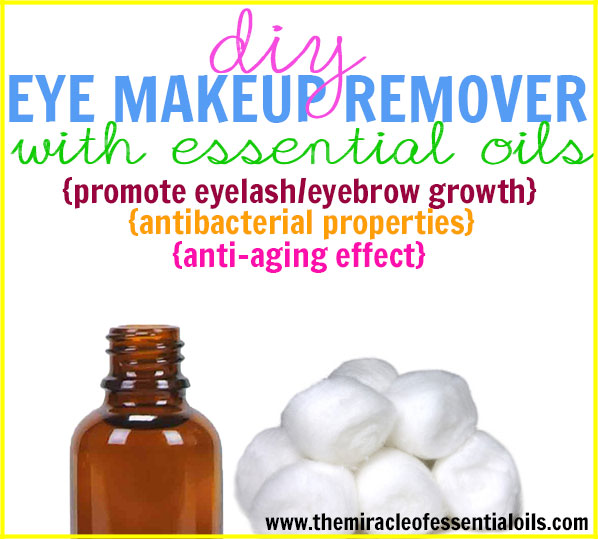 What you need
Directions
Using a funnel, pour ¼ cup jojoba oil into your storage container. You can use a dropper bottle or flip top bottle.
Now carefully add 3 drops each of lavender, frankincense and tea tree essential oils.
Close the bottle and shake everything well to form a well combined mixture.
Store in a cool dry place.
To use, place a little on a cotton ball and gently swipe it over your eyes and eye brows.
Then wash your face as usual. Keep your eyes shut tight, please! We don't want the essential oil to sting your eyes. But, don't worry, the essential oils are properly diluted and won't negatively affect your eyes.