Face toning is something many people don't do in their skin care routines. It's not essential for everyone but if you have oily/acne prone skin or large pores, then toning your skin will improve it a lot. Facial toning uses astringents to tighten & shrink pores, firm skin and remove excess oiliness.
Many essential oils are natural astringents. So making a DIY essential oil face toner is very effective and can last long, compared to using cheaper ingredients like lemon juice which can get spoiled fast. Let's check out the ingredients needed to make a DIY essential oil face toner!
Benefits of Each Ingredient
Check out the ingredients we're going to need:
Tea tree oil – This essential oil is the most powerful disinfectant of all essential oils. It banishes dandruff, wards off lice, kills germs and keeps your scalp clean and fresh.
Lemon oil – Lavender is the most versatile oil. It soothes the scalp, reduces inflammation & relieves irritation of any sort. It also has a pleasant and subtle scent that is relaxing.
Lavender oil – Lavender is very soothing to the skin. It balances the skin's sebum and prevents the tea tree and lemon oils from drying out your skin too much.
Witch hazel – Witch hazel is a great natural astringent. It tightens pores, keeps skin firm and also wards off germs. It's great for those with oily/acne prone skin to reduce excess oiliness. Witch hazel also dilutes/emulsifies the essential oils to make it safe to use on your skin.
Rose water – This is going to be the base ingredient for your DIY essential oil face toner. Rose water is a hydrosol extracted from rose petals. It's a by-product of rose essential oil distillation. This beautiful smelling hydrosol balances skin by toning it and hydrating it. It also has nourishing nutrients in it that boost collagen and keep skin youthful.
DIY Essential Oil Spray for Dreads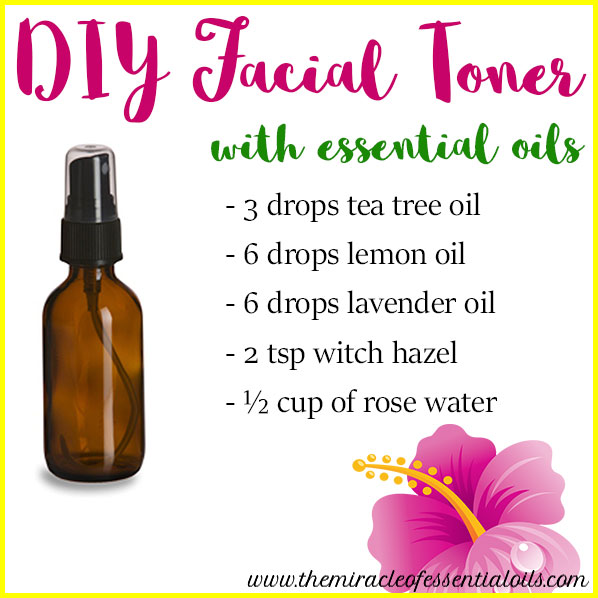 What you need
Directions
Add 2 tsp of witch hazel to your spray bottle.
Next, carefully add the drops of tea tree, lemon and lavender oils.
Now swirl the bottle gently to mix the essential oils in the witch hazel.
Use a funnel to fill the spray bottle with ½ cup of rose water.
Close the bottle and shake well to create an emulsion.
That's it! Your DIY essential oil face toner is ready.
To use, close your eyes and lightly mist the toner all over your face. Let it dry then use a face serum or moisturizer. You can choose between a DIY Essential Oil Face Serum for All Skin Types or DIY Essential Oil Face Moisturizer.