Find out how to make an easy DIY essential oil face wash in this post!
I love using honey to wash my face. You can find a mason jar or squeeze bottle of honey in my bathroom cabinet. It's so cleansing, nourishing and gentle on the face. What's more is that it reduces blemishes and brightens skin!
But sometimes when I want a heavy-duty face wash to scrub the grime & makeup off my face especially after a long day, I want a foaming face wash. Something that's quick, foams and gets everything off my face in one go. Enter this DIY Essential Oil Face Wash with Honey! It's absolutely brilliant. You must try it out!
Easy Recipe: DIY Essential Oil Face Wash with Nourishing Honey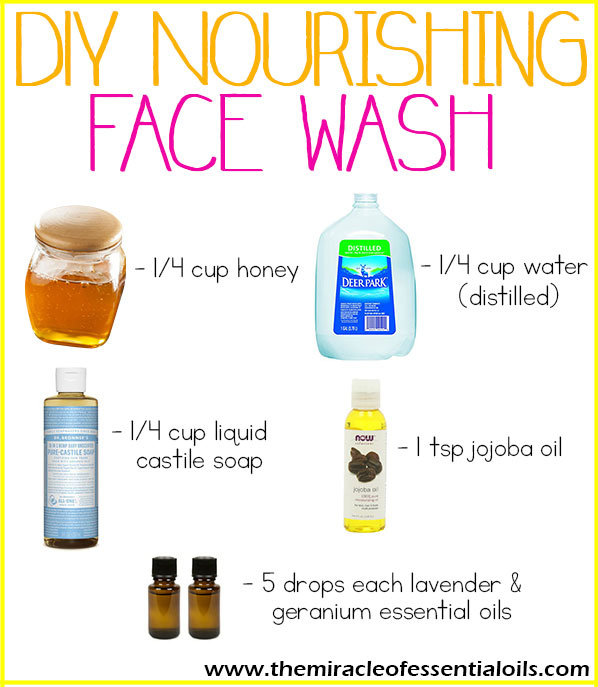 What you need
¼ cup unscented liquid castile soap
¼ cup liquid honey
¼ cup distilled water
1 tsp jojoba oil
5 drops lavender essential oil
5 drops geranium essential oil
Funnel
Foaming soap dispenser
Directions
Using a funnel, pour ¼ cup of distilled water, ¼cup of liquid honey and ¼cup of liquid castile soap into a foaming dispenser bottle.
Next pour in just 1 tsp of jojoba oil.
Lastly, carefully add 5 drops each of lavender and geranium essential oils.
Close the bottle and shake for 4 seconds to mix everything up.
Voila! Your diy essential oil face wash is ready!
Store in a cool dry place. It'll last about 1 month or more but you'll be done with it by then!
Use just twice a day, once when you wake up and again when you come back home in the evening. Shake before use.
My Tips
Instead of adding jojoba oil, you can use 1 tbsp each of pure aloe vera gel and vegetable glycerin. These ingredients are natural humectants which will keep your skin hydrated. Vegetable glycerin also helps the face wash lather better.
Use lemon essential oil in place of geranium essential oil for skin brightening and lightening. However, if you add lemon, make sure to use the face wash only at night time. That's because lemon is phototoxic and can react when it's on skin that's exposed to sunlight.
Got acne? Instead of geranium oil, use tea tree essential oil. Also see: DIY Essential Oil Acne Face Wash