Find out how to make an easy DIY essential oil acne face wash starring tea tree oil in this post!
The best essential oil for acne has to be tea tree essential oil! It's said to be even more effective than benzoyl peroxide. What makes tea tree essential oil so good for acne is its therapeutic properties. Check them out below:
Powerful disinfectant – Tea tree oil is a powerful disinfectant. It's good for fighting off acne bacteria and keeping the pores clean.
Strong anti-inflammatory – Reduce acne inflammation and redness with tea tree oil's strong anti-inflammatory effects!
Anti-bacterial, antimicrobial & antiseptic – Tea tree oil kills bacteria and germs so effectively. It's useful for staving off pus-filled acne and it kills acne causing bacteria from deep within the pores.
Other properties of tea tree essential oil include its cooling properties that soothe and refresh acne prone skin.
The other ingredients we shall be using in this DIY essential oil acne face wash include rose water, liquid castile soap, pure aloe vera gel, vegetable glycerin and lavender essential oil. All these ingredients are all natural and have effective acne-busting properties.
Easy Recipe: DIY Essential Oil Acne Face Wash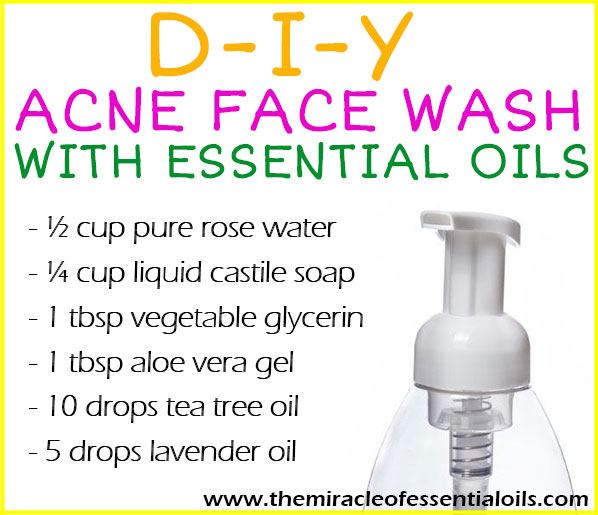 What you need
½ cup pure rose water
¼ cup liquid castile soap
1 tbsp vegetable glycerin
1 tbsp aloe vera gel
10 drops tea tree essential oil
5 drops lavender essential oil
Funnel
Foaming soap dispenser
Directions
Using a funnel, pour ½ cup of pure rose water into a foaming dispenser bottle.
Next pour in ¼ cup of liquid castile soap. You can use unscented liquid castile soap or tea tree liquid castile soap.
Drop in 1 tbsp of vegetable glycerin and 1 tbsp of pure aloe vera gel.
Lastly, carefully add 10 drops of tea tree essential oil and 5 drops of lavender essential oil.
Close the bottle and shake for 4 seconds to mix everything up.
Voila! Your diy essential oil acne face wash is ready!
Store in a cool dry place. It'll last over a month, just don't contaminate it by adding tap water or other ingredients.
Use just twice a day, once when you wake up and again when you come back home in the evening.
Read More