Use any of these 5 essential oils for cystic acne to get those cysts under control once and for all!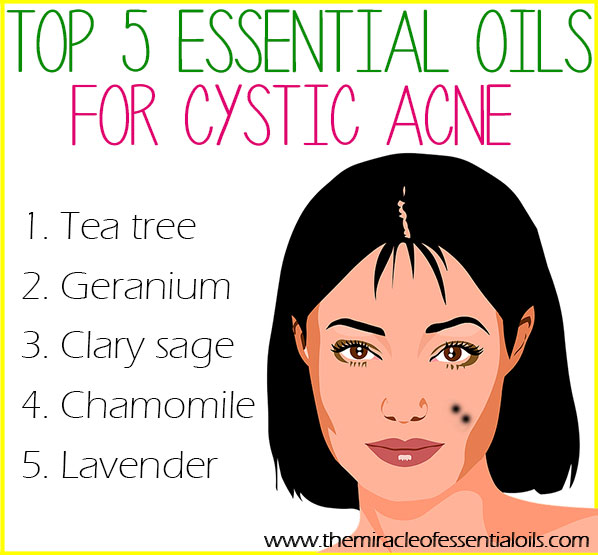 What is Cystic Acne?
You know the times when you have a throbbing big painful bump(s) under your skin? That may be cystic acne.
It's different from normal acne because it doesn't form a 'head'. Inside cystic acne are dead cells, bacteria, pus, dirt and other impurities. Cystic acne forms deep below skin tissue and doesn't easily go away even with over-the-counter treatments. The major cause of cystic acne is hormonal fluctuations. Women usually get one or two cystic acne bumps before, after or during their periods. However, severe cystic acne can be seen in more men than women. Cystic acne usually appears on the cheeks, jaw line, chin and generally on the lower portion of the face. Cystic acne hurts and it also itches.
Don't Miss: Our Essential Oil Ebooks
Picking at cystic acne or popping it is never a good idea. It doesn't even help when you pop it because it's deeply rooted. In fact, if you try popping it with a pin even if it's sterilized, you can get up with an infection or sunken acne scar.
The best way to deal with cystic acne is topical treatments and internal cleansing. What I mean by internal cleansing is drinking a lot of water to flush out toxins, eating hormone balancing foods and fresh fruits. Topical treatments include applying ice, home remedies and essential oils! There are many essential oils you can use for acne treatment but for cystic acne, there are a few specific essential oils that are especially effective. This is because they have hormone balancing properties, strong anti-inflammatory effects, powerful antibacterial properties and oil-control action.
Below, let's find out the best essential oils for cystic acne and how to use them:
Top 5 Essential Oils for Cystic Acne
1. Tea Tree Essential Oil

2. Geranium Essential Oil

3. Clary Sage Essential Oil

4. Chamomile Essential Oil
5. Lavender Essential Oil

How to Use Essential Oils Cystic Acne
The following are ways to use essential oils for cystic acne:
Below are two recipes for how to make a DIY face wash and spot treatment for cystic acne:
1. DIY Face Wash for Cystic Acne
What you need
½ cup distilled water
½ cup liquid castile soap
4 tsp vegetable glycerin
4 tsp pure aloe vera gel
10 drops tea tree essential oil
7 drops geranium oil
7 drops lavender oil
Foaming soap dispenser
Small funnel
Directions
Using a small funnel, pour ½ cup distilled water and ½ cup liquid castile soap into a foaming dispenser.
Next carefully add 10 drops of tea tree oil and 7 drops each of geranium and lavender oils.
Close the bottle and shake well to combine everything. Store in a cool dry place.
Use in place of your usual moisturizer.
2. DIY Spot Treatment for Cystic Acne
What you need
1 oz amber glass dropper bottle
2 tbsp evening prim rose oil
3 drops tea tree oil
3 drops geranium oil
3 drops clary sage oil
3 drops chamomile oil
Small funnel
Directions
Using a small funnel, pour 2 tbsp of evening primrose oil into a 1 oz amber dropper bottle.
Next add 3 drops each of tea tree, geranium, clary sage and chamomile oils.
Close the bottle and shake well to combine.
Caution