Follow this DIY witch hazel essential oil toner recipe to make your very own incredibly easy, cheap and very effective facial toner!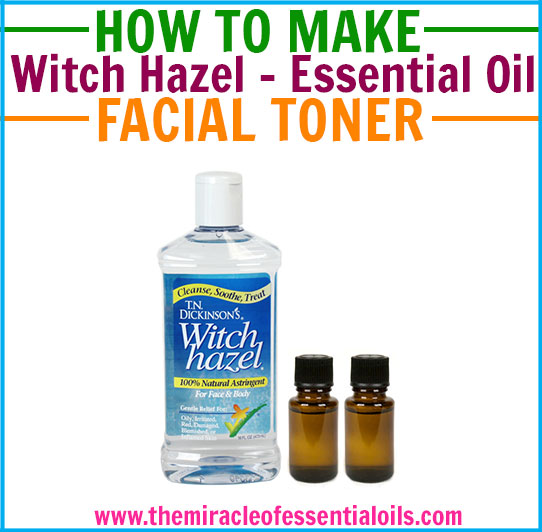 Witch hazel is a popular ingredient in many facial toners and astringents because it tightens & tones skin, reduces excess oiliness and shrinks large pores. It also cleanses and disinfects skin which is good for those with acne.
In this post, we shall find out how to make a DIY witch hazel essential oil toner. You can use any essential oils that are good for skin care but in particular, skin tightening and toning essential oils will be perfect. Let's check out the essential oils you can add:
Essential Oils for Skin Toning
DIY Witch Hazel Essential Oil Toner Recipe
What you need
Directions
Using a small funnel, transfer ½ cup of witch hazel into your amber glass bottle.
Next add 1.5 tbsp of vegetable glycerin, followed by 5 drops geranium essential oil, 5 drops tea tree essential oil and 10 drops lavender.
Close the bottle and shake well to mix everything together.
Your DIY witch hazel essential oil toner is ready!
To use, place a little on a cotton pad or cotton ball and dab onto your clean and dry face. Follow it up with your usual moisturizer. You can check out my DIY Essential Oil Face Moisturizer if you fancy making your own. If you're minimal, just apply a pea-sized amount of shea butter – it's very moisturizing and keeps your face supple.