It's so easy to have gorgeous smelling hair without the use of chemical hair sprays and perfumes! How? By spritzing on some homemade essential oil hair perfume, of course!
Your hair can easily catch dust, dirt, pollution and other weird substances while you're out and about. Sometimes even kitchen smells can latch onto open hair and stay there until you go shower.
What's a person to do? Easy! Make an essential oil hair perfume! It's all natural plus the nice scent sticks to your hair strands for as long as possible. Not to mention, essential oils are known to moisturize & nourish hair, naturally condition it and keep it looking shiny!
This hair perfume is alcohol-free. Alcohol is used as a base ingredient in many essential oil perfume recipes. But the reason we're choosing not to use alcohol here is because it has a strong scent of its own and can be very drying. That means you might be smelling just a little alcohol-y and have frizzy hair which we absolutely DON'T want. So that's why alcohol isn't used in this essential oil hair perfume recipe.
Okay, now without further ado, here's how to make your own alcohol-free essential oil hair perfume:
DIY Alcohol-Free Essential Oil Hair Perfume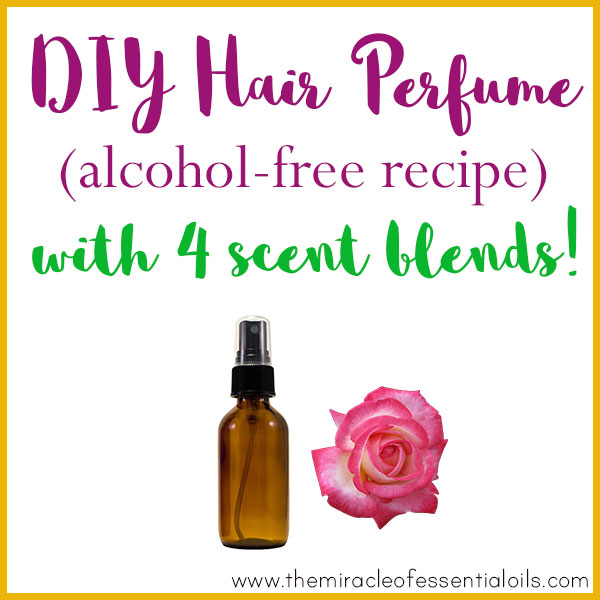 What you need
Method
In a mason jar (one that you don't use for food storage), add the essential oil or essential oil blend then add in the aloe vera gel.
Mix up very well to create an emulsion.
Now gently add in the distilled water and shake again until well combined.
Using a funnel, pour the mixture into the amber glass spray bottle.
Shake well to seamlessly mix up everything together.
That's it! Your essential oil hair perfume has been created!
To use, spray onto your scalp and hair. Then brush through. It doesn't matter if your hair is dry or wet before spraying on the perfume.
Essential Oil Blends for Hair Perfume
I haven't given the exact measurements of each essential oil to use because everyone's tastes are different. However, I'm listing the general number of drops to use for each type of notes and the essential oils that fall under each note:
Top Notes (10 drops): Is the first note you will smell but it evaporates fast. Essential oils with top notes include all citrus oils, peppermint, eucalyptus, spearmint, lavender, etc.
Middle Notes (20 drops): This is the scent that hits you right after the first note. It doesn't evaporate that fast and it's the center focus of the blend. Essential oils with middle notes include: rosemary, marjoram, mandarin, neroli, jasmine, black pepper, cypress, geranium, cardamom, ylang ylang, etc.
Base Notes (5 drops): These notes are strong and linger the most. It's what remains with you after sniffing the perfume. Essential oils with base notes include cedarwood, sandalwood, patchouli, myrrh, vetiver, ginger, frankincense, etc.
» Floral Whisper
» Sunny Side of Life
» Citrus Bang
» Man Blend
Caution