Create your own DIY essential oil massage blends for relaxation, pain relief and more!
One of the many benefits of essential oils is that they are key ingredients to add in a massage oil. They have therapeutic powers of promoting feelings of relaxation, peace and tranquility. That's not all, though! Here are the benefits of adding essential oils for massage:
Benefits of Essential Oils for Massage
Improves blood circulation
Stimulates flow of toxins to sites of elimination
Moisturizes and beautifies skin
For pain relief
Soothes skin
Relaxes tensed muscles
Relieves sore muscles
Strengthens bones
Lubricates joints
Gets rid of body heat
There are different regions in the body that can be massaged. The most common area for massage is the back. However, foot massages, leg massages and scalp massages with essential oils also have many benefits! Scalp massages stimulate hair growth by invigorating the hair follicles and improving blood flow to the scalp. Foot massages stimulate all the body organs through foot reflexology – Read More: Essential Oils for Foot Reflexology
Let's check out 4 easy and amazing DIY essential oil massage blends you can make!
4 DIY Essential Oil Massage Blends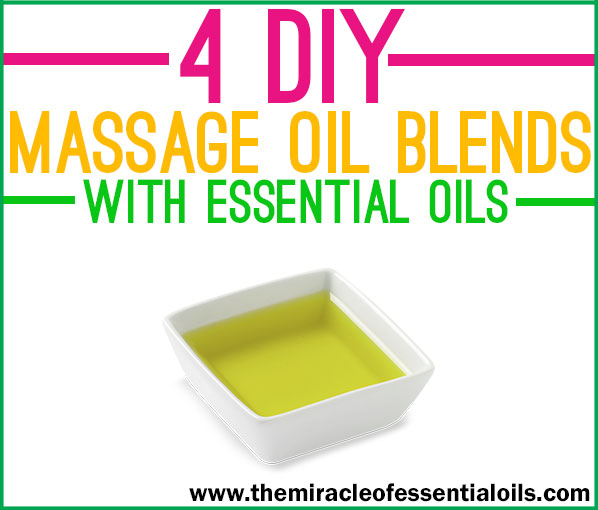 What you're going to do is combine the carrier oil with the essential oils in an amber glass bottle. Use the help of a funnel to transfer your oils. Store the bottle in a cool dry place, away from sunlight. Keep away from children and pets.
To use the massage blend, pour about 1-3 tbsp of your massage oil blend in a bowl then take it to the massage table or massaging area with you. Dip clean dry hands into the oil and knead, press and squeeze the muscles to massage. For a relaxation or romantic massage, do not use a lot of force/pressure but be gentle. For a pain relief massage, use firm pressure while massaging to alleviate pain.
1. Romantic Massage Blend
2. Warming Massage Blend
3. Relaxing Massage Blend
4. Pain Relief Massage Blend
Please try out any of these DIY essential oil massage blends and come share your results!