Looking for a non-toxic masculine perfume? Try this DIY essential oil men's cologne!
It might be hard making your own perfume but when you have a good recipe you can follow, then you can easily whip up a DIY perfume right at home! This essential oil perfume recipe has a gorgeous scent that you can't stop sniffing. I'm sure the scent is something that everyone will love! It's grounding, woody, earthy and warm – something perfect for a men's cologne!
This cologne contains essential oils of cedarwood, sandalwood, vetiver and patchouli. All these make an incredibly amazing essential oil perfume. This DIY essential oil men's cologne can be oil-based or alcohol-based. It's up to you to choose the base ingredient!
If you use oil, then you have to shake it up every time you use it but it's moisturizing and won't affect your skin. If you choose to use alcohol, then it's a very good emulsifier that doesn't need much shaking before use. However, it's a bit too drying when applied on skin which may be a downer for people with sensitive and dry skin.
Okay now onto the DIY essential oil men's cologne recipe!
DIY Essential Oil Men's Cologne Recipe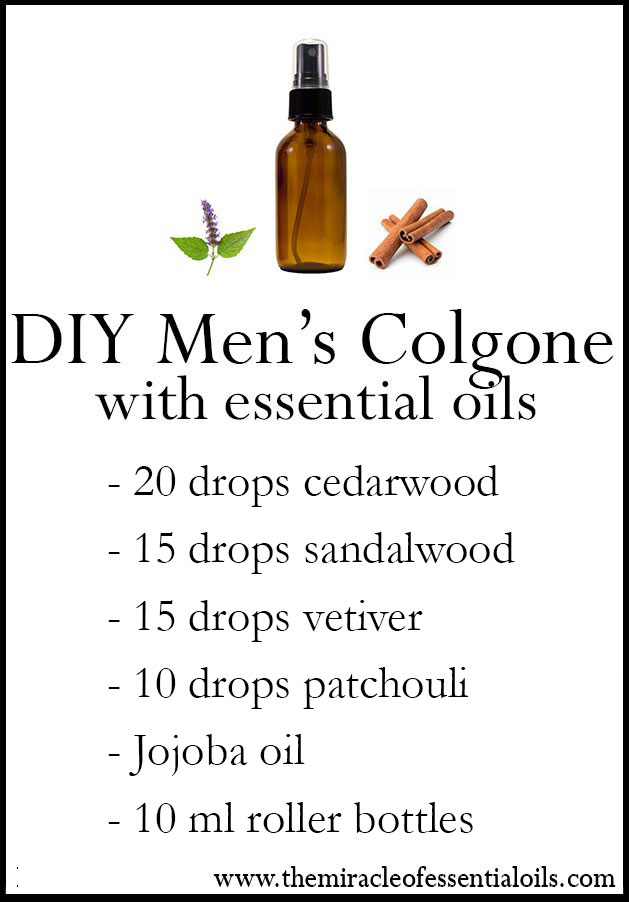 The cologne recipe below gives a Woody Musk scent that's a wonderful manly scent! It is grounding, has strong woody notes with big hints of earthiness and drop of spice.
What you Need
Method
Using the roller bottle opener, get out the roller ball from the bottle.
Now add the jojoba oil then drop in the essential oils.
Push back the roller ball firmly onto the bottle and close the cap.
Shake gently to combine all the oils.
Use on your skin and clothes. But first make sure to do a patch test on your inner elbow for 30 minutes to see that you are not allergic to the ingredients. If you notice negative reactions, then wash the area well and do not use the cologne on your skin. You may use it on your clothes alone.
Caution
If you're new to essential oils, please read Caution & Safety Information when Using Essential Oils

Are you ready to try out this DIY essential oil cologne recipe? Share your thoughts below!