If you're allergic to conventional perfume sprays or don't care for the synthetic ingredients in them, then you might want to make your own essential oil perfume spray!
I can say that making your own natural perfume spray can only be achieved with the help of essential oils. There's nothing like essential oils! They're all natural, very concentrated and extremely potent. A drop of oil can go a long long way especially when it involves perfuming an area/garment/your body.
To put that into perspective – I once placed one drop of ylang ylang on each wrist (for its calming properties) and hang around the house. When my housemates came in, they were all asking what beautiful air freshener had been sprayed around the whole house! That's why when diffusing essential oils in a room, only about 3 – 6 drops are needed to give a powerful scent that stays.
This essential oil perfume spray is concentrated and is designed to be used on clothes or your body. You can also mist it in your closet if it needs some freshening up. The essential oil blend is called 'Summer Delights' because of the beautiful combination of soft floral lavender, citrus burst orange and delicious pastry scent of vanilla!
Rules for Essential Oil Perfumery
Perfumery is all about top notes, middle notes and base notes. Perfumers generally follow the 30-50-20 rule when it comes to measuring the notes of fragrances. This can be viewed as out of 100% concentration or 100 drops of essential oil.
For the purpose of this essential oil perfume spray, let's just say you want to use 50 drops of essential oil, so you're going to divide that by two, making a 15-25-10 ratio of notes. So this means you'll need 15 drops of the top note, 25 drops of the middle note and 10 drops of the base note. Below is a list of notes and which essential oils belong where:
Top notes: This is the scent you first sniff. It also evaporates quickly. Essential oils with top notes include peppermint, spearmint, lavender, eucalyptus and citrus oils like lemon, grapefruit, orange.
Middle notes: This scent is one that you smell right after the top note. It stays a bit before evaporating. Essential oils with middle notes include rosemary, marjoram, mandarin, neroli, jasmine, black pepper, cypress, geranium, cardamom, ylang ylang.
Base notes: This scent is the one that lingers and doesn't evaporate. It stays with you long after you've smelled the perfume. Essential oils with base notes include sandalwood, ginger, patchouli, myrrh, frankincense, cedarwood, vetiver.
Now for the base ingredient, you need an emulsifier to combine well the essential oils. You can use vodka, a carrier oil like jojoba oil or aloe vera gel. The best emulsifier would be vodka but if you want to go alcohol-free, use aloe vera gel. If you use jojoba oil, you'll need to keep shaking vigorously before each use because it separates fast.
DIY Essential Oil Perfume Spray Recipe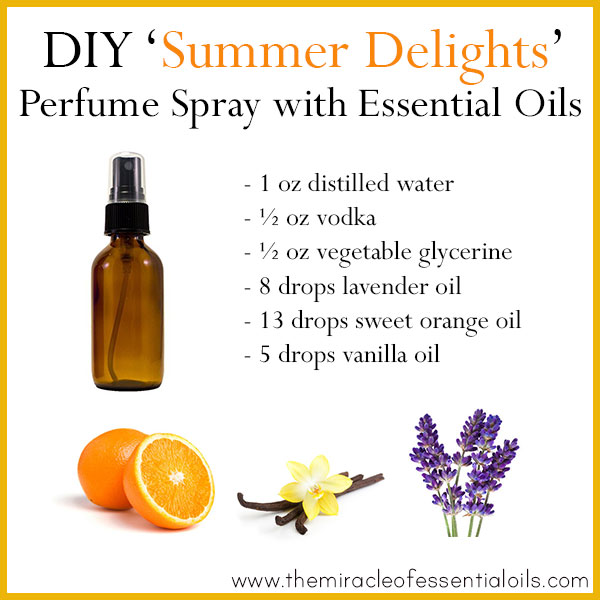 What you need
Method
Add the distilled water, vodka and vegetable glycerine to an amber glass spray bottle.
Now carefully add the essential oils drop by drop.
Close the spray cap and shake well to combine.
Spray on your clothing or skin on wrists and collar bones. You can even spray it on the ends of your hair.
Caution
Before misting the essential oil perfume spray on your skin, please do a patch test by spraying some on your inner elbow. Monitor the area for 1 – 2 hours. If you notice any redness, irritation, itching and rashes, then immediately wash the area with warm water and soap. Do not use the spray on your skin – you can use it clothes alone.
If you're new to essential oils, please first read: Caution & Safety when Using Essential Oils