Shaving oil is a great invention. It makes shaving such an easy task without the little nicks and cuts that happen when you use shaving soap. Follow this simple essential oil recipe for shaving oil for smooth and flawless skin!
What is a Shaving Oil?
Shaving oil is a hair removal aid that you apply on hairy skin before shaving. It can be used as a shaving lubricant on its own or applied first before using a shaving soap, cream or gel.
Why use a shaving oil instead of shaving soap or cream? One of the greatest advantages is no shaving accidents! People cut themselves countless times using shaving soap because it doesn't give any protection against the sharp razor.
Meanwhile, a shaving oil seals the skin by placing a thin layer of oil over it. This not only protects the skin from the sharp razor but also enables the razor to glide smoothly and evenly on skin.
Other benefits of using shaving oil?
Soothes sensitive freshly shaven skin
Moisturizes skin
Keeps skin soft and silky
No razor burn
Prevents ingrown hairs
DIY Essential Oil Recipe for Shaving Oil
You're going to need liquid castile soap, jojoba oil, lavender oil and tea tree oil. You can also add in geranium oil for a floral scent or lemon oil for a citrus scent. All these essential oils are antibacterial and nourish skin.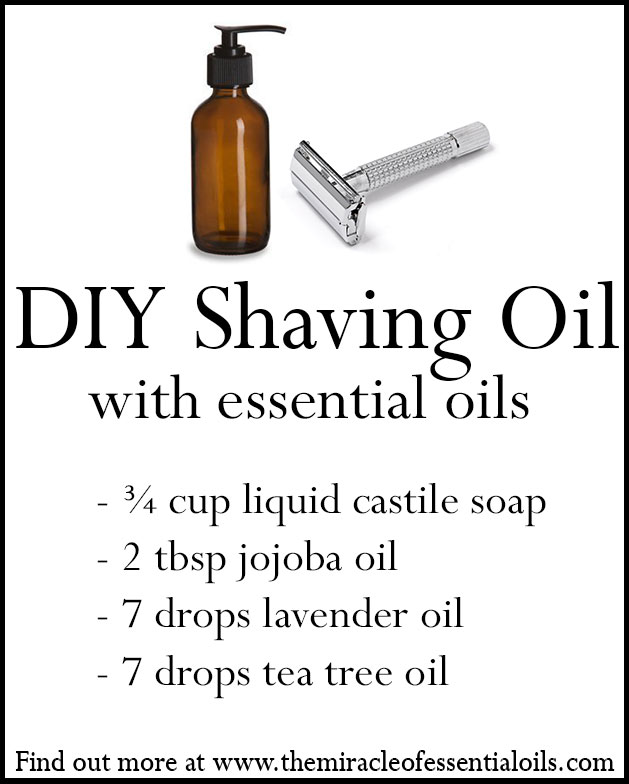 What you Need
Method
In a Pyrex measuring cup, measure out ¾ cup of liquid castile soap.
Then add in 2 tbsp of jojoba oil and drop in lavender oil.
Mix well with a spatula.
Slowly pour the mixture into a soap dispenser.
That's it! To use, pump onto your palm then rub on hairy skin and shave.
Caution
If you're new to essential oils, please read Caution & Safety Information when Using Essential Oils