Do you know that you can easily whip up your own DIY essential oil shampoo recipe for hair growth?! It's incredibly easy once you know which essential oils are best for hair growth.
How Essential Oils Promote Hair Growth
Essential oils are liquid plant extracts obtained through a special process called steam distillation. The aromatic parts of certain plants such as the leaves, roots, fruit rinds, steams and flowers are steam distilled to obtain essential oils. Essential oils are very concentrated and contain powerful antoxidants. Here are some of the ways essential oils promote hair growth:
Stimulating the hair follicles
Improving blood circulation to the scalp
Fighting dandruff
Reducing inflammation
Nourishing the hair roots
Strengthening the hair shaft and strands
Fighting fungal scalp infections
Protecting hair cells from free radicals
And more!
The Best Essential Oils for Hair Growth
Among the best essential oils for hair growth are the following five:
DIY Essential Oil Shampoo Recipe for Hair Growth
This essential oil shampoo might not lather as much as store-bought shampoo but the lather produced is enough to make your hair squeaky clean. You can see results starting from 3-6 months!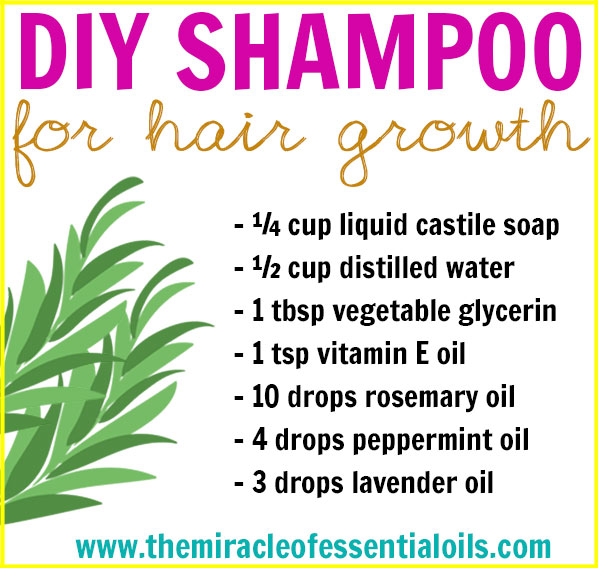 What you need
Directions
Into your flip top bottle, add 1 tbsp vegetable glycerin and 1 tsp vitamin E oil.
Now carefully add 10 drops of rosemary essential oil, 4 drops of peppermint essential oil and 3 drops lavender essential oil.
Pour in ½ cup of distilled water and ¼ cup of liquid castile soap.
Close the bottle and shake well to combine.
To use, tilt the open bottle and pour some on your head. Work it in using clean fingers for a minute.
Rinse off with cold water.
Apply a tiny amount of coconut oil on your hair length as a natural conditioner. Or, try this DIY Essential Oil Leave-in Hair Conditioner!