Got unmanageable hair? Why not try this DIY essential oil leave in hair conditioner? It not only tames wild hair but also leaves it smelling gorgeous!
What is a Leave-in Hair Conditioner?
A leave-in hair conditioner is simply a conditioner that you leave in your hair instead of rinsing it off. It's basically a hair product that is applied after you shower but you leave it on your hair until the next hair washing. It has several benefits over a normal hair conditioner including:
Deeply nourishing hair
Repairing damaged hair
Detangle unruly and wild strands
Reduce fly-aways
Keep your hair sealed with moisture
Tame frizz
Promote silky and soft curls
Add shine to dull hair
Protects hair from damage
And more
Leave in hair conditioners can be especially beneficial to people who have natural hair, curly hair, wild unruly hair, frizzy hair, damaged hair and dry dehydrated hair.
DIY Essential Oil Leave In Hair Conditioner Recipe
Before we move onto the recipe, let's first look at the ingredient's we'll be using:
Distilled water – The base ingredient for this essential oil leave in hair conditioner, distilled water combines all the ingredients together into a solution. If you want your leave in conditioner to be extra special, substitute it for rose hydrosol – divine.
Aloe vera gel – Pure aloe vera gel is a magical ingredient. Seriously, it immediately seals moisture into your hair and makes de-tangling a breeze! It also provides hold for natural hair and acts as a styling gel.
Jasmine oil – This is hands down one of the most HEAVENLY smelling oils on the planet. And it's incredibly moisturizing too! It also has powerful aphrodisiac properties. If you have jasmine smelling hair every single time, you're a queen. I'd keep buying this oil over and over again. It's the best hair perfume.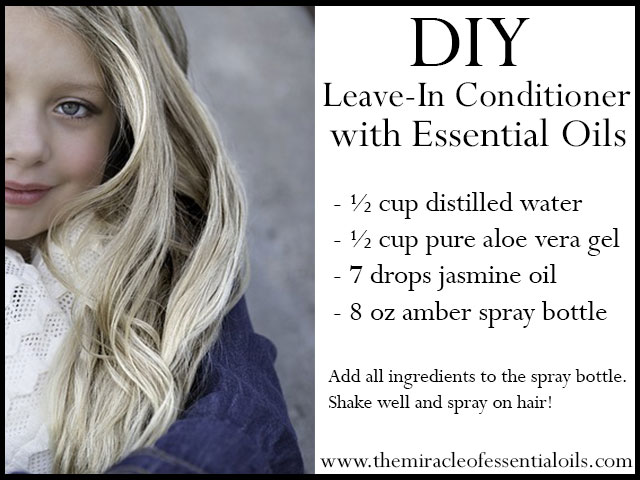 What you Need
Method
Combine the aloe vera gel and jasmine oil in the spray bottle.
Now top with distilled water and shake well.
That's it! Your essential oil leave-in conditioner is ready!
Spray on hair then comb/brush through!
Other Essential Oils to Use
If you have dry damaged hair, you might want to check out essential oils that are more suited to this hair condition: Essential Oils for Dry Damaged Hair
Meanwhile, here's a list of other essentials oils you can add to spice up your leave-in hair conditioner:
Caution
If you're new to essential oils, please read Caution & Safety Information when Using Essential Oils