Do weight loss body wraps work? They sure do! Learn how to make a DIY essential oil slimming body wrap for extra slimming effects!
Slimming wraps are quickly becoming the 'thing' for people who want to become slim fast. If you have a main event coming up and want to look toned and slender, then a body wrap is what the spa people will do for you.
It sounds too good to be true but body wraps do work. How? By reducing water weight and removing excess water stuck in your body. This excess water can be in your belly, thighs and other areas, making you look fatter than you actually are. Body wraps also help reduce cellulite, making you toned and firm.
Benefits of Essential Oils in this Body Wrap
What do essential oils do in the body wrap? A LOT. Essential oils boost a body wrap by miles. Here are just a few things they do:
Promote flow of toxins and wastes from accumulated regions in the body (aka cellulite) to sites of elimination
Reduce fluid retention
Clear cellulite
Tighten tone and firm skin
Reduce bloating
Promote proper blood circulation
And more!
DIY Essential Oil Slimming Body Wrap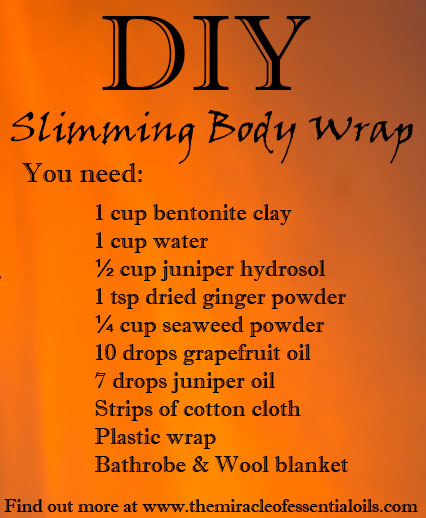 What you Need
Method
The first step is to cut up a cotton cloth into several strips: 2 for your legs, 2 for your thighs, 2 for arms and 1 for the waist – so that's 7 strips in total. Don't wrap the chest.
Now in a stainless-steel pot, warm up one cup of water.
Dump in the bentonite clay, dried ginger powder and seaweed powder. Then add the juniper hydrosol.
Stir well with a spatula to form a thick but easily spreadable paste. If the water is not enough add more and if it's a lot then add more bentonite clay.
Add the essential oils and stir again.
Yup! Your slimming body wrap mixture is ready to be slathered all over your body!
How to Apply this DIY Essential Oil Slimming Body Wrap
Go to a private easily cleanable area where you can lie down.
Now start slathering your body (except chest) with the mixture. Once you slather each part, wrap it with the cotton cloth strip reasonably tightly. Then wrap over with a plastic wrap.
Once your whole body is wrapped up, lie down and place a wool blanket over you.
Stay under the blanket for an hour.
When the time is up, take a shower alternating with hot and cold water to promote circulation of toxins.
Do this body wrap once a month for beginners, then once a week. You can do it right before an important date/event to lose a little weight super fast!
Caution
If you're new to essential oils, please first read Caution & Safety Information when Using Essential Oils