Delay fine lines and wrinkles by making a DIY essential oil wrinkle cream!
Wrinkles are inevitable. But it's possible to delay them and keep looking younger for longer! By adopting a healthier lifestyle: not smoking/drinking alcohol, eating lots of fresh fruits and drinking enough water, you can ensure your skin looks smooth and youthful.
Applying nourishing products on your face also wards off fine lines and wrinkles! But instead of buying conventional anti-aging creams and serums, which are not only pricey but also contain a slew of unnecessary chemicals, have a go at making your own wrinkle cream!
You can use fresh and pure ingredients from Nature to concoct your own anti-aging formula that won't clog your pores or break your bank! Here's what we're going to need:
DIY Essential Oil Wrinkle Cream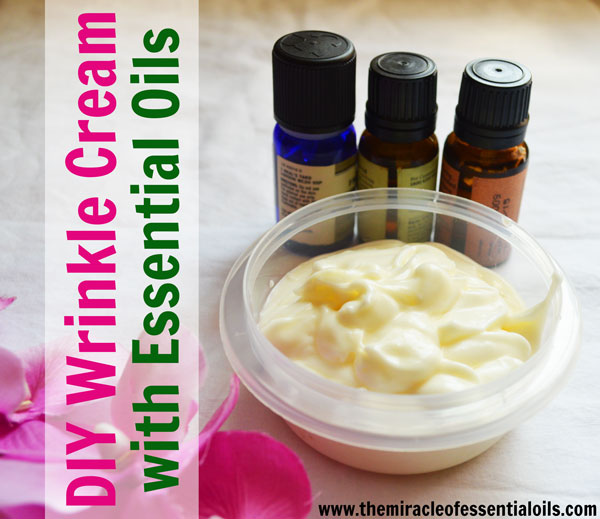 Ingredients
Directions
Place the shea butter and argan oil in the Pyrex measuring cup.
Now fill a medium-sized pot with ¼ cup of water. Settle the Pyrex measuring cup inside the pot but make sure the water doesn't enter the Pyrex cup. This setup is your waterbath/double boiler method which enables you to gently melt down the shea butter.
Heat the pot over a medium-low flame and stir the shea butter occasionally to help it melt.
Once melted, stir in the aloe vera gel and manuka honey.
Now place the Pyrex cup in the refrigerator for 15 minutes.
When the time is up, get it out and mix the contents using an immersion blender until you end up with a silky smooth cream.
Add the essential oils and mix again with the immersion blender.
Pour the cream into your sterilized amber glass jars.
Your DIY essential oil wrinkle cream is ready! Store in a cool dry place, away from sunlight.
Use your wrinkle cream every night without fail, on a clean face. Massage it in for about 2 minutes so that it can sink deep. You can also use it as a moisturizer under your makeup!
Note: If you're a beginner to essential oils, please first read: Safety & Caution when Using Essential Oils