It's so easy to make a toner at home! Especially when you have essential oils. For example, check out the recipe for this DIY lemon essential oil face toner below!
Lemons are natural astringents. This makes them good for toning your skin, reducing oily skin, tightening large pores and firming the face. You can make your own toner by extracting juice from one lemon and placing it in an amber bottle then topping with purified water. However, this fresh lemon juice toner can easily get spoilt. To make a longer lasting lemon face toner, use lemon essential oil!
Apart from toning the skin, lemon also has the following benefits for skin:
Cleanses skin
Brightens dull skin
Kills acne-causing germs
Lightens dark spots and hyperpigmentation
And more
The other ingredients we're going to use are witch hazel and rose water. Witch hazel is also an astringent and it tones the skin. Rose water is a hydrosol – a floral water that's a by-product of essential oil steam distillation. It has astringent effects too but it also nourishes the skin, balances skin sebum and hydrates it.
Okay, now let's check out the DIY lemon essential oil face toner below!
DIY Lemon Essential Oil Face Toner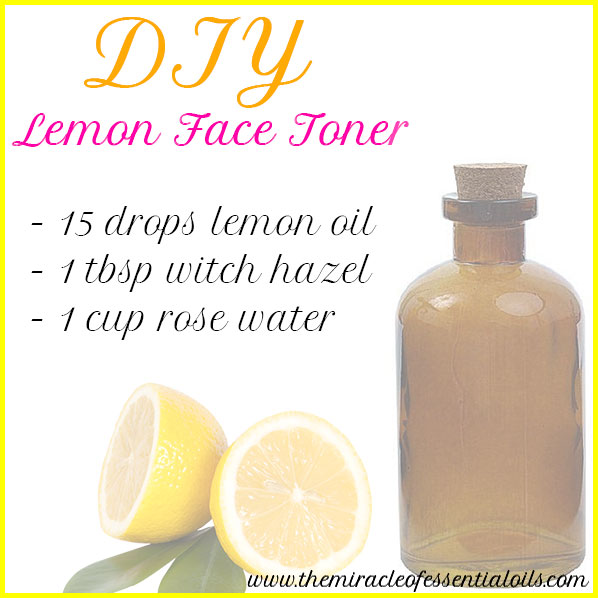 What you need
Directions
Into an amber glass bottle, add witch hazel using a funnel.
Now add 15 drops of lemon essential oil then swirl the bottle gently to mix the essential oil in the witch hazel.
Top up with 1 cup of rose water then close the bottle and shake well.
Your DIY lemon essential oil face toner is ready!
To use, place a little of the lemon toner onto a cotton pad then dab it on your clean face.
When it dries, apply a face serum or moisturizer. Check out our DIY Essential Oil Face Serum & DIY Essential Oil Face Moisturizer recipes on the blog.