With essential oils being widely promoted both online and offline, many wonder, do essential oils work? This is a fair question and we take a look at some empirical evidence proving the effects of essential oils on some common health conditions.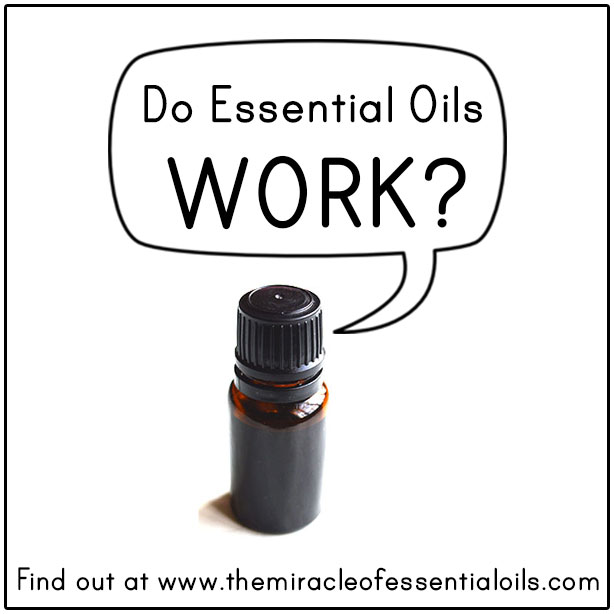 Do Essential Oils Work?
With the sudden popularity in essential oils, and with many agents aggressively promoting essential oils (just remember to use their discount code when buying), it's no wonder many are questioning, "do essential oils work?"
The way essential oils are being touted as 'miracle' cures to many health conditions may make one wonder if it's just another hoax. See: Are Essential Oils a Hoax?
Indeed, essential oils DO work, and this article explores some accredited studies that prove the benefits of essential oils for some common ailments.
Research Proving that Essential Oils Work
There are hundreds of studies carried out an a wide variety of essential oils and their effect on many different types of ailments. Below, we have compiled some scientific research on how essential oils were proven to alleviate various ailments.
1. Acne
Scientific research carried out by the Isfahan University of Medical Sciences, Iran in 2007 demonstrated the efficacy of tea tree essential oil in mild to moderate acne vulgaris. Tea tree oil was 5 times more effective at treating acne than the placebo treatment given to patients. (1)
2. ADHD/ADD
Chamomile and lavender are 2 essential oils that many parents are saying help with hyperactivity and ADHD/ADD in their children. The calming properties in some essential oils were proven by a study conducted by Terry S. Friedmann, M.D between 1999 – 2001, where 60 children were told to inhale lavender, cedarwood and vetiver everyday. The children experienced 50 – 100% increased focus and performance after using essential oils. (2)
3. Burns
A report published in PubMed showed that certain essential oils such as lavender and rose had potent antibacterial and disinfectant properties when used on burn wounds. They also demonstrated aromatherapy effects in reducing anxiety and promoting peace of mind to enable faster healing. Essential oils were also shown to natural alleviate pain experienced by burn victims. (3)
4. Cancer
Various in vitro studies have shown the potent anticancer activities of certain essential oils such as thyme, frankincense, myrrh and peppermint. A study documented in the Molecules journal in 2010 showed the potent effects of thyme essential oil in causing apostasis in tumor cells. The compounds in thyme literally caused cancer cells to commit suicide. (4)
5. Depression
A comparative summary of various studies published in 2016 on PubMed Health showed the effects of various essential oils in aromatherapy on stress, depression and more. Oils such as lavender, peppermint and sandalwood were shown to have positive effects in calming the mind and dispelling depression. (5)
6. Insect Repellent
A remarkable study carried by the University of Delhi, India demonstrated the strong insect repelling quality of essential oils like peppermint. Application of peppermint oil afforded up to 3 hours of protection from mosquito bites. (6)
7. Hair Growth
In 1998, a study was carried out at Aberdeen Royal Infirmary, Scotland proving the hair growth stimulating effects of essential oils. Research was conducted on subjects suffering from alopecia areata over the span of 7 months. It was found that scalp massage with essential oils like cedarwood showed almost 50% improvement in hair growth. (7)
8. Pain Relief
The East West School of Herbal and Aromatic Studies carried out a study where essential oils were found to be helpful in alleviating nerve pain. Some of the essential oils studied include geranium, peppermint and black pepper. Essential oils have also been found to alleviate other pains such as headaches, muscle pains and cramps. (8)
9. Sleep Disorders
The most widely studied oil for sleep disorders is lavender oil. Many studies have been conducted on the effects of lavender in promoting peaceful sleep. A study published in Chronobiology International showed that olfactory exposure to essential oils had a positive effect in promoting deep or slow wave sleep. The essential oil studied was lavender and volunteers were monitored over 3 nights were 20 minute exposure to the aroma of the oil was presented. The mild sedative effects of lavender were shown to promote more peaceful sleep. (9)
10. Weight Loss
Japanese researchers conducted a study in 2003 regarding the effect of essential oils on weight loss. They found that olfactory stimulation via the inhalation of grapefruit and lemon essential oils was able to successfully suppress body weight gain. This is due to the appetite suppressing characteristics of the oils. (10)
References
(1) https://www.ncbi.nlm.nih.gov/pubmed/17314442/
(2) http://www.oilsofthegods.com/www.oilsofthegods.com/ADHD_RESEARCH.html
(3) https://www.ncbi.nlm.nih.gov/pubmed/27575673
(4) https://www.ncbi.nlm.nih.gov/pmc/articles/PMC3796379/
(5) https://www.ncbi.nlm.nih.gov/pubmedhealth/PMH0032645/
(6) https://www.ncbi.nlm.nih.gov/pmc/articles/PMC3609176/
(7) https://www.ncbi.nlm.nih.gov/pubmed/9828867
(8) http://cpr.sagepub.com/content/21/1/57.abstract
(9) https://www.ncbi.nlm.nih.gov/pubmed/16298774
(10) Niijima A, Nagai K. Effect of olfactory stimulation with flavor of grapefruit oil and lemon oil on the activity of sympathetic branch in the white adipose tissue of the epididymis. Exp Biol Med (May¬wood). 2003 Nov;228(10):1190–2.
I hope this answers your question "do essential oils work?" The studies cited are just a few of a wealth of scientific research on the capabilities of essential oils. How have you used essential oils in your life? Did they work for you? Tell us below!