Want to detox? Try this DIY epsom salt essential oil detox bath salt recipe now!
Essential Oils to Detox
Detox is no new trend in today's world. It's a term used to describe elimination of toxins and wastes from the body. Although the body detoxifies itself regularly, in today's world where there is a lot of pollution, unhealthy GMO food and other problems that cause diseases, it doesn't hurt to help your body naturally detox. One way to do this is by using essential oils!
Essential oils are highly concentrated liquid plant extracts. They have powerful therapeutic properties. Quite a number of essential oils have detoxifying qualities to them! These essential oils promote proper flow of blood and lymph in the body which prevents stagnation and accumulation of toxins. These essential oils also boost the immune system and reduce fluid retention.
In this detoxifying bath recipe, we shall use two healing salts. These include Epsom salts and Himalayan pink salt.
These two salts have detoxifying qualities to them. They are rich in minerals such as magnesium. Magnesium is a very important mineral that assists the body in its elimination process of toxins and impurities. The minerals found in Epsom and Himalayan salts produce negative ions which hold onto impurities and pull them out through the skin.
Okay, without further ado, let's see the DIY epsom salt essential oil detox bath salt recipe!
DIY Epsom Salt Essential Oil Detox Bath Recipe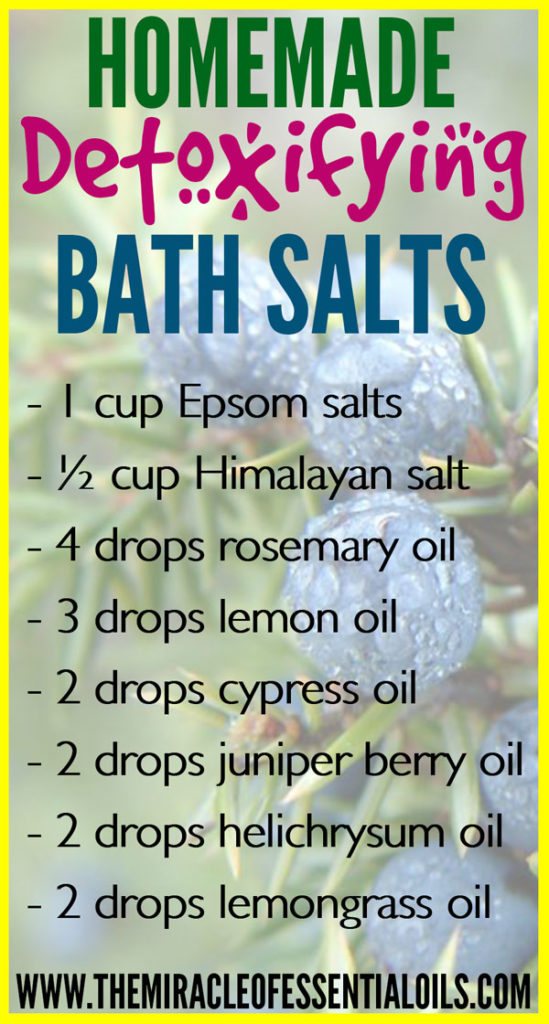 What you need:
1 cup Epsom salts
½ cup fine grain Himalayan salt
4 drops rosemary oil
3 drops lemon oil
2 drops cypress oil
2 drops juniper berry oil
2 drops helichrysum oil
2 drops lemongrass oil
Large bowl & whisk
Directions:
In a large bowl, add 1 cup Epsom salts and ½ cup Himalayan pink salt (fine grain).
Next add 4 drops rosemary oil, 3 drops lemon oil, 2 drops cypress oil, 2 drops juniper berry oil, 2 drops helichrysum oil and 2 drops lemongrass oil.
Whisk the ingredients to combine.
Your DIY essential oil detoxifying bath salt is ready!
To use, add it to a warm bath and stir it with your hand. Soak for as long as you want! If you have sensitive skin or want a gentler detox, add ½ of the recipe above instead of it all.

Do try this diy essential oil detoxifying bath salt recipe to help detox your body naturally!