There's no doubt that we are being exposed to more toxins today than ever before in history and we could all benefit by harnessing the power of essential oils to detox the mind, body and soul.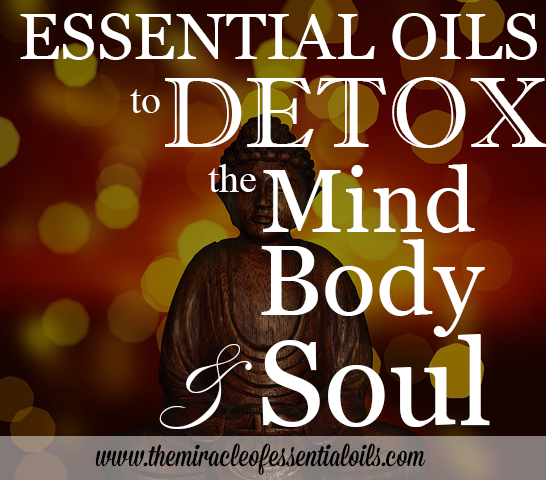 Do we really need to detox?
In an ideal world, doing a detox would be totally unnecessary. After all, our bodies are equipped with powerful organs that eliminate toxins on a daily basis. The liver, skin and kidneys all work together to filter out toxins and dispel them from the body via complex cellular processes.
But times have changed rapidly and the air, food and environments that our ancestors enjoyed have been replaced with toxic smog-filled air, GMO pesticides-laden food and toxic chemically treated water. What's more, we are using more cosmetic and self-care products than ever before. These products such as lotions, shampoos and perfumery are laced with parabens, preservatives and artificial fragrances that all add to our toxic burden.
Since we are exposing ourselves to way too many toxins, thanks to industrialization and consumerism, it only makes sense that should give a helping hand to our bodies to help keep up with detoxification. For most of us, our livers, kidneys and other organs are overworked and could use a little help! Let's not forget that our MINDS could use some detoxing, as well, since most of us are stressed at work, need to declutter our minds and get rid of negative energy.
Various natural remedies can be applied to support our bodies own detox organs and to reduce their burden. One of the most powerful remedies you can use to detox are essential oils!
Signs that you need to detox
If you have one or more of the following signs, it may mean that your body needs a detox:
Unhealthy skin (dull, acne/pimply skin)
Brain fog
Frequent headaches
Chronic constipation
Sluggish digestion
Halitosis (bad breath)
Weak immune system
Allergies
Remember, always consult your health care practitioner before undergoing a detox to make sure you have no underlying health issues that may be adversely affected by detoxing.
Essential oils to detox the mind and body
1. Lemon
Lemon oil (where to get it) is a citrus oil, like mandarin, grapefruit and orange oils, whose fruits themselves are very popular in the weight loss world for slimming down and detoxing. The scent of lemon oil is very up-lifting and jovial, and can put you in good spirits. Lemon oil helps to stimulate the lymphatic system and decongests the respiratory system.
2. Peppermint
With its minty taste, refreshing scent and tingly sensation when applied topically, peppermint oil (where to get it) is one that has been classed by the FDA as generally recognized as safe (GRAS) for ingestion. Peppermint oil soothes the digestive system and reduces gas and bloating.
3. Rosemary
Rosemary is a popular herb and a versatile oil (where to get it) that can detox both the mind and the body. It can help clarify the mind, promotes alertness and improves memory. Use it as a massage oil for your feet, over your kidney areas in the back to promote detoxification.
4. Laurel Leaf
A less known essential oil, laurel (where to get it) is extracted via steam distillation of the leaves of the laurel tree, which are known to be a great aid for proper digestion. Aside from aiding the digestive system, laurel oil is also aids to cleanse the respiratory system.
5. Lavender
Perhaps the most popular oil in aromatherapy, lavender (where to get it) is best known for its ability to treat insomnia naturally and to promote peaceful sleep. Lavender oil can help promote feelings of peace, tranquility and calmness. Applied physically, lavender can help reduce inflammation, prevent muscle pain and cleanse the skin. Lavender oil can help with both bodily detox as well as mental detox.
6. Juniper Berry
Extracted by distilling the beautiful red berries of the juniper tree, juniper essential oil (where to get it) is extremely rich in antioxidants which can fight free radical damage and help speed up the repair and growth of damaged cells. Juniper oil is also a diuretic which helps the kidneys to filter out toxins at a faster rate.
7. Sandalwood
Long used in religious and spiritual ceremonies, sandalwood oil (where to get it) is said to clear the spiritual aura, dispel depression and anxiety and invoke peace and happiness. Sandalwood oil is also rich in unique antioxidant and anti-inflammatory compounds, which can help detox the body as well. Learn how to use essential oils for the purpose of detoxification below.
Other essential oils that help with detoxification
How to use essential oils to detox
» Detox foot bath
Fill up a large tub with warm water and pour in about 1/2 – 1/4 cup of apple cider vinegar, which can help draw out toxins from your feet. Now pour in about 8 drops of rosemary essential oil and 6 drops of peppermint essential oil and soak your feet for at least 15 minutes. This relaxing foot bath will leave your whole body feeling calm and refreshed. Be aware that peppermint may increase alertness so do not use this before bed.
» Healing bath soak
Run a bath with warm water and pour in 1 cup of Epsom salts and 20 – 25 drops of lavender essential oil. Sink in and relax for at least 30 minutes. This simple detox bath can help toxins to be released from your body's largest organ, the skin.
» Diffuse
Diffusing is one of the easiest ways to enjoy the wonderful health benefits of essential oils. Place 6 drops of sandalwood in a high quality diffuser for no more than 1 hour to enjoy a peaceful state of mind, mental wellbeing and detoxification of the mind.
» Detox massage oil
Mix 20 drops of juniper essential oil and 10 drops of lemon essential oil in 1/4 cup of sweet almond oil and massage it firmly all over your body with circular motions over your joints and long stroking motions over your limbs. Massage towards the direction of your heart to direct toxins to the heart and allow them to be sent for filtration. Do this massage in the evening after the sun has set as lemon oil is phototoxic. You can also replace lemon oil with another non-phototoxic essential oil to detox.
Safely ingesting essential oils
Under the care and supervision of a licensed aromatherapist, 100% pure essential oils may also be ingested in order to speed up the detoxification process. A drop of peppermint essential oil may be taken mixed with a tablespoon of coconut oil after a meal. Read more: Can essential oils be ingested?