Do you keep buying Listerine every single time you go to the store? And are you tired of the awful burning sensation it gives your mouth? How about trying to make your own Listerine mouthwash, only much simpler with powerful antibacterial action but no burning sensation?! Try this essential oil antibacterial mouth rinse and you might never have to buy Listerine again!
When you have essential oils, there's totally no need to worry about bad breath or dental caries. You can make your own essential oil oral care products from essential oil toothpaste to essential oil mouth rinse. And they work just fine in promoting healthy teeth and gums!
List of Antibacterial Essential Oils for Mouth Wash/Rinse
Tea tree
Peppermint
Lavender
Clove
Myrrh
Eucalyptus
Lemongrass
Thyme
Oregano
Bergamot
Lemon
Patchouli
Essential Oil Antibacterial Mouth Rinse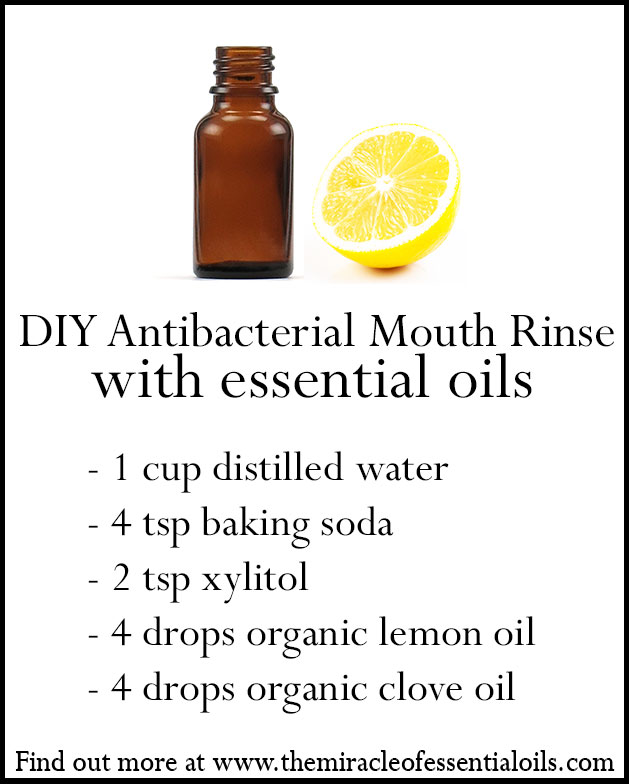 Below is a quick and easy to follow essential oil antibacterial mouth rinse recipe:
What you need
1 cup distilled water
4 tsp baking soda
2 tsp xylitol
4 drops organic lemon oil
4 drops organic clove oil
Amber glass bottle with cork
Method
Warm up the distilled water just a little enough to be able to dissolve the baking soda and xylitol.
Then stir in the baking soda and xylitol until dissolved.
Add the drops of essential oil and stir again.
Pour the mixture into a glass bottle.
Store in a cool dry and dark place like your bathroom cabinet.
Shake well before each use.
Caution
Do not swallow this mouth wash.
Keep it away from children and pets. For dogs in particular, xylitol is very toxic so make sure to keep this mouthwash away from dogs.
If you're new to essential oils, please first read Caution and Safety when Using Essential Oils