In this  article, find out how to combat persistent acne with a potent essential oil recipe for acne prone skin.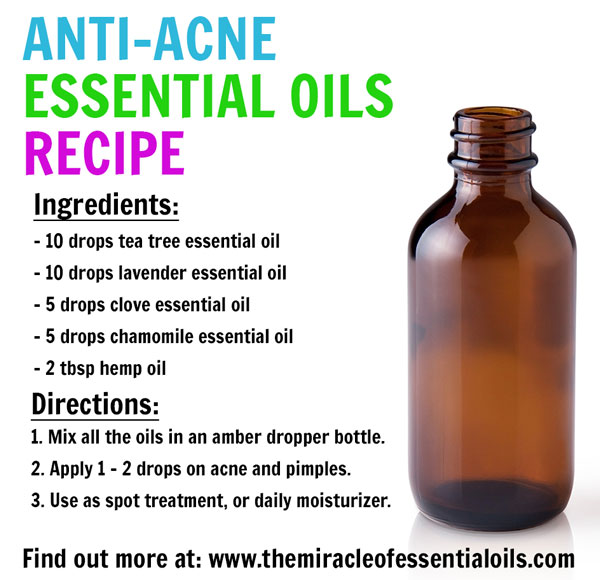 Acne-prone skin is difficult to manage because many anti-acne skin products out there that promise to eradicate acne often come with other symptoms like dry & itchy skin issues plus they contain a long list of chemical ingredients that aren't so healthy for skin. One of the ingredients, fragrance is even irritating to skin and can aggravate acne or cause rashes together with the acne!
One way to avoid using conventional acne skin care products is to DIY your own using essential oils! Highly concentrated substances that contain so many healing properties in just a few drops, essential oils are one of the best natural remedies that help with acne prone skin.
Learn how to make your own anti-acne blend with this great DIY essential oil recipe for acne prone skin:
DIY Essential Oil Recipe for Acne Prone Skin
What you need
Why These Ingredients?
► Tea Tree Oil – A powerful antiseptic, antibacterial and antimicrobial agent, tea tree oil has been touted countless times as the number one essential oil for acne. Tea tree oil has a strong fresh medicinal and herbal aroma that smells just like a disinfecting agent. And it does have superior disinfectant properties compared to other oils! This property makes it good for cleansing acne prone skin and keeping it free from bacteria. The astringent effects of tea tree help reduce excess oil production in the skin which helps fight off oily acne.
► Lavender Oil – Lavender comes from the Latin word lavare which means to cleanse. It helps soothe acne inflammation and swelling which reduces the appearance of acne. Lavender oil is also good for destroying acne-causing bacteria which helps prevent further acne. For stress-induced and acne caused by improper sleep, lavender can help too! It's fresh floral scent calms the mind, relaxes the body, reduces stress and promotes good quality sleep.
► Clove Oil – Though extremely potent and should be used with caution, clove oil is a powerful ace-exterminator. It is known to be a potent anti-fungal, antibacterial and antimicrobial agent which helps clear off microbes that irritate the skin and form acne. Clove is also very effective at combating pus-filled acne in particular.
► Chamomile Oil – A calming oil, chamomile is best for reducing inflammation caused by acne. It also helps minimize painful and angry red acne and balances oil production on the skin, which all help reduce the severity of acne and prevent further from littering the skin.
► Hemp Oil – This is the base oil for this essential oil recipe for acne prone skin. Hemp oil is one of the few carrier oils that has a comedogenic rating of zero, which makes it extremely valuable for acne prone and oily skin! Comedogenic rating is a scale from 0 – 5 showing the pore-clogging ability of a skin product or oil.
Method
In a dropper bottle, add the 2 tbsp of hemp oil then add the essential oils drop by drop.
Screw on the dropper cap and shake the bottle gently to combine all the oils.
That's it! Your essential oil blend for acne prone skin is ready!
To use, place 2 drops of this blend on one clean palm then rub both your palms together and rub it onto your face just like a moisturizer. You can use it as a night time treatment or spot treatment. It can also be applied under makeup!
Caution

If you're new to essential oils, please check out this article: Caution & Safety Information when Using Essential Oils.