Essential oils are a scientifically proven natural remedy for migraines. Find 3 essential oil recipes for migraines below – recipes that really have a positive healing effect on chronic debilitating migraine headaches!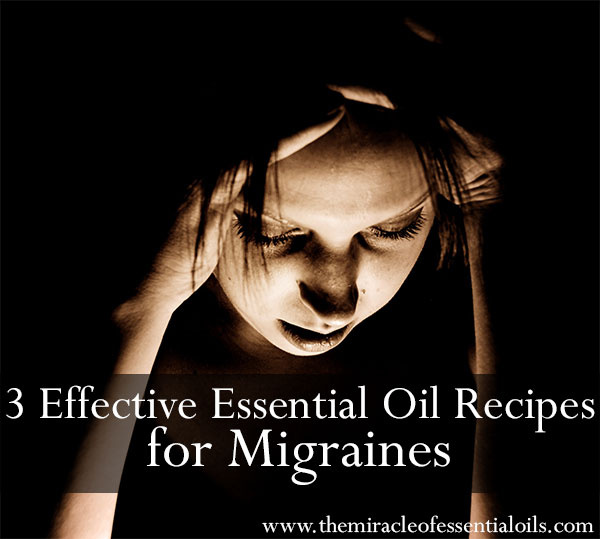 Top 10 Essential Oils for Migraines
Before we look at the 3 essential oil recipes for migraines, take a look at the top 10 essential oils for migraines:
Studies Showing Essential Oils Work for Migraines
Below are a few studies that show essential oils do help migraines:
► Study One: Peppermint oil reduces the severity of headaches by increasing blood flow to the area it's applied to, generates a long-lasting cooling effect on the skin, has analgesic effects that relieve pain and relaxes tensed muscles (1)
► Study Two: Inhalation of lavender oil is an effective and safe treatment for the acute management of migraine headaches (2)
► Study Three: Essential oil of frankincense (boswellia serrata) taken orally reduces the intensity and frequency of headaches in patients with chronic cluster headaches (3)
3 Essential Oil Recipes for Migraines
Note: If you're new to essential oils, please first check out: Caution & Safety when Using Essential Oils. Below are some valuable essential oil recipes that work in preventing migraines and stopping them from developing into a 3-day monstrous headache:
1. Migraine Relief Roll – On Blend

What you need
8 drops wintergreen
8 drops lavender
4 drops eucalyptus
4 drop rosemary
3 drops frankincense
Grapeseed oil (where to get it)
10 ml roller bottler (where to get it)
Method
Combine the oils in the roller bottle. Roll onto forehead, temples, base of skull, back of neck and shoulders.
2. Migraine Support Diffuser Blend

What you need
3 drops lavender
3 drops lemongrass or ginger
3 drops peppermint
High quality diffuser (where to get it)
Method
Add the oils above to your cold air diffuser, following the manufacturer's instructions.
Diffuse this blend when you feel the very first symptoms of migraines to curb nausea, reduce inflammation & pain as well as minimize the severity of the migraine.
3. Cooling Cold Compress

What you need
1 – 2 cups of cold water in a bowl
5 drops eucalyptus
5 drops lavender
Soft microfiber wash cloth (where to get it)

Method
To the bowl of cold water, add the essential oils.
Stir the water using the washcloth.
Then wring out the washcloth, fold it into a rectangle and place it on your forehead for about a minute.
Repeat as many times as necessary till you feel relief. You can also get someone to do this for you.
References
(1) Göbel H1, Schmidt G, Dworschak M, Stolze H, Heuss D. Essential plant oils and headache mechanisms. Phytomedicine. 1995 Oct;2(2):93-102. doi: 10.1016/S0944-7113(11)80053-X.
(2) Sasannejad P1, Saeedi M, Shoeibi A, Gorji A, Abbasi M, Foroughipour M. Eur Neurol. Lavender essential oil in the treatment of migraine headache: a placebo-controlled clinical trial. 2012;67(5):288-91. doi: 10.1159/000335249. Epub 2012 Apr 17.
(3) Lampl C1, Haider B, Schweiger C. Long-term efficacy of Boswellia serrata in four patients with chronic cluster headache. Cephalalgia. 2012 Jul;32(9):719-22. doi: 10.1177/0333102412451357.
The above essential oil recipes for migraines are truly worth a shot since essential oils are proven to help greatly reduce migraines. Are you ready to try any of the above recipes?