Manage soreness & pain by using any of these 3 essential oil recipes for muscle pain!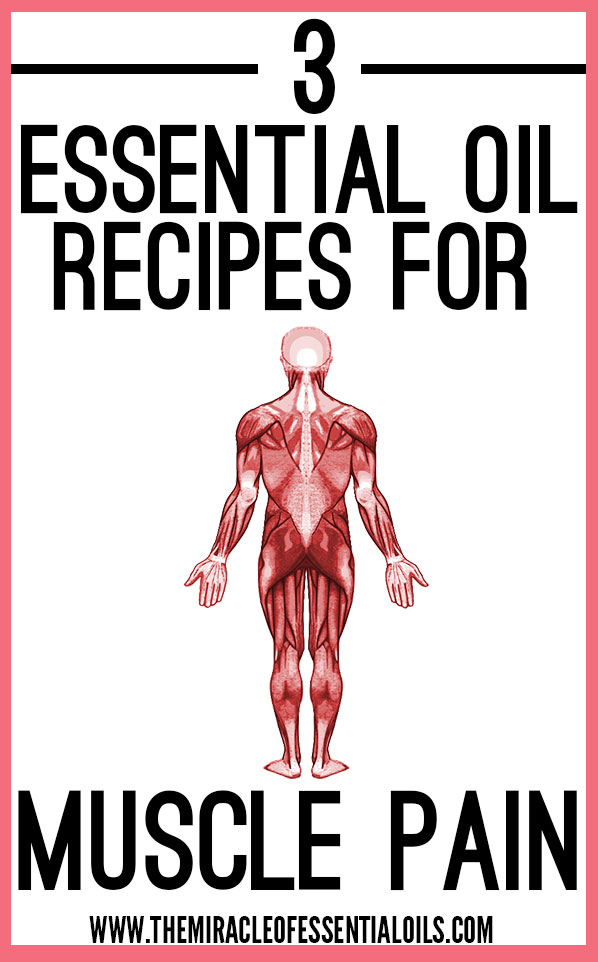 Essential Oils for Muscle Pain
Muscle pain can make you feel like staying in bed without moving an inch of your body. Because when you so much as lift a foot, it hurts like crazy! I suffered from knee pain due to a sprain a few weeks back and it was excruciating when bending down or squatting to pick something then coming back up. I literally did not feel like moving my knee in any way.
Fortunately, I used essential oils three times a day to speed up healing and now I'm pain-free!
Essential oils are really quite a miracle when it comes to reliving muscle pain. They have anti-inflammatory properties that reduce inflammation, analgesic properties that numb down pain and antispasmodic properties that help reduce muscle spasms.
Here's a list of some of the best essential oils for muscle pain:
Peppermint essential oil
Eucalyptus essential oil
Ginger essential oil
Vetiver essential oil
Black peppermint essential oil
Sandalwood essential oil
Turmeric essential oil
Sweet marjoram essential oil
Wintergreen essential oil
Rosemary essential oil
3 Essential Oil Recipes for Muscle Pain
Now let's explore 3 DIY essential oil recipes for muscle pain! You'll find a potent muscle pain blend, massage oil and roller bottle recipe below!
1. Potent Muscle Pain Blend
Note: The blend below might not smell that nice. It rather has an herbaceous scent but it works very effectively!
What you need
4 oz sesame oil
20 drops peppermint oil
20 drops vetiver oil
20 drops sweet marjoram oil
10 drops turmeric oil
5 drops ginger
5 drops black pepper oil
Small funnel
4 oz amber glass dropper bottle
Directions
Using a small funnel, pour 4 oz of sesame oil into your amber glass dropper bottle.
Next carefully drip in all you essential oils.
Screw the cap on tightly and tip the bottle back and forth to mix everything up.
To use, place 5-7 drops of the blend on your palm, rub both palms together and firmly press knead and massage the painful area for about 2 minutes.
Repeat thrice a day.
2. Pain Relieving Roller Blend
What you need
10 drops vetiver oil
10 drops sandalwood oil
10 drops lavender oil
8 drops grapefruit oil
5 drops fennel oil
5 drops peppermint oil
3 drops clary sage oil
3 drops helichyrsum oil
10 ml roll on bottle
Glass bowl & syringe
Grapeseed oil (as needed)
Directions
Drip all your essential oils into a glass bowl.
Mix them up using a toothpick.
Now using the syringe, transfer the essential oil blend into your roll on bottle after removing the roller ball.
Top the roller bottle with grapeseed oil.
Screw on the cap and tip the bottle back and forth to combine all ingredients.
Roll onto the painful area three time a day.
3. Soothing & Healing Bath
What you need
1 cup Epsom salts
1/2 cup Himalayan pink salt
1 tbsp coconut oil
7 drops peppermint oil
7 drops vetiver oil
7 drops sweet marjoram oil
Directions
In a bowl, mix 1 tbsp of coconut oil and 7 drops each peppermint, vetiver and sweet marjoram oil.
Now run your warm bath water and throw in 1 cup of Epsom salts. Let it disperse.
When you're bath is ready, pour in the coconut oil – essential oil mixture and stir the bath with your hand.
Soak for 15 minutes.
If you're new to essential oils, please read Caution and Safety when Using Essential Oils

Which of the above essential oil recipes for muscle pain are you going to try out first?