In this article, find 4 powerful essential oil recipes for staph infection, a type of infection that can be difficult to cure with conventional treatments.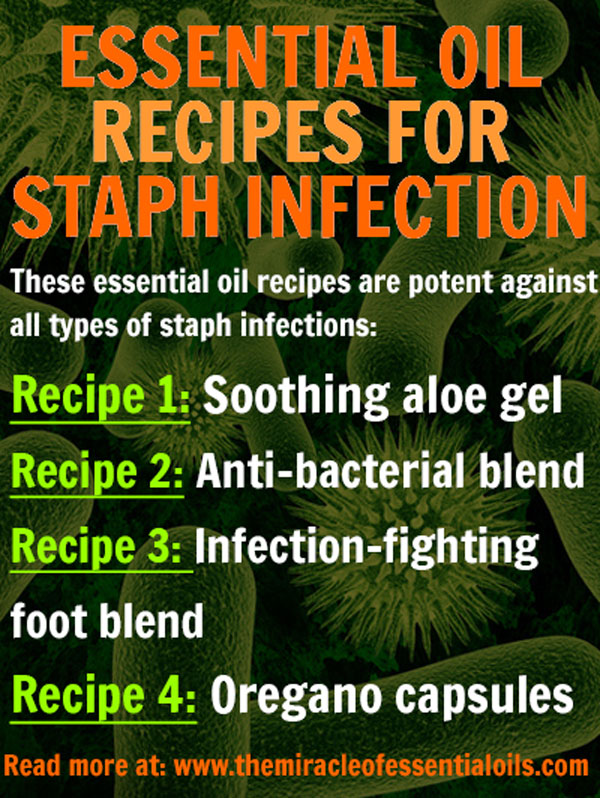 Staph infection comes in many forms including skin infections, food poisoning, blood poisoning and more. It can be a persistent health problem because many different strains of the staphylococcus bacteria that causes staph infection have become resistant to common antibiotics such as penicillin.
Essential oils have been proven to actively fight infectious pathogens including different strains of the Staphylococcus bacteria as seen in these numerous studies found in this article on the website:
List of Essential Oils for Staph Infection
Here is a list of the most potent essential oils for staph infection:
4 Powerful Essential Oil Recipes for Staph Infection
Find four effective essential oil recipes for staph infection below:
1. Soothing Gel for Skin Infections

What you need
Method
Whisk essential oils into the aloe vera gel then transfer it into an amber glass jar.
To use, spread the gel on the irritated skin.
Use many times throughout the day to soothe the skin and speed up healing.
2. Therapeutic Foot Blend

What you need
Method
Add the essential oils to the glass dropper bottle and top with grapeseed oil.
Shake gently to combine.
To use, apply about 5 – 7 drops to the bottoms of your feet.
3. Ultimate Infection-Fighting Roller Blend

What you need
Method
Remove the roller ball from the roller bottle and add the essential oils drop by drop.
Top with fractionated coconut oil and screw on the bottle's cap.
Shake gently to mix up the oils.
Roll onto infected areas and bottoms of feet at least twice a day.
4. Powerful Oregano Capsules

Note: Please consult your doctor before ingesting essential oils.
What you need
Method
Add the drops of oregano oil to an 00 vegetable capsule.
Fill the rest of the capsule with black cumin seed oil.
Take one capsule two times a day to strengthen your immune system and fight that infection!
References
(1) University of Brighton. Aromatherapy Oils Could Kill Superbug. News and Events. 2010 March 12.
(2) Edwards-Jones V1, Buck R, Shawcross SG, Dawson MM, Dunn K. The effect of essential oils on methicillin-resistant Staphylococcus aureus using a dressing model. Burns. 2004 Dec;30(8):772-7.
(3) Warnke PH1, Becker ST, Podschun R, Sivananthan S, Springer IN, Russo PA, Wiltfang J, Fickenscher H, Sherry E. The battle against multi-resistant strains: Renaissance of antimicrobial essential oils as a promising force to fight hospital-acquired infections. J Craniomaxillofac Surg. 2009 Oct;37(7):392-7. doi: 10.1016/j.jcms.2009.03.017. Epub 2009 May 26.
(4) Raman A1, Weir U, Bloomfield SF. Antimicrobial effects of tea-tree oil and its major components on Staphylococcus aureus, Staph. epidermidis and Propionibacterium acnes. Lett Appl Microbiol. 1995 Oct;21(4):242-5.
(5) Roller S1, Ernest N, Buckle J.The antimicrobial activity of high-necrodane and other lavender oils on methicillin-sensitive and -resistant Staphylococcus aureus (MSSA and MRSA). J Altern Complement Med. 2009 Mar;15(3):275-9. doi: 10.1089/acm.2008.0268.