A staph infection can be very tricky to treat as the many strains of the bacteria that cause the infection have become resistant to conventional antibiotics. In this article, discover the 11 powerful essential oils for staph infection and studies proving that they work very effectively
What is Staph Infection?
Staph infection, short for staphylococcal infection, is an infection caused by the Staphylococcus bacteria which is a type of bacteria normally found on the skin and nose of healthy individuals.
These bacteria naturally do not cause any problems and in most cases, just lead to minor skin infections that usually go away on their own. However, if the bacteria go deeper into the body and enter the blood stream, joints, bones, lungs or heart, they post a serious threat to life. Staph infections are of a wide variety: ranging from skin infections to food poisoning to endocarditis, which is a severe infection on the inner lining of the heart (1).
Some examples of staph infection include:
Skin infections
Food poisoning
Blood poisoning
Toxic shock syndrome
Bacteremia
Septic arthritis
Most staph infections are conventionally treated through antibiotics and drainage of the infected area, however, more and more staph infections are no longer responding to common antibiotics. That's where essential oils come in. Certain essential oils have actually been proven to fight off deadly staph bacteria as shown in the studies below, but first, let's look at how exactly essential oils help staph infections:
How Do Essential Oils Help Staph Infection?
Essential oils are highly concentrated liquid plant extracts derived from aromatic botanicals such as the tree bark, leaves, flowers, fruit rinds, roots and resin of trees and plants. They are made up of numerous chemical compounds such as terpenes, oxides, ethanol, ketones and others that give each oil its unique scent and therapeutic properties.
One major reason why essential oils are powerful against staph infection is because no two batches of an essential oil are exactly the same: for example one bottle of say, frankincense essential oil distilled from a frankincense tree isn't perfectly the same as another bottle of frankincense oil distilled from a different tree. The subtle differences in the plant chemistry have been shown to be effective against the adaptation of the Staphylococcus bacteria, which is known to adapt itself to make it resistant to many conventional drugs.
Essential oils help staph infection by:
Fighting infectious pathogens with their powerful antiseptic, antibacterial, antimicrobial and antifungal properties
Strengthening the immune system
Reducing inflammation
Relieving pain
Improving mood
Promoting positive feeling and dispelling negativity
Detoxifying the blood of toxins and wastes
Speeding up healing of wounds
Soothing skin rashes, itchiness and infections
Promoting good quality sleep
Calming stomach upsets
Curbing nausea and vomiting
Reducing fevers and chills
And more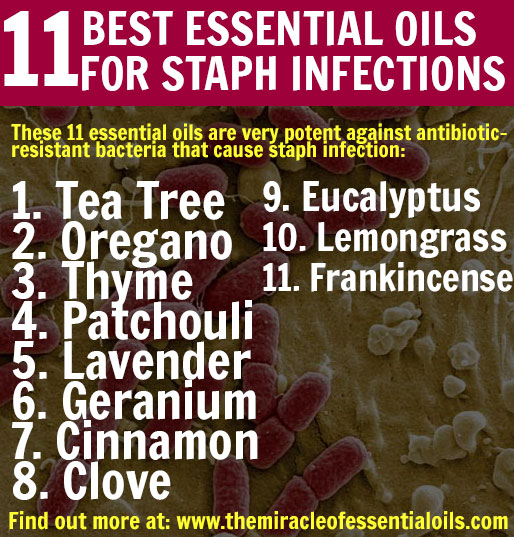 Research on Essential Oils for Staph Infection
Study One: A study published in the International Journal of Essential Oil Therapeutics and carried out at the University of Brighton, East Sussex showed that thyme essential oil had a powerful positive effect on the elimination of cultivated staphylococcus (2)
Study Two: Research demonstrates that essential oils of patchouli, tea tree, geranium and lavender have potential as strong antibacterial agents for the treatment of MRSA or staph infection (3)
Study Three: A study shows in vitro, the essential oils of Eucalyptus, Tea tree, Thyme white, Lavender, Lemon, Lemongrass, Cinnamon, Grapefruit, Clove Bud, Sandalwood, Peppermint, Kunzea and Sage represent a cheap and effective antiseptic topical treatment option even for antibiotic-resistant strains as MRSA and antimycotic-resistant Candida species (4)
Study Four: Tea tree oil and its major compounds including terpinen-4-ol has strong antimicrobial effects on Staphylococcus aureus, Staph. epidermidis and Propionibacterium acnes (5)
Study Five: Lavender oil inhibited growth of both methicillin-sensitive and methicillin-resistant Staphylococcus aureus (MSSA and MRSA) by direct contact (6)
Top 6 Powerful Essential Oils for Staph Infection
Other Essential Oils for Staph Infection
Essential Oil Recipes for Staph Infection
Here is a collection of powerful essential oil blends and recipes for staph infection on this website: Essential Oil Recipes for Staph Infection
References
(1) http://www.mayoclinic.org/diseases-conditions/staph-infections/basics/symptoms/con-20031418
(2) University of Brighton. Aromatherapy Oils Could Kill Superbug. News and Events. 2010 March 12.
(3) Edwards-Jones V1, Buck R, Shawcross SG, Dawson MM, Dunn K. The effect of essential oils on methicillin-resistant Staphylococcus aureus using a dressing model. Burns. 2004 Dec;30(8):772-7.
(4) Warnke PH1, Becker ST, Podschun R, Sivananthan S, Springer IN, Russo PA, Wiltfang J, Fickenscher H, Sherry E. The battle against multi-resistant strains: Renaissance of antimicrobial essential oils as a promising force to fight hospital-acquired infections. J Craniomaxillofac Surg. 2009 Oct;37(7):392-7. doi: 10.1016/j.jcms.2009.03.017. Epub 2009 May 26.
(5) Raman A1, Weir U, Bloomfield SF. Antimicrobial effects of tea-tree oil and its major components on Staphylococcus aureus, Staph. epidermidis and Propionibacterium acnes. Lett Appl Microbiol. 1995 Oct;21(4):242-5.
(6) Roller S1, Ernest N, Buckle J.The antimicrobial activity of high-necrodane and other lavender oils on methicillin-sensitive and -resistant Staphylococcus aureus (MSSA and MRSA). J Altern Complement Med. 2009 Mar;15(3):275-9. doi: 10.1089/acm.2008.0268.