Find out the top 7 essential oils for alopecia areata and use them consistently to grow back a healthy head of hair!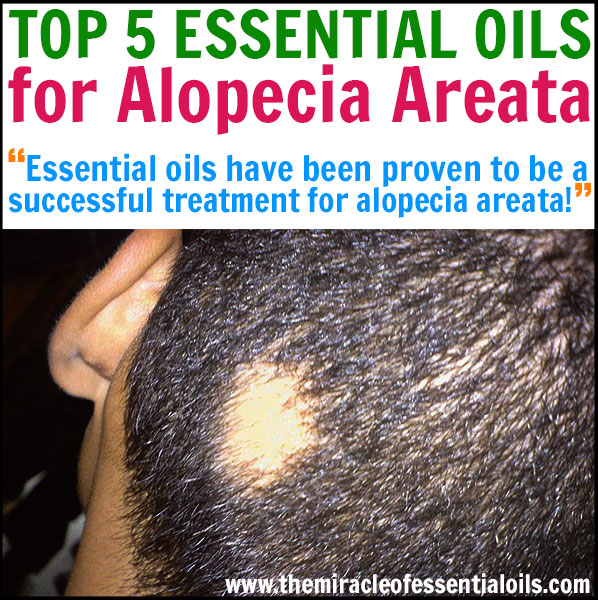 What is Alopecia Areata?
An autoimmune disorder, alopecia areata comes about when the body's immune system mistakenly attacks the hair follicles. This leads to hair fall which eventually causes bald spots and thin dull hair. In alopecia areata, hair is lost in some or all parts of the head. In its first stages, it results in bald spots. It is very rare (1-2%) that alopecia areata spreads to the entire scalp.
There are two types of alopecia: scarring alopecia and non-scarring alopecia. In scarring alopecia, there is fibrosis, inflammation and loss of hair follicles. In non-scarring alopecia, there is only loss of the hair shaft but the hair follicles are still present. This is the type of alopecia areata most individuals have and it is reversible!
Study Showing Essential Oils Work for Alopecia Areata
Quite a number of studies have been conducting showing the successful treatment of alopecia areata using essential oils! This shows that essential oils have been proven to treat alopecia areata naturally. One popular study recorded in the Archives of Dermatology November 1998, investigated the efficacy of aromatherapy in the treatment of patients with alopecia areata.
The participants were eight-six patients diagnosed with alopecia areata. They were divided into two groups. The active group did a daily scalp massage using the essential oils of thyme, rosemary, cedarwood and lavender in carrier oils of grapeseed and jojoba. The control group, meanwhile did daily scalp massages too, but only with the carrier oils of grapeseed and jojoba. They did not use essential oils in their massage. The participants did the massage everyday for 7 months.
The results found essential oils to be a safe and effective treatment for alopecia areata! Further more, treatment with the essential oils used was significantly more effective than treatment with the carrier oil alone.
Source: https://www.ncbi.nlm.nih.gov/pubmed/9828867
Top 5 Essential Oils for Alopecia Areata
How to Use Essential Oils for Alopecia
Now that we've seen the top 5 essential oils for alopecia areata, let's look at the most effective ways to use them to regain back lost hair!
1. Powerful Daily Scalp Massage Blend
The blend below is a 2% essential oil dilution. This means 2 drops of essential oil in 1 tsp of carrier oil. This is the recommended & safe dilution rate for adults.
Since we're using 1 cup of carrier oil, it contains 38 tsp which adds up to a total of 96 drops of essential oil. If your scalp is sensitive then please use a 1% dilution which is 48 drops of essential oil. Remember to do a test patch with the mixture after you have prepared it to see that you aren't allergic to any of the ingredients.
What you need
Directions
Using the small funnel, transfer ½ cup of jojoba oil and ½ cup of grapeseed oil into an amber glass bottle.
Next, carefully add the essential oils, drop by drop.
Once you've added all the drops, close the bottle and shake it gently to mix up all the oils together.
Your Powerful Daily Scalp Massage Blend is ready!
How to do a Daily Scalp Massage

To use, get a glass dropper and collect some of the blend in it from the bottle. Now drop it all over your whole scalp.
Then using your clean fingers, gently massage the blend into your scalp for about 4 minutes. Give special focus, when massaging, to the bald spots(s).
Once your whole scalp is oiled, wash your hands and cover your hair with a shower cap. This traps heat and enables the oils to penetrate deeper into the hair follicles.
Wait for about 1-2 hours then lightly rinse your hair.You can also leave without rinsing your hair.
Since this is a daily scalp massage, you don't need to wash your hair every day. Just wash it every 2 days. You can use a dry shampoo to keep your hair looking non-oily. Check out our DIY Dry Shampo with Essential Oils
When Will I See Results?
You will see improvements within 1 month of use. Keep using it without fail because consistency is key here! Remember the participants of the study did the scalp massage with the oils every single day for 7 months. It may seem like a long time but time flies, friends!
Give all or any of these essential oils for alopecia areata a go! Don't forget to come share your progress!