A condition that affects more than 48 million people worldwide, Alzheimer's is one of the most financially costly diseases. Find out how to use essential oils for Alzheimer's as a natural, safer and effective remedy to help manage severe symptoms.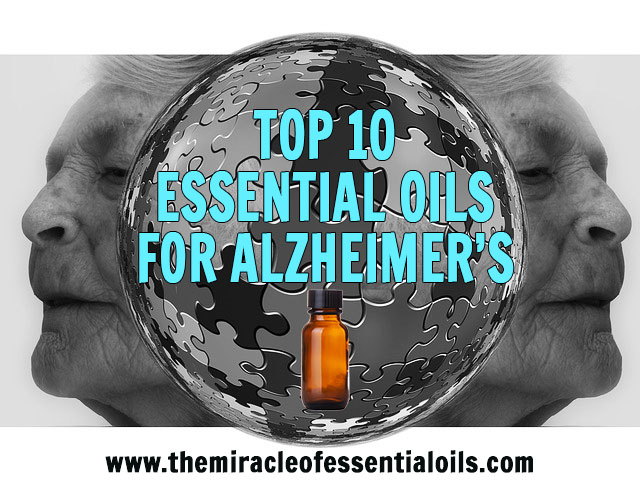 What is Alzheimer's?
Alzheimer's disease is an age-related neurodegenerative disease that is associated with short-term memory loss, problems with language, mind disorientation, mood swings, irritability, behavioral issues, loss of motivation, loss of bodily function and more.
The disease progresses slowly and gets worse overtime, making the person withdrawn from society, friends and family. The cause of Alzheimer's is not properly known although about 70% of the risk is believed to be genetics. Other risk factors of Alzheimer's include head injury or trauma, depression and hypertension.
How Do Essential Oils Help Alzheimer's?
Essential oils have been used as healing substances for many health conditions for over centuries. They consist of various natural chemicals that provide each oil with its unique scent and therapeutic properties. Below are some of the ways essential oils help Alzheimer's:
Strengthening and oxygenating the brain
Sharpening memory
Promoting focus and mental clarity
Dispelling negativity and promoting positive feelings
Reducing fatigue
Quelling anxiety and nervousness
Calming the mind
Strengthening the immune system
Promoting deep and peaceful sleep
Reducing irritability and mood swings
Promoting happiness and joy
And more
Top 10 Essential Oils for Alzheimer's
Essential Oil Recipes for Alzheimer's
Important note: If you're new to essential oils, please first read Caution & Safety when Using Essential Oils. Below are three helpful essential oil recipes for Alzheimer's:
Mental Support Personal Inhaler
What you need
Method
Remove the cotton wick from the personal inhaler and add the essential oil drops.
Place back the wick and close the cap.
Breathe deeply when needed to oxygenate the brain, calm senses and promote peace.
Relaxation Roll On
What you need
Method
Remove the roller ball from the bottle and add the essential oils drop by drop.
Top with fractionated coconut oil.
Push back the roller ball, screw on the cap and shake well to combine.
Roll on temples, base of skull, behind ears and on wrists.
Foot Blend
What you need
Method
Add the essential oils to the roller bottle and top with fractionated coconut oil.
Roll onto bottoms of feet before bed. You may put on a pair of comfortable socks to prevent oil stains on your sheets.
Using essential oils for Alzheimer's disease is a natural way to prevent and manage severe symptoms when all else isn't working.