Brain zaps are a mysterious withdrawal symptom of antidepressant medication. Learn how you can use essential oils for brain zaps in this article.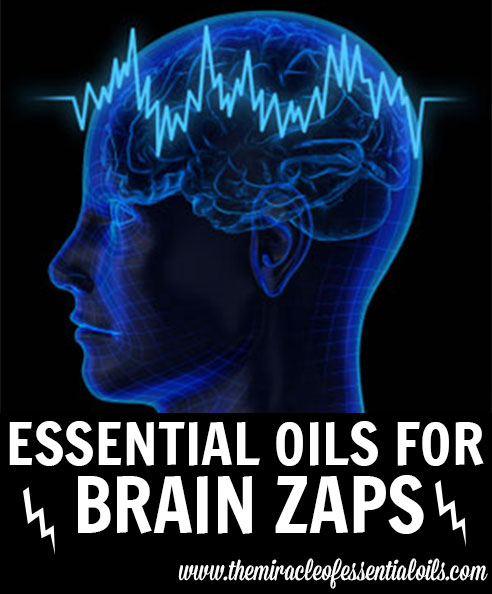 What are Brain Zaps?
Brain zaps are a common side effect of taking antidepressants, sleeping pills and Benzodiazepines. They are also known as brain shivers, brain shocks and electrical shocks. Brain zaps also happen as a withdrawal symptom from antidepressants and these kinds of brain zaps are often worse and debilitating.
They're called brain zaps because it triggers repeated electric shock like sensations in the brain, which may extend to other parts of the body. With brain zaps usually arise vertigo, tinnitus and feeling lightheaded and disoriented.
The cause of brain zaps has been linked to antidepressant and anti-anxiety medications as well as sleeping pills because these medicines target serotonin, the happy or mood hormone. They work by holding serotonin for a long time in the synaptic spaces of the nervous system. These spaces between the nerve cells have electrical current. Holding the serotonin for longer periods than how it's naturally supposed to work is believed to cause a backfire of electrical current. This is what is known as a brain zap.
How Do Essential Oils Help Brain Zaps?
There are quite a few anecdotal reports by different people who have suffered brain zaps talking about how essential oils have helped lessen their symptoms. Below are some of the ways the power of essential oils helps brain zaps:
Controlling dizziness and lightheadedness
Calming nerves and quelling anxiety
Improving brain health
Increasing mental focus
Soothing mental fatigue and emotional exhaustion
Regulating hormones
Balancing brain waves
Reducing depression and sadness
Promoting deep and peaceful sleep
Calming a restless mind
And more
Top 7 Essential Oils for Brain Zaps
How to Use Essential Oils for Brain Zaps
Note: If you're new to essential oils, please first read: Safety & Caution when Using Essential Oils
1. Diffuser Recipe

What you need
2 drops vetiver
2 drops frankincense
2 drops cedarwood
Non – plastic cold air diffuser (where to get it)

Method
Add the oils to your diffuser (with the required amount of water, following your manufacturer's instructions).
Breathe deeply and relax.
2. Brain Booster Roller Blend

What you need
Method
Add the essential oils to the roller bottle then top with fractionated coconut oil.
Roll onto temples, shoulders, base of skull and wrists.
3. Meditation Diffuser Blend

What you need
3 drops clary sage
2 drops ylang ylang
2 drops lavender
2 drops sandalwood
Non – plastic cold air diffuser (where to get it)

Method
Place the oils in your diffuser with about 90 ml water, following the manufacturer's directions.
Diffuse before sitting down to meditate or relax.
Natural Remedies & Tips for Brain Zaps
Here are a few helpful natural remedies for brain zaps:
Take omega 3 fatty acid supplements such as cod liver oil pills. Omega 3 fatty acids are known to boost brain function and rebuild brain receptors and membranes. These fatty acids are also known to increase brain volume and optimize many facets of the brain. This helps with depression, cognition and mental health.
Avoid MSG and aspartame in food. Many packaged foods such as instant noodles, soups and lunch meat contain MSG (Monosodium Glutamate) which is said to disrupt brain chemicals because it breaks down into glutamate, an important chemical messenger in the brain. Aspartame is an artificial sweetener that is found in many sugar-free food items including chewing gum, diet soda and diet foods. 40% of aspartame contains apspartic acid, which in excess is said to kill certain neurons by allowing the influx of too much calcium into your cells and this in turn leads to death of brain cells.
Meditate. Meditating and spending some time in nature clears the brain of negativity and helps heal it on a whole new level. Meditating also strengthens your mind and brain and keeps it free from clutter and stress. Spend just 15 minutes with your eyes closed, meditating each day.
Natural remedies such as essential oils and meditation are truly helpful for reducing those awful brain zaps. Are you ready to start using essential oils for brain zaps?