Trouble breathing to your fullest? Or down with a cold and can't breathe except with your mouth? Try any of these essential oils for breathing difficulties and find 4 great recipes to start breathing properly again!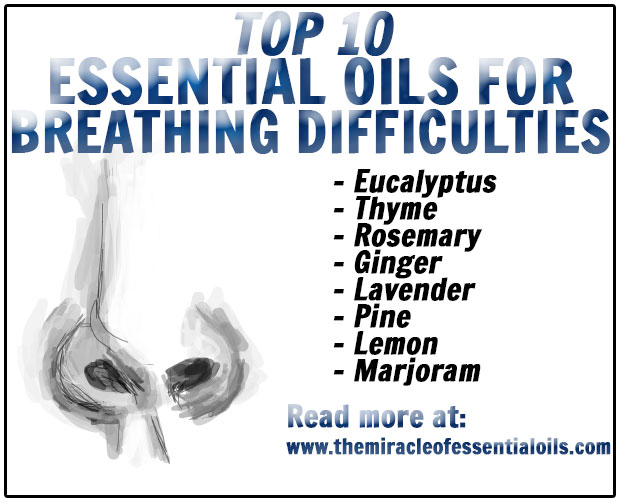 Causes of Breathing Difficulties
Many people get breathing difficulties when they suffer from colds, cough and congestion, however, there are other medical causes of breathing difficulties which include: asthma, wheezing, pneumonia, croup and bronchitis, among others.
10 Essential Oils for Breathing Difficulties
Essential oils help alleviate breathing problems by opening the respiratory airways, clearing congestion, strengthening the immune system, draining sinuses, reducing inflammation, fighting colds, purifying the air and much more.
Note: In case you have asthma or wheezing, it's best to steer clear of essential oils or consult your doctor before use as such conditions make one sensitive to strong scents.
Here's a selection of the top ten essential oils for breathing difficulties and how they work:
One of the best essential oils for breathing difficulties, eucalyptus promotes clear, easy and deep breathing by opening up airways and clearing up congestion. It's best used with facial steaming to alleviate breathing difficulties whether brought about by colds, cough, wheezing or pneumonia.
Thyme oil is a hot oil that reduces chills and colds that promote breathing difficulties. It can be used to make a homemade vapor rub (recipe below) to alleviate respiratory symptoms that worsen with cold temperatures.
Extracted from fresh and fragrant rosemary leaves of the herb rosemary, rosemary oil relieves respiratory disorders, expels excess phlegm and mucus as well as clears sinuses and nasal congestion. Fun fact: Rosemary oil is one of the ingredients in Vic's vapor rub.
Ginger is warming and a good oil for respiratory issues that are affected by cold temperatures. It also strengthens the immune system and fights inflammation. It can be mixed in a carrier oil and rubbed onto feet, chest and back to warm the body and relieve pain as well.
A detoxifying oil, lemon oil is good for purifying the air of allergens and pathogens. It also strengthens the immune system and helps relieve coughs and colds.
Tea tree oil, a powerful antiseptic, destroys germs and irritants that block airways and cause breathing difficulties. It also fights off viruses, bacteria, fungi, yeast and microbes.
Pine oil releases mucus that clogs the respiratory tubes and causes breathing difficulties. It also fights off infectious pathogens, relieves congestion and makes breathing easier.
Oregano oil is extracted from the herb oregano and has a fresh medicinal scent with a touch of spice and bitterness. It is a powerful immune booster which can be diffused in times of sickness and when the body needs respiratory support. Oregano is good for fighting viral infections, sinusitis, bronchitis and other respiratory conditions.
Generally soothing and calming, lavender makes it easier to sleep when having trouble breathing. It also soothes the respiratory tract and helps with sore throats, coughs and colds.
An oil good for pain relief, marjoram assists in alleviating body pain and soreness that accompanies respiratory issues. It also eases respiratory disorders such as sinusitis, bronchitis and wheezing.
5 Essential Oil Recipes for Breathing Difficulties
1. Facial Steaming with Essential Oils
I can never get over how beneficial facial steaming with essential oils is, for colds, breathing problems, ear infections, sinuses, eye infections and more! It uses the power of essential oil – infused steam to dislodge mucus from the respiratory pathways and sinuses and opens the air ways, promoting deep and clear breathing.
What you need
A pot of 3 – 4 cups of water
2 drops eucalyptus
2 drops tea tree
A towel
Heat source
Method
Boil the pot of water till it gets very steamy.
Remove from heat and carefully place it on a table over a place mat.
Sit in front of the pot, positioning your face in a way that the steam reaches it.
Create a tent over your head and the pot and sit in the steam for about 15 minutes.
You'll feel relieved afterwards and able to breathe properly. Do this about 4 times a day for relief.
2. Liquid Vapor Rub Blend
Vic's vapor rub is a popular remedy for colds, clogged sinuses and congestion, which all lead to breathing difficulties. Make your own liquid vapor rub in a roll – on bottle for easy application, without the petroleum jelly and synthetic additives found in Vic's vapor rub.
What you need
10 drops lemon
10 drops eucalyptus
10 drops rosemary
5 drops thyme
10 ml roll – on bottle (where to get it)
Fractionated coconut oil (where to get it)
Method
Add all the ingredients to the roll – on bottle and shake well to combine.
Roll on temples, chest, shoulders, neck and back.
3. Breathe Easy Shower Bombs
This is an exciting recipe that gives quick results! It involves making shower bombs, which are just like bath bombs. They release the aroma of essential oils when combined with the steam and hot water from the shower. This aroma helps open up breathing airways and promote deep and clear breathing.
What you need
Method
Place the corn starch, baking soda and essential oils in a large bowl.
Squirt some water into the powder mixture and use your hand to form little molds. Don't add a lot of water – just enough to get the ingredients to mold into a ball without disintegrating.
Stuff the molds into the silicone cubes in the tray then let it set in the refrigerator for an hour or two.
Once hardened, pop them out of the tray and store in a large mason jar.
To use, toss one on the shower floor, near the drain, before showering. The heat and pressure of the shower water will break it down, releasing the aroma which will open your airways and help you breathe easier!
4. Clear Congestion Diffuser Blend
Anytime you feel congested, groggy and have difficulty breathing, diffuse the blend below:
What you need
3 drops peppermint
1 drop marjoram
2 drops eucalyptus
2 drops tea tree
1 drop lemon
Non – plastic cold air diffuser (where to get it)
Method
Add all oils to your diffuser, following the manufacturer's instructions.
5. Respiratory Support Diffuser Blend Recipe
Boost your respiratory system by diffusing the recipe blend below:
What you need
2 drops rosemary
2 drops pine
2 drops marjoram
1 drop lemon
Non – plastic cold air diffuser (where to get it)
Method
Place oils in diffuser to purify, strengthen and de – congest respiratory system.

Caution

Always purchase 100% pure therapeutic grade essential oils from a reputed seller.
Before using essential oils, perform a patch test on your inner elbow to check that you aren't allergic.
Do not use essential oils on newborn babies.
Keep essential oils away from children and pets.
Do not ingest essential oils.
Refrain from using essential oils during pregnancy/nursing or use them under the care of a trained aroma therapist or naturopathy doctor. Read more: Is it Safe to Use Essential Oils While Pregnant?, What Essential Oils are Good for Pregnancy?
Will you try any of these essential oils for breathing difficulties? Share your thoughts in the comments below!