There are several essential oils for cellulitis that you can use to manage this bacterial infection in the second layer of the skin, which is common in children and the elderly. If you came here looking for Essential Oils for Cellulite, the skin condition characterized by dips and dimples on thighs and other areas, go here: 6 Powerful Essential Oils for Cellulite.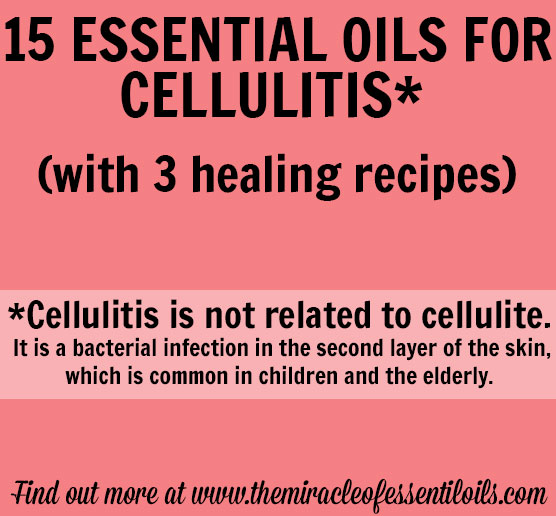 What is Cellulitis?
Cellulitis is caused by bacteria called Group A Streptococcus and Staphylococcus. These bacteria usually enter into the skin via tiny cuts or abrasions.
The most common areas where cellulitis occurs are the face and lower leg, although it can appear anywhere else on the body.
The signs and symptoms of cellulitis include:
Inflammation or swelling
Itchy skin
Hot skin
Itching skin
Tingling burning sensation
Pain
If not properly addressed cellulitis can develop into cellulitis-fasciitis, where the bacteria make their way beyond the skin to the flesh/ fascia. The bacteria then start rapidly digesting the flesh and this is marked by bluish skin coloring, blisters, fever and loss of consciousness. Necrotizing cellulitis is life-threatening and can lead to death.
Risk Factors for Cellulitis
Certain people are more disposed than others to contracting cellulitis. Some of the risk factors that increase the chances of getting cellulitis are:
Old age
Weak or compromised immune system
Diabetes
Obesity
Taking immuno-suppressive drugs
Varicose veins or lack of proper blood circulation to the legs
Living in close or cramped living quarters
Spider bites or animal bites
Burns, boils or other damages to the skin
Tattoos
Pruritis (Itchy scaly skin)
Chicken pox and shingles
Top 15 Essential Oils for Cellulitis
Here are the top 15 essential oils for cellulitis:
How to Use Essential Oils for Cellulitis
Here are 3 ways you can use essential oils for cellulitis:
1. Neat application
For medium to severe cases of cellulitis, neat application of essential oils is effective. Caution must be taken when using essential oils, please read: 12 Essential Oils You Can Use Neat for more info.
» What you need:
» Method:
Using a q-tip, apply 1 – 2 drops of essential oil directly onto the wounds of cellulitis.
2. Cooling gel recipe
A cooling gel that is highly antibacterial is just what you need to cool down the red, heated skin and fight off bacteria.
» What you need:
¼ cup of aloe vera gel (where to get it)
4 drops of peppermint
4 drops of lavender or roman chamomile
3 drops of helichrysum
4 oz amber glass container (where to get it)
» Method:
In a small 4 oz container, pour in the aloe vera gel and all essential oils.
Now mix them thoroughly using a popsicle stick.
Apply onto the cellulitis 2 – 3 times a day.
3. Cellulitis ointment
This ointment is great for moisturizing and providing relief to the dry tight skin while killing bacteria and promoting faster wound healing.
» What you need:
» Method:
In a double boiler, melt the shea butter until fully liquefied.
Then add in the essential oils and stir well.
Transfer to the mixture to a 4 oz container and place in the refrigerator to set. This may take 2 – 6 hours.
Once solidified, you can now store the ointment outside of the refrigerator.
Apply 2 – 3 times on clean and dry skin.
Other Natural Remedies for Cellulitis
Propolis – Propolis (where to get it) is a sticky substance collected and used by bees to fix unwanted holes and cracks in the hive. It has strong antibacterial and anti-inflammatory properties, and can literally help seal the wound or wounds caused by cellulitis. Propolis can be taken internally in the form of capsules or by topical application of propolis in the form of ointments.
Turmeric – An ancient herbal root characterized by its bright red color, turmeric powder (where to get it) is packed with anti-inflammatory and anti-bacterial qualities that work both topically and internally. Take turmeric capsules or apply a turmeric paste onto the cellulitis for natural relief.
Manuka honey – Manuka honey (where to get it) is one of the best varieties of honey in the world based on its high anti-oxidant power, immense anti-inflammatory properties and potent anti-bacterial properties. Apply an overnight poultice containing manuka honey or consume manuka honey daily for cellulitis relief.
What natural remedies and essential oils for cellulitis have worked for you? Share in the comments below!