Chapped lips that are cracked, dry and bleed are a real pain during winter. Find out how you can use essential oils for chapped lips here!
What Causes Chapped Lips?
Chapped lips are not only unsightly but can also be painful. For many people, chapped lips are brought on by two main factors: dehydration and cold weather. These two factors can severely dry out one's lips, causing them to crack, bleed and pain.
Besides slathering moisturizing ingredients like Vaseline, shea butter or coconut oil for relief, you can try healing your lips and deeply nourishing them with essential oils! Essential oils contain therapeutic properties that help moisturize, nourish, protect and heal lips making them soft, smooth and plump.
Find out how essential oils work for chapped lips below:
How Do Essential Oils Help Chapped Lips?
What makes essential oils good for chapped lips? Find out below:
They are moisturizing. Certain essential oils have incredible moisturizing effects on skin. They seal moisture on chapped and dehydrated lips and lubricate them, keeping them looking soft and plump.
They have healing properties. Essential oils are known for their potent healing properties that include wound healing and skin regeneration properties. These properties help repair and heal painful and bleeding cracks on the lips.
They are anti-inflammatory. The anti-inflammatory action of essential oils reduces inflammation and protect the lips from swelling and pain.
They are analgesic. Analgesic means pain relieving. This property makes them extremely beneficial numbing down painful chapped lips.
Top 5 Safe Essential Oils for Chapped Lips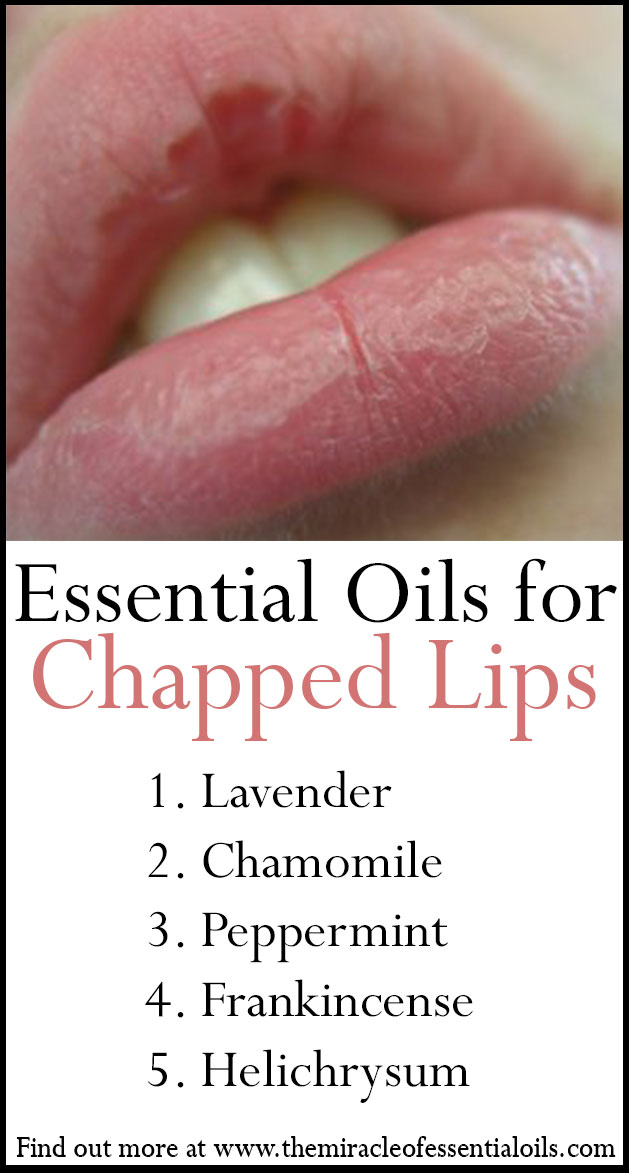 The essential oils below are safe to use on chapped lips:
2 Essential Oil Recipes for Chapped Lips
Before using essential oils for chapped lips, please ensure to dilute them in a fatty medium such as plant oils. You can mix 1 – 2 drops of essential oil in 1 tsp of honey, coconut oil, shea butter, aloe vera gel and other bases. Below are two essential oil recipes to show you how you can use essential oils to treat chapped lips:
1. Coconut Oil Lavender Lip Balm

What you need
Method
Place the soft and creamy coconut oil in a small bowl and add the lavender oil.
Now mix and mash this together with a spoon until well combined into a creamy lip balm.
Store in your purse and dab onto lips whenever they feel uncomfortable. You will experience immediate relief and your chapped lips will disappear within 3 days of consistent use.
2. Healing Lip Salve

What you need
Method
In a double boiler, add the beeswax pastilles, shea butter and coconut oil and gently melt them over medium low heat.
Once melted down to liquid form, remove from heat and allow it to cool down for about 2 minutes.
Add in your raw honey and essential oils and stir briskly until well combined.
Carefully pour the mixture into lip balm tubes and let it set in the refrigerator for about an hour or two.
To use, gently smooth the salve onto your chapped lips as many times as needed during the day.
Caution
If you're new to essential oils, please first take a look at Caution & Safety when Using Essential Oils
Are you suffering from chapped lips? Which essential oils are you planning on using?