Warm up your body fast using these essential oils for cold hands and feet!
During winter or the cold season, hands and feet can get so cold, tingly, lose feeling and even pain! Cold hands and feet can also be caused by some health conditions such as Raynaud's and other diseases that cause poor circulation leading to cold hands and feet.
Let's look at some ways to keep hands & feet warm below:
How to Keep Hands & Feet Warm
Cover up. To keep your whole body warm and toasty, ensure to protect them from the elements i.e. harsh winds and cold temperatures. This means, wear your mittens, thick woolen socks, scarves, etc. This will automatically keep you warm and cozy.
Warm drinks. Take hot/warm drinks to turn the heat up from the inside. You can add a pinch of spices like cayenne pepper or black pepper, cinnamon powder to your drinks to warm you out from the inside out.
Use warming essential oils. Thankfully, quite a number of essential oils are warm oils that can increase blood flow and warm up your body fast! Check out the following essential oils for cold hands & feet below!
Top 6 Essential Oils for Cold Hands & Feet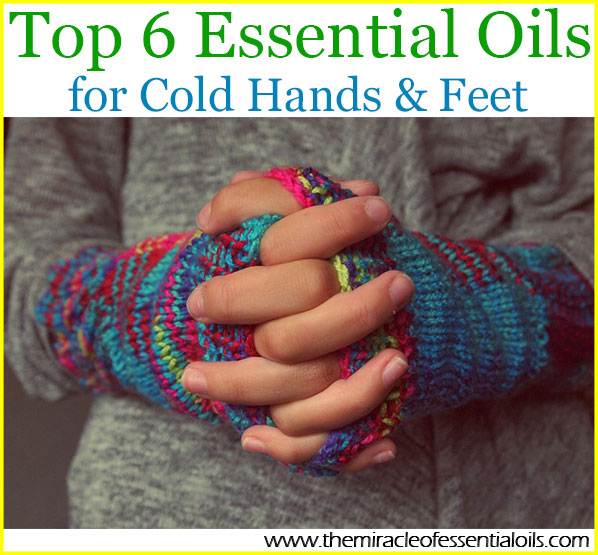 1. Ginger Essential Oil
2. Black Pepper Essential Oil
3. Frankincense Essential Oil
4. Clove Essential Oil
5. Cinnamon Essential Oil
6. Nutmeg Essential Oil
Note: Most of the essential oils above, including ginger, black pepper, clove, cinnamon and nutmeg are 'hot' oils. This means they are incredibly warming and should be used with caution or they'll leave you with burning sensations or worse, chemicals burns. When handling these essential oils, use a 0.5 or 1 % essential oil dilution. This means 1 drop of essential oil in 2 tsp of carrier oil or 1 drops of essential oil in 1 tsp of carrier oil. Please do not exceed this amount!
How to Use Essential Oils for Cold Hands & Feet
To use any of the above oils, simply mix 10 drops in ½ cup of coconut oil then rub a small amount on your hands and feet before wearing mittens or socks. The best ways to use the above essential oils for cold hands and feet is through the following:
Hand & feet salve
Warming bath
Massage blend
1. Warming Hands & Feet Salve
What you need
½ cup shea butter
¼ cup olive oil
5 drops ginger oil
3 drops cinnamon oil
3 drops black pepper oil
Double boiler
Storage container
Directions
Melt the shea butter in a double boiler till liquefied.
Next, pour in ¼ cup of olive oil together with the shea butter and then add the essential oils. Stir well.
Pour the mixture into a storage container, preferably an amber glass jar.
Let it harden up before use. Store in a cool dry place.
To use, scoop out a suitable amount (like 1 tsp) and rub on your hands and feet before throwing on mittens and socks.
2. Warming Bath Blend
What you need
2 tbsp coconut oil
5 drops ginger oil
5 drops frankincense oil
Directions
Mix the essential oils in the coconut oil and add to a warm bath.
Mix the bath with your hand then soak in for 10-15 minutes.
Caution