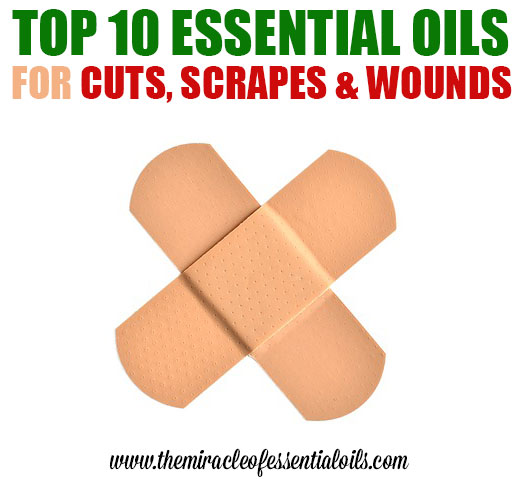 From the tiniest paper cuts to messy kitchen accidents, we've all experienced cuts and scrapes at some point in our lives. Instead of running for the mentholated spirit in the medicine cabinet to disinfect your cut, why not make your own antiseptic solutions that work just as effectively? And if you have kids around, you would want to have something completely natural and safe to use on them every time they come back from their adventures with a scraped knee or two, am I right?
In this article, we shall explore the top 10 essential oils for cuts and scrapes, how they actually work and lastly, how to use them with some effective homemade recipes.
How Essential Oils Help Cuts and Scrapes
Essential oils are concentrated plant extracts with potent medicinal and therapeutic properties. Numerous studies have shown that essential oils have superior antimicrobial, antiseptic, disinfectant, cicatrisant and germicide properties, among others, that assist in wound protection and speedy healing. Here are some of the ways essential oils can help cuts and scrapes:
Disinfecting the wound
Slow down bleeding
Speed up wound healing
Reduce inflammation
Alleviate stinging or pain
Avoid scarring
Ward off infections
Top 10 Essential Oils for Cuts and Scrapes
1. Tea Tree Essential Oil
Also known as Melaleuca oil, tea tree essential oil (where to get it) is obtained from the leaves and terminal branches of Melaleuca alternifolia, a tree species native to Australia. This essential oil has recently surged in popularity because of its powerful antimicrobial, antifungal, antibacterial and germicide properties (1) that treat a wide range of infections. These properties make it a great disinfectant for wounds including cuts and scrapes. Using tea tree oil for wounds also keeps the area clean and prevents infections.
2. Lavender Essential Oil
A gem in the world of essential oils, lavender oil  (where to get it) is super versatile and can be used for an array of ailments including healing cuts and scrapes. Just like tea tree oil, it can be used to disinfect wounds bruises, cuts and scrapes because of its antimicrobial properties. Lavender oil is also soothing and calms the stinging pain cuts and scrapes give.
3. Helichrysum Essential Oil
Helichrysum oil (where to get it), also known as Everlasting oil is extracted from the vibrant helichrysum flowers which actually have no petals but gleaming translucent dry 'bracts' instead, which make them appear eternally in bloom, hence the name 'everlasting'.
This essential oil is particularly powerful for wound healing and scar tissue regeneration. It is said that applying helichrysum oil diluted in a pure vegetable oil to an open wound starts the wound healing process so fast that you can actually see it with your own eyes. Whether or not this is true, helichrysum oil does have extraordinarily healing powers which is backed by research (2): in vitro studies characterized helichrysum essential oil as an antimicrobial and anti-inflammatory agent.
4. Chamomile Essential Oil
Chamomile oil (where to get it), obtained from the beautiful white chamomile flowers, has powerful anti-inflammatory and antioxidant properties (3) that make it effective in treating cuts and scrapes. It is also touted for its gentle care on sensitive skin including baby diaper rashes and eczema and so it can be used to treat cuts and scrapes without irritating them.
5. Frankincense Essential Oil
An ancient oil known since biblical times, frankincense is prized for its medicinal benefits and healing properties. The oil of frankincense  (where to get it) contains key ingredients known as monoterpenes that have antiseptic and antibacterial properties useful for wound care and healing. It also has cicatrisant properties that help with cell and tissue regeneration as well as promote fast wound healing.
Since frankincense oil has anticoagulant properties, do not use it on fresh cuts and scrapes as it will promote the thinning of blood and prevent the wound from closing up. Instead apply it (diluted, of course) on your cut after it has stopped bleeding and started scabbing up to prevent scarring.
6. Peppermint Essential Oil
Peppermint oil (where to get it) is good for cuts and scrapes because of its analgesic properties that alleviate the sharp stinging pain. It has a high menthol content that numbs pain and provides cooling relief to hot irritated cuts and scrapes. Not to be left out in the germ fighting department, peppermint oil has also shown strong antimicrobial activities (4) that protect the wound from germs that can cause infection.
7. Lemon Essential Oil
This citrus oil doesn't just uplift your spirits – it's also excellent for cleaning and sterilizing cuts and scrapes. Lemon essential oil (where to get it) is cold pressed from the peels of the bright yellow citrus fruit and it contains potent antimicrobial, antiseptic and bactericidal properties that make it good for disinfecting and treating cuts and scrapes.
Simply inhaling the scent of lemon oil works wonders in calming down a crying child who's just got a scrape or cut so try out the disinfecting wound wash recipe containing lemon down below.
8. Myrrh Essential Oil
Just like frankincense oil, myrrh oil (where to get it) is got by steam distillation of the tree's gum resin. Its therapeutic and healing properties that are particularly good for treating cuts and scrapes include antiseptic, antimicrobial, anti-inflammatory and cicatrisant, which prevent infection, keep away germs, accelerate healing and prevent scarring.
9. Rosemary Essential Oil
Rosemary oil (where to get it) smells crisp and clean and is very beneficial in reclaiming lost hair and boosting hair growth. It is steam distilled from the beautiful leaves of the rosemary plant known as Rosmarinus officinalis, in scientific terms.
What makes rosemary oil good for cuts and scrapes is its antimicrobial properties (5) that ward off germs and microbes from fresh wounds. It also has an analgesic (pain relieving) effect that soothes the sharp pain brought about by even the tiniest of nicks and scrapes.
10. Clove Essential Oil
Clove oil (where to get it) is a spicy essential oil derived from the leaves, stems or buds of the clove tree, Eugenia caryophyllata. Its main component is eugenol which has powerful pain relieving properties popularly used for alleviating tooth aches. These same pain relieving properties can be used to reduce stings from cuts and scrapes. Clove oil is also a powerful antiseptic and disinfectant which makes it good for purifying wounds.
Since clove oil is very potent and is known to be a skin irritant, look for clove leaf essential oil as it has a lower percentage of eugenol that is safer for topical application than clove bud or clove stem oil.
How to Use Essential Oils for Cuts and Scrapes
1. Disinfecting Wound Wash
What you need
1-3 cups of clean warm water (depending on the size of the cut/scrape)
3-5 drops tea tree essential oil
3-5 drops lemon essential oil
1-2 tsp olive oil
A bowl
A soft wash cloth or cotton cloth
Directions
Place the warm water in a bowl then mix the essential oils in the olive oil and add the blend to the water. Swirl the water with the washcloth to mix the ingredients then wring it out and gently wipe the cut/scrape until it's clean. Go ahead and apply the healing ointment recipe further down below.
2. Wound Sanitizer
What you need
½ cup witch hazel
2 tbsp aloe vera gel
1 tbsp vitamin E oil
10 drops tea tree essential oil
10 drops lavender essential oil
10 drops frankincense essential oil
Amber glass container
Directions
Combine all ingredients in a large bowl and stir very well using a clean spatula. Transfer to an amber glass jar.
3. Anti-Itch Spray
What you need
1/2 cup distilled water
1 tsp aloe vera gel
3 drops tea tree essential oil
3 drops peppermint essential oil
3 drops rosemary essential oil
4 spray bottle
Method
Combine them all in a spray bottle. Spritz onto wound after it has started scabbing for relief from itching.
4. Healing Ointment
What you need
½ cup shea butter
½ cup coconut oil
2 tbsp beeswax pastilles
10 drops helichrysum essential oil
10 drops lavender essential oil
10 drops frankincense essential oil
7 drops chamomile essential oil
Double boiler
Hand mixer
8 oz amber glass jar
Method
Melt the shea butter, coconut oil and beeswax pastilles using a double boiler. Once melted, let it cool down completely or pop it into the refrigerator for about 15 minutes for it to partially solidify. Then add the essential oils, drop by drop and beat the mixture with a hand mixer until everything is well combined and has turned into a creamy white mixture (this may take about 5-7 minutes). Transfer to a clean glass jar and allow it to set before using.
References
(1) https://www.ncbi.nlm.nih.gov/pmc/articles/PMC127210/
(2) https://estudogeral.sib.uc.pt/bitstream/10316/27162/1/Helichrysum%20italicum%20From%20traditional%20use%20to%20scientific%20data.pdf
(3) http://www.cvzv.sk/slju/11_3/Fabian-SJAS-3-2011.pdf
(4) http://www.sciencedirect.com/science/article/pii/S1878535211000232
(5), (6) https://www.ncbi.nlm.nih.gov/pubmed/17562569