Use any of these 5 essential oils for dry hair ends to keep your hair looking healthy and moisturized!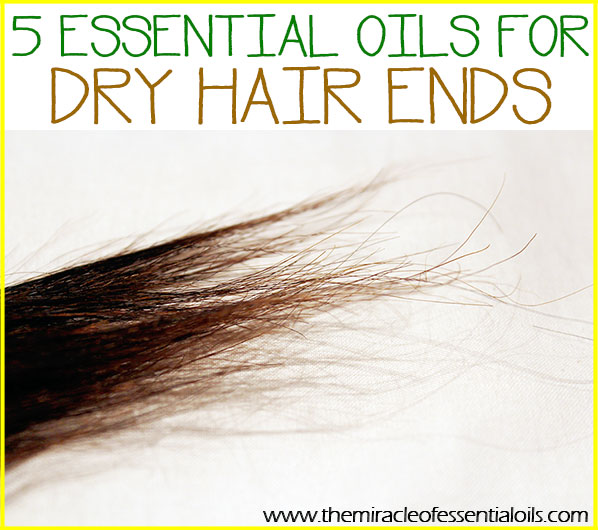 Dry hair ends are a common hair complaint. Many people who use heat on their hair (think: hair straighteners & curling irons) have dry and frayed hair ends. Even people who don't regularly trim their hair usually have unhealthy and dry hair ends.
If you have dry hair ends, don't despair, you can repair them easily using natural home remedies. Among the numerous hair remedies you can use are nourishing oils. Let's take a look at the best essential oils for dry hair ends:
Don't Miss: Our Essential Oil Ebooks
Top 5 Essential Oils for Dry Hair Ends
1. Lavender Essential Oil
2. Sandalwood Essential Oil
3. Jasmine Essential Oil
4. Geranium Essential Oil
5. Rose Essential Oil
How to Use Essential Oils for Dry Hair Ends
The best way to use essential oils for dry hair ends is by mixing them in carrier oils. This will create a nice hair oil that'll seal moisture into your hair, help repair frayed ends and keep your hair ends moisturized and silky. Some of the best carrier oils you can use to dilute essential oils include: fractionated coconut oil, sweet almond oil, jojoba oil and grapeseed oil.
DIY Serum for Dry Hair Ends
What you need
¼ cup fractionated coconut oil
7 drops lavender essential oil
7 drops geranium essential oil
7 drops jasmine essential oil
Small funnel
2 oz amber glass dropper bottle
Directions
Fill a 2 oz amber glass dropper bottle with fractionated coconut oil.
Next add 7 drops each of geranium, lavender and jasmine essential oils.
Screw the cap on and shake well to mix all oils thoroughly.
Your DIY hair serum is ready!
To use, apply 2-3 drops on damp hair just after a shower then let your hair dry completely. Avoid use of heat tools on your hair ends.
Caution