You can use essential oils for endometriosis as a natural treatment to reduce symptoms of pain, inflammation, hormone imbalance, and others. Let's see the effective essential oils to use and how to apply them below.
What is Endometriosis?
Endometriosis is a painful condition where endometrial tissue, which covers the inside of the uterus, grows outside of it such as in the fallopian tubes, ovaries and areas around the uterus. During menstruation, this endometrial tissue bleeds along with the tissue inside the uterus, causing inflammation and scarring.
The exact causes of endometriosis remain unknown; however, a risk factor is genetics. It most commonly affects women in their middle ages, however, it can begin in girls as young as eight years old.
Symptoms of Endometriosis
About 6-10% of women around the world are affected by endometriosis. It is diagnosed by assessing symptoms combined with medical imaging and biopsy. Here are some of the symptoms of endometriosis:
Dysmenorrhea – severe & disabling menstrual pain
Chronic pelvic pain
Lower back pain
Urinary incontinence
Painful sexual intercourse
Pain during body movements such as standing, walking & exercise
Constipation
Infertility
Chronic fatigue
Nausea/vomiting
Headaches
Low grade fevers
Heavy or irregular periods
9 Healing Essential Oils for Endometriosis
Essential oils are powerful liquid extracts from aromatic parts of plants. They contain numerous medicinal chemical constituents that give them therapeutic properties. Essential oils are natural remedies for many ailments.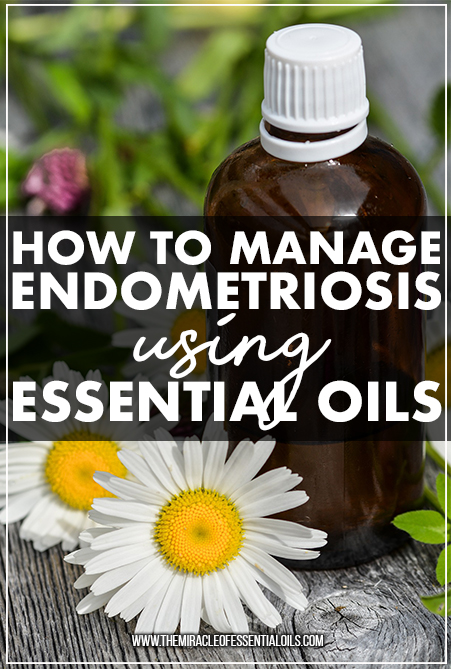 They help manage symptoms of endometriosis such as pain, inflammation, reproductive stagnation and hormone imbalance, among others. Endometriosis can leave you feeling depressed, anxious and stressed. Essential oils with calming and stress-busting properties can help enhance your mood and make you feel a lot better!
Below are 9 essential oils for endometriosis and how they help:
1.      Lavender
A very versatile essential oil, lavender works in relieving menstrual cramps, de-stressing, promoting sleep and calming anxiety. It's best used massaged on the abdomen, diffused or added to a bath.
Mix 15-20 drops of lavender essential oil in 2 cups of Epsom salts. Add it to warm running bath water. Soak in for as long as you want to relieve cramps, soothe pain and improve a dull mood.
2.      Clary Sage
Clary sage essential oil is great for sorting female issues. This is because it has hormonal balancing properties due to the natural phytoestrogen it contains. Phytoestrogens give clary sage its ability to cause estrogenic effects.
Using clary sage oil helps balance estrogen levels and ensures the long-term health of the uterus which chances of uterine and ovarian cancer.
Studies (http://www.ncbi.nlm.nih.gov/pubmed/21949670) also show that clary sage oil is an effective remedy for reducing menstrual cramps when used in massage. It also helps stimulating the opening of an obstructed system, which is good for removing menstrual blood/tissue naturally without it getting lodged in the uterus and moving upward to the pelvic cavity.
Clary sage can be mixed with a carrier oil and massaged in the abdomen. You can use the massage blend provided at the next section of this article.
3.      Rose Geranium
Just like clary sage essential oil, rose geranium oil is also all about balance. It's good for solving feminine issues such as breast congestion, hormonal imbalance and general reproductive health. Geranium essential oil is an effective uterine tonic and it also helps with improving anxiety and depression.
Mix 3 drops of rose geranium oil with 3 drops of clary sage oil in 2 tsp of coconut oil or any other vegetable oil of your choice. Massage it on the pelvic area in a gentle circular motion twice a day.
4.      Marjoram
Marjoram essential oil is well-known as a strong pain reliever. It has antispasmodic properties that help relax muscle spasms & pain. It also eases inflammation and has a warming effect that promotes circulation as well.
5.      Roman Chamomile
Just like lavender essential oil, roman chamomile oil has calming properties. When diffused, it helps with symptoms of sadness, depression, anxiety and feeling down.
It is also a herbal analgesic which means it provides effective pain relief. You can massage it on the painful area (after mixing it with a carrier oil). Or add it to bath salts and enjoy a warm bath to help fight pelvic, lower back & abdominal pain and inflammation.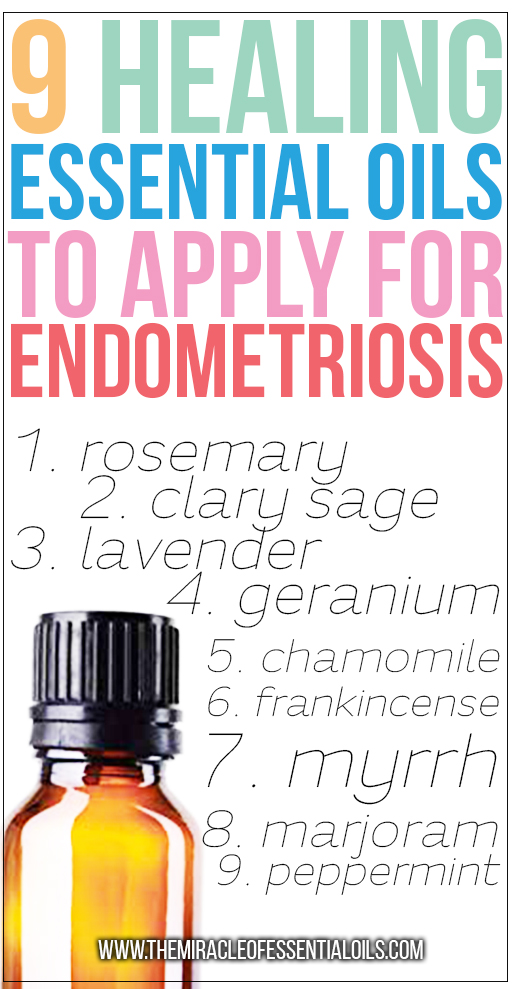 6.       Frankincense & Myrrh Essential Oils
When used in combination, there two essential oils work in synergy to help ease reproductive issues such as endometriosis. The boswellic acid in frankincense oil has a similar action to NSAIDS (Nonsteroidal Anti-Inflammatory Drugs), but without the unwanted side effects!
Frankincense also helps reduce abnormal growths such as cysts and fibroids which is useful in preventing growth of endometrial tissue in places other than uterus.
Myrrh essential oil encourages blood circulation, get rid of reproductive or menstrual stagnation and helps reduce swelling and inflammation in the reproductive system.
Mix 3 drops each of frankincense and myrrh essential oils in 2 tsp of castor oil. Spread this all over your lower abdomen, massage deeply then place a damp and warm washcloth or hot water bottle over it. You can also place a damp washcloth on the oiled area then place a heating pad on top.
7.      Peppermint
Peppermint is a fresh smelling essential oil that contains menthol – a powerful compound that helps numb pain. Peppermint essential oil is a natural remedy for relieving menstrual cramps, low-grade fevers and headaches.
Mix about 3 drops of peppermint oil in 1 tsp of coconut oil and apply it on your abdomen to help relieve pain and inflammation. You can also apply this on your forehead and temples to relieve headaches and nausea.
Diffusing essential oil is also wonderful for fighting depression, anxiety and feeling low. Use 3-6 drops in a cold-air diffuser for 15 minutes.
8.      Rosemary
This herbaceous essential oil is good for promoting proper blood circulation.  Rosemary helps disperse reproductive stagnation or poor menstrual drainage, which is said to be one of the causes of endometriosis.
Rosemary also has estrogen-balancing activity which helps balance estrogen and prevent more endometrial legions from developing in other parts of the pelvis.
You can mix 2 drops rosemary and peppermint essential oils each in 2 tsp of castor oil and deeply massage on your pelvis to help promote menstrual drainage during menstruation while relieving pain and inflammation.
How to Use Essential Oils for Endometriosis
Topical application of essential oils can help alleviate endometriosis pain and inflammation. It can also help in hormonal balance as well as improving anxiety & depression. Diffusing essential oils is a good way to brighten up your mood and relax.
Make a Massage Blend for Congestion, Hormonal Balance, Pain, Inflammation & Infertility: In an amber dropper bottle, combine 5 drops each of lavender, clary sage, rose geranium, marjoram, roman chamomile, rosemary frankincense and peppermint essential oils with 4 ½ tbsp of castor oil. Close the cap and shake gently to mix. Store in a cool dry place. To use, place a few drops onto your hands, rub your palms together and massage deeply for a few minutes. Place a warm damp washcloth or hot water bottle over your abdomen and relax for about 15 minutes. You can do this massage at night time.
Add to your Bath: Use any of the above essential oil(s) in a bath by mixing them with bath salts, Epsom salts, bath oil or whole milk before adding to your bath. If using a bath oil, be careful when getting out of the tub.
Diffuse: Add about 3-6 drops of any of the above essential oils into your cold-air diffuser. Diffuse for 10 minutes.
Take Care
Please consult with your doctor for conventional treatment in case you have severe symptoms. Do not suffer in silence with crippling pain or prolonged heavy bleeding. Consult: Caution & Safety When Using Essential Oils
Essential oils are for external use.
Before applying or using essential oils, they must be diluted in a carrier oil. Never use them directly without dilution.
Keep essential oils away from children and pets.