Coming down with a high fever and chills can be a very miserable experience. Learn how to use essential oils for fever and chills for your family and yourself in this article.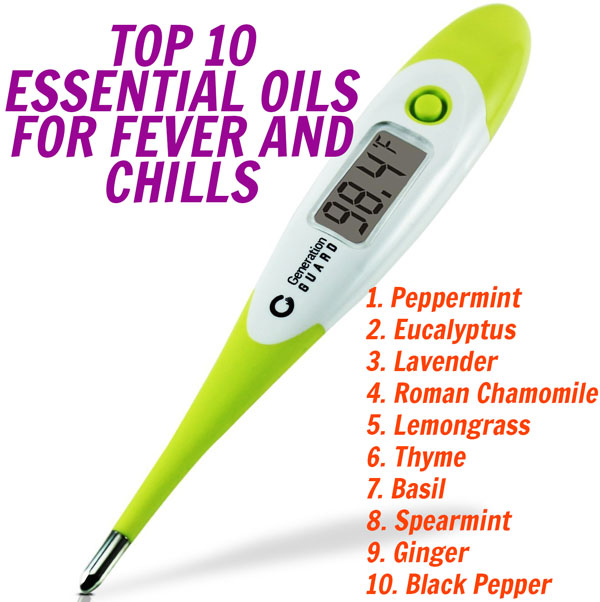 What is Fever?
Fever is one of the most common medical signs and it is a useful mechanism: A fever is the body's response to fighting off infection by increasing blood circulation in the body, which in turn increases the body's temperature and allows the white blood cells to reach the infectious pathogens to fight them off.
Causes of fever include the common cold, bacterial viral & parasitic infections, urinary tract infections, malaria, appendicitis and more.
Treating fever through natural remedies or conventional medicine with the purpose of reducing it does not reduce the body's fighting action against the disease but rather assists in alleviating fever – induced pain and inflammation which enables the individual to rest peacefully and comfortably.
What are Chills?
Chills are used to describe a feeling of coldness accompanied by high fever but can occur separately on its own as well. Chills are often accompanied by fever but fever doesn't always bring chills. It is caused by inflammatory diseases and occurs when the body releases prostaglandins and cytokines as part of the inflammatory response. Shivering also accompanies chills and severe chills with violent shivering are called rigors.
How Do Essential Oils Help Fever and Chills?
Essential oils are pure and potent plant extracts derived from aromatic botanicals such as the tree bark, roots, flowers, fruit rinds, leaves, seeds and resin of plants. They have therapeutic properties and are composed of numerous chemical compounds including terpenes, ethanols, ketones, esters and aldehydes, among others that make them superior natural healing substances.
When applied topically or inhaled, essential oils travel deep into the skin and enter the blood stream. Below are some of the ways essential oils help fever and chills:
In the case of fevers, by cooling down high temperatures
In the case of chills, by warming the body
Reducing inflammation
Fighting off infectious pathogens
Strengthening the immune system
Alleviating body pain and aches
Clearing the respiratory airways for easy breathing
Helps with sweating which pushes out wastes
Assists in detoxifying the body of toxins
And more
Below, take a look at the top 10 essential oils for fever and chills:
Top 10 Essential Oils for Fever and Chills
Essential oils of black pepper, ginger, lemongrass, thyme and chamomile are good for chills while essential oils of peppermint, eucalyptus, basil and spearmint are good for reducing fever. Lavender can be used for both fever and chills.
Safety Note

Are you new to essential oils? Please check out: Caution & Safety Information when Using Essential Oils.
Essential Oil Recipes for Fever & Chills
Note: All these essential oil recipes can be used for children as well. For babies, please only use 1 drop of essential oil in 1 tsp of essential oil. Refer to the article: What Essential Oils are Safe for Babies for more information.
1. Fever Reducing Blend

What you need
Method
Remove the roller from the bottle and add the essential oils.
Top with fractionated coconut oil, firmly push back the roller ball, close the cap and shake gently to combine.
Apply on back of neck, chest and soles of feet as well as along the spine.
2. Warming Blend for Chills

What you need
Method
Add the essential oils to a roller bottle, drop by drop.
Top with fractionated coconut oil and shake gently to mix the oils.
Apply to back, chest, throat and soles of feet.
Are you ready to try essential oils for fevers and chills?